Italian Risotto Recipe with Pesto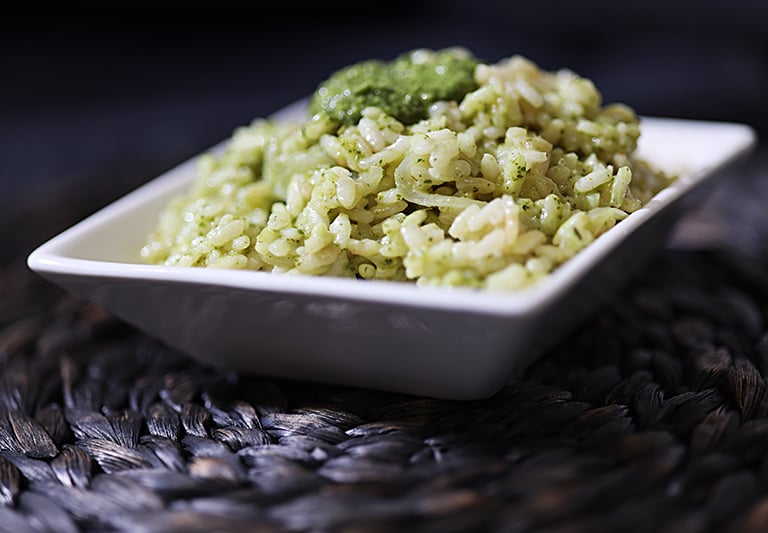 Italian Risotto Recipe with Pesto Overview
Italian risotto is a favorite comfort food, and is an incredibly versatile dish since this risotto recipe can be served with a protein or can be enjoyed by itself. Preparing your first Italian risotto recipe can be intimidating to those who have not made it before, as it is steeped in tradition and is a technique-driven delicacy. This risotto recipe with pesto dispels all myths and explains step-by-step how to execute perfect risotto every time. It uses the traditional Italian rice, arborio. The word risotto refers to the technique, not the rice. It can be confusing at the store, because it is frequently packaged as "risotto rice", but it is truly arborio rice, the short-grained starchy rice. For this risotto recipe is finished with delicious fresh basil pesto sauce. Bundles of fresh homegrown basil make some wonderful pesto for this risotto recipe.
Risotto Definition: The word risotto refers to the technique – not the rice. Traditional rice for the Italian risotto recipe is arborio rice. A short-grained starchy rice.
Kitchen tools used to make this Italian risotto recipe with pesto
Skillet

Small pot

Knife

Wooden spoon

Measuring cups and stirring spoons
Ingredients for this Italian risotto recipe with pesto
1 ½ cups arborio rice

6 cups broth (vegetable broth, beef broth, or chicken broth)

¼ yellow onion cut into thin slivers

2 oz your favorite white wine (not sweet wine)

3 tablespoons butter

1 teaspoon thyme

Salt and pepper to taste

1/2 cup grated parmesan cheese

1/4 cup pesto sauce(optional)
Italian Risotto Cooking Technique
Add the broth to a medium pot and bring to a boil over high heat. Then reduce the heat to simmer to keep hot, place the pot next to the risotto skillet.

Heat a large skillet over high heat and add the butter. Melt the butter and allow it to brown.

Add the onions to the skillet, then reduce heat to medium and cook for a couple minutes.

Toss in the arborio rice and stir with the hot butter to toast the grains a bit.

Add the white wine to deglaze the pan and simmer until the liquid has been absorbed.

Add some hot broth, just enough to cover the arborio, stir constantly with a wooden spoon until the liquid is absorbed (the wooden spoon is traditional, and is the best tool to help develop the creaminess desired with risotto).

Repeat the previous step multiple times – adding some broth and stirring until the arborio absorbs it.

When the arborio gets close to al-dente (still a little firmness in the bite but no crunch), add liquid in small amounts. The goal is to have a creamy consistency, but no liquid left in the pan, at the same time the arborio is cooked just right.

You might not use all of the broth, that's ok. Sometimes I've run out of broth before the rice is done, and use water to finish, perfectly ok to do so.

Mix in some freshly grated parmesan cheese right before the end.

Mix in or top with pesto sauce. (Tomato sauce is a good alternative)

Season to taste with salt & pepper.

Serve.

Mix in some freshly grated parmesan cheese to taste per preference.
Italian Risotto Cooking Technique Notes
This recipe is presented in its most basic form with just a pesto sauce mixed in at the end. Almost always, I add vegetables and/or protein (cooked shrimp, chicken, leftover prime rib slices, asparagus, zucchini, sun dried tomatoes…) Once the technique described above is understood and practiced, you can apply the concept to almost any variation of a risotto dish. Proteins are thrown in the skillet at the appropriate time depending on how long it would take to cook. For example, preparing a shrimp recipe to be served as a protein with the risotto recipe only takes a minute or 2, so they would go in at the end. Chicken might take up to 15 minutes, so it would go in sooner. Spring veggies might go in last, whereas mushrooms, yams, and other fall veggies might go in at the beginning with the onions. You can see how versatile you can be as long as you follow the basic concept of slow cooking while adding the liquid as you go, and constantly stirring to create the creaminess.