How to Make a Fresh Italian Basil Pesto Recipe At Home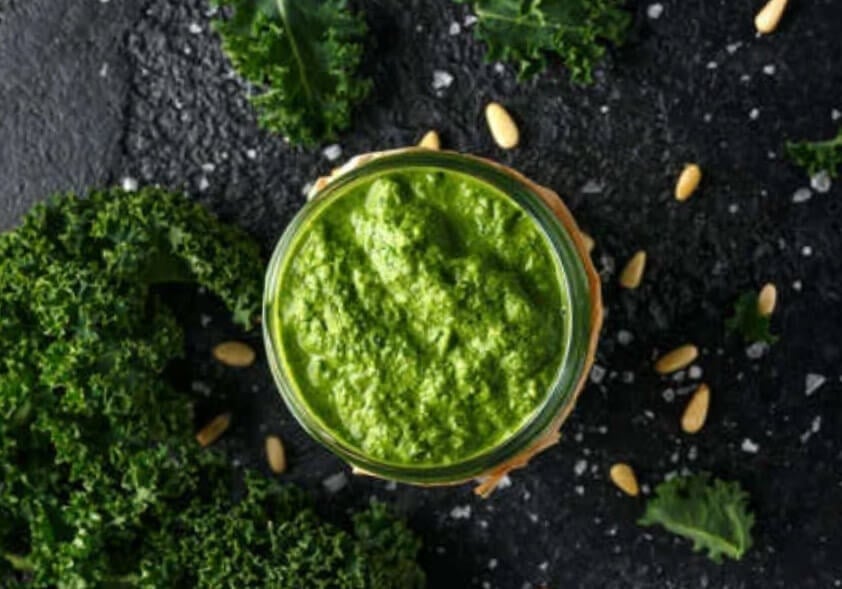 How to Make Fresh Italian Basil Pesto At Home
This Italian Pesto Recipe Originates in Genova, Italy. The Italian region of Liguria (Genova is the region's capital city) has lots of fresh basil growing in the foothills on the Italian Rivera and lots of olive oil and pie nuts – which are the main ingredients in this fresh basil pesto recipe. In Liguria pesto is most frequently enjoyed with gnocchi, trofie and pasta. In the United States and around the world the Italian basil pesto recipe has become a favorite for sandwiches, salads, over proteins like chicken or it can be used as a pizza sauce. The culinary usage of this fresh basil pesto recipe is versatile and it can be used on countless dishes.
Fresh Basil Pesto Recipe Tools Needed
Blender or Food Processor

Measuring cups

Kitchen scale

Jar or storage container
Traditional Italian Fresh Basil Pesto Recipe Recipe Ingredients
Fresh Basil Leaves – 3 Cup

Olive Oil – 1 Cup

Grated Parmesan Cheese – 1/4 Cup of Parmigiano Reggiano

Pie Nuts – 1tbsp*

Kosher Salt – to taste
Video of this pesto sauce recipe
In this video, Chef Dan Catanio shows the technique to preparing this fresh Italian pesto sauce:
Traditional Italian Fresh Basil Pesto Recipe Cooking Instructions
Mix The Pesto Sauce in a Blender

Remove the basil leaves from the stems. Only the fresh basil leaves should be used for the pesto sauce recipe.

Place the basil leaves in your food processor or blender and pulse.

Next, drizzle in the olive, parmesan cheese and pie nuts into the food processor while you continue to blend the ingredients together.
Once the ingredients are mixed in well together your traditional Italian Fresh Basil Pesto recipe is ready to be enjoyed! You can tweak the consistency of the pesto basil sauce by adding more pie nuts or more parmesan cheese and less olive oil to make the basil pesto more firm or more runny. Buon appetito!
Note: *Pie nuts are used in the original Italian pesto recipe. While pie nuts are common to the Italian region of Liguria they are not common in other parts of the world where this fresh basil pesto recipe is prepared. Therefore, other nuts like almonds, walnuts or even breadcrumbs can be used in their place depending on availability.