How to Cook Pasta In 3 Simple Steps Recipe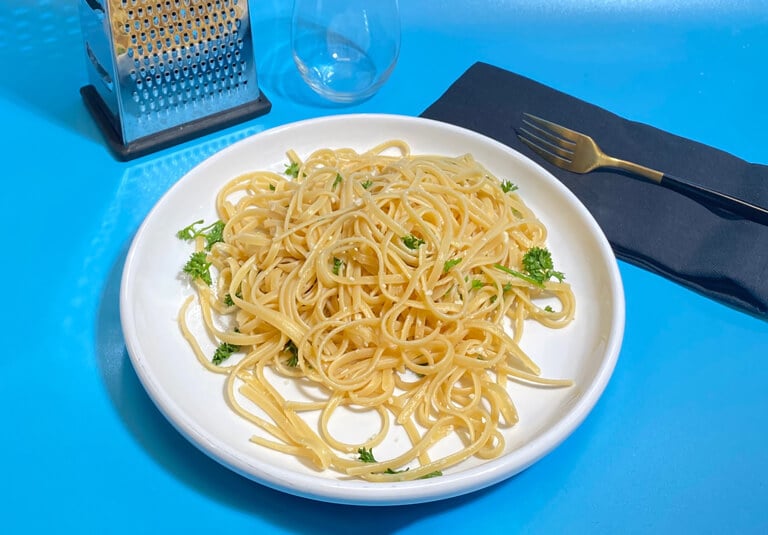 This simple pasta recipe shows the technique for any pasta dish. This is a foundation recipe and with bottom up cooking the strong foundation leads to a high quality end-dish.
Bottom-up cooking is the basis for any great meal. In this article you will learn the basics of how to cook spaghetti pasta – but this process can be applied to any pasta recipe. This simple step is the foundation to any other more elaborate pasta recipe and the good news is it is very easy! When learning how to cook pasta spaghetti is a classic that goes with anything, can be used as a main course, as a side or can be enjoyed with grated parmesan cheese, fresh basil pesto, with marinara sauce or as a side paired with a protein.
How to Cook Pasta in 3 Simple Steps Instructions:
Place a pot over the burner on high heat. Fill the pot until there is 1 inch of room to the top of the pot (when we add the pasta this will prevent the water from overflowing.) Remember – lots of water makes for better tasting pasta. Add 1tsb salt to the water. This improve flavor and makes the water boil faster.

When you see the water is boiling, (when bubbles surface) add the pasta. Submerge half of the pasta, then when it gets soft push the rest of the pasta down. You do not need to do this with short pasta. Just with long noodles like linguine, or spaghetti. Tips: make sure to pasta not sticking out of the water, will not cook and stay dry. Set the timer to 10 minutes. To make the pasta al-dente or "to the tooth" in Italian make sure you don't let the pasta get too soggy. You want the pasta to be a slightly harder texture.

Strain the pasta through strainer on the sink. At this point, you can add grated parmesan cheese, squirt fresh lemon, fine chopped parsley and olive oil, or any other topping to serve.
Enjoy this pasta recipe with grated parmesan cheese, with a sauce like marinara, a fresh basil pesto sauce, or add a protein of choice.
How to Cook Pasta Recipe Kitchen Tools
Strainer with fine mesh

Cooking spoon

Small pot

Fork
How to Cook Pasta Recipe Ingredients
1lb dry pasta (Linguine, penne, bowtie, elbow pasta…)

1 tbsp Kosher salt course

1 tbsp olive oil

Ground parmesan cheese

Parsley for garnishing

Water (more water makes for better tasting pasta). Alternative to water includes vegetable broth, beef broth or chicken broth.