Penne Pasta Arrabbiata Recipe with Sausage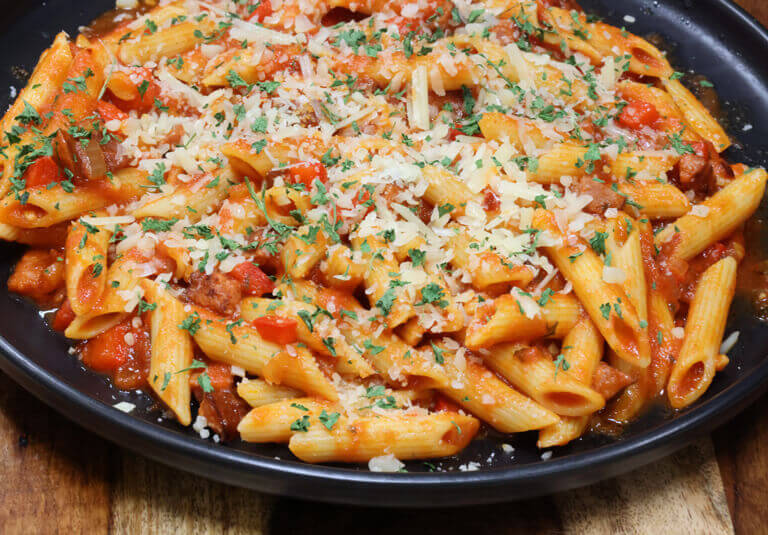 Delicious Penne Pasta Arrabbiata Recipe with Italian Sausage
Penne Arrabiata Recipe with Sausage and Bell Peppers
A really basic way to start developing recipes of your own or to branch out and be creative is to take one of your favorite recipes and add ingredients that you have in your fridge to create your own spin on the classic. Cooking pasta with Arrabiata sauce uses a classic Italian tomato sauce, built around the bold flavors of garlic and red pepper flakes. In this interpretation, some leftover Polish sausage was in our fridge, along with some gorgeous red bell peppers. With the addition of just two more ingredients the sauce now has protein and extra depth of flavor from the sautéed sausage, and more bold color and nutrition from the bell peppers. Other perfect additions to this pasta recipe would be a spicy Italian sausage, different types of peppers or chilis, some fresh chopped basil or even some chopped spinach. Don't be afraid to play around with flavors. Just use ingredients that you love and take a chance. Or simply start here. Have fun with color, tastes, textures, enjoy!
Tools Needed for Penne Arrabiata Recipe with Sausage and Bell Peppers:
Sauté pan or skillet.

Cutting Board.

Measuring Cup and spoons.

Spatula.
Ingredients for Penne Arrabiata Recipe with Sausage and Bell Peppers:
2-4 C previously cooked penne pasta or 8 oz dried penne cooked to package instructions.

1/2 lb. sausage (we're using pre-cooked Polish sausage, cut into large dice).

1 tablespoon olive oil.

1 red bell pepper, diced.

1 small yellow onion, minced.

2-4 garlic cloves, minced.

1/2 teaspoon red pepper flakes (or to taste).

1/2 teaspoon salt.

1 tablespoon tomato paste.

2 C tomato sauce.

1 tablespoon Italian seasoning, oregano, basil, marjoram or parsley flakes.

Fresh cracked pepper to taste.

Optional: grated Parmesan cheese for serving.
Instructions for Penne Arrabiata recipe with Sausage and Bell Peppers:
Cut the sausages into large pieces, cut the red bell pepper, and mince the onions and garlic. Set aside.

Preheat the skillet and 1/2 tablespoon of olive oil over medium high heat. Add the Italian sausage to the pan and cook until browned.

Once the sausage is browned, add the onion and bell peppers to the skillet, stir in 1/2 teaspoon of salt and sauté for 3-4 minutes, until the veggies start to soften.

Make a well in the middle of the ingredients, a spot where you can see the bottom of the pan. If necessary, drizzle another 1/2 teaspoon of olive oil and heat. Add the minced garlic, tomato paste, dried herbs and red pepper flakes to this spot on the skillet, and sauté for 1-2 minutes until fragrant.

Add the tomato sauce to the skillet and stir well to combine.

Reduce the heat to low and let the sauce simmer for 15-20 minutes, until it has slightly thickened.

Season the sauce with salt and pepper to your own taste.

Add the cooked pasta to the skillet and toss to coat the pasta with the sauce.

Top with grated Parmesan cheese if desired and it is ready to be served.
Nutrition facts (per serving, without Parmesan cheese) of this Penne Arrabbiata Recipe:
Note: These nutrition facts are approximate and may vary based on the specific ingredients used. The addition of Parmesan cheese will add extra calories, fat, and sodium.