Quick and Easy Gnocchi Recipe Using Mashed Potatoes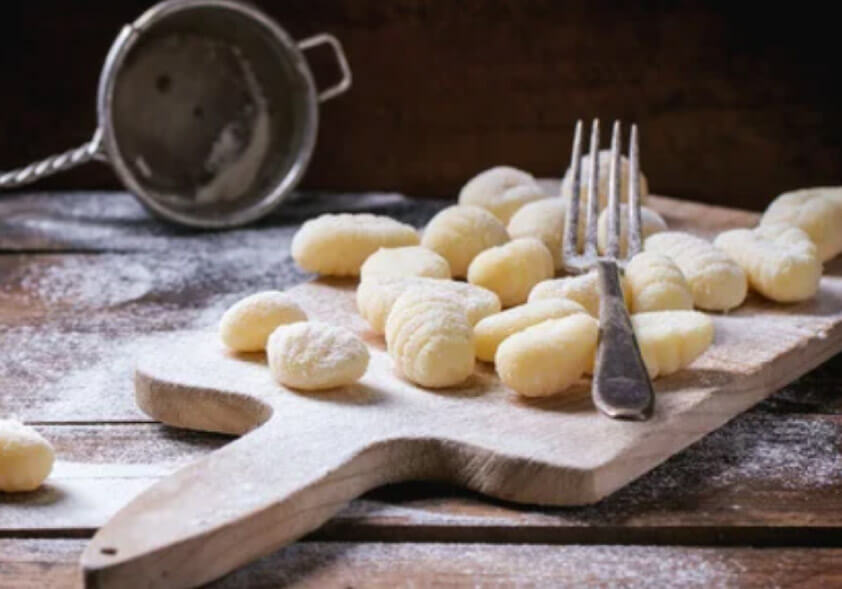 Gnocchi is an Italian Potato Dumpling. This Recipe is Quick and Easy Starting with Mashed Potatoes.
Gnocchi Recipe From Scratch Using Mashed Potatoes
This Italian gnocchi recipe uses mashed potatoes to expedite the process and make the gnocchi from scratch quicker. This is a common gnocchi recipe hack that enables you to cook fresh, delicious Italian Gnocchi in just under 10 minutes.
Homemade Fresh Gnocchi Recipe Tools Needed
Mixer

Cutting Board

Saucepan

Measuring Spoons

Fine Mesh Strainer

Spatula
Traditional Italian Fresh Gnocchi Recipe Ingredients
Egg – 2

Minced parsley, chopped basil, oregano – 1 tbsp

Mashed potatoes – 3 cups

Extra virgin olive oil – 1 tbsp

Parmesan reggiano cheese – 1/2 cup

Breadcrumbs – 1/2 cup

Potato starch or flour – 1/2 cup
Video of how to make this gnocchi recipe at home
In this video, Chef Dan shows the technique to preparing this fresh Italian gnocchi at home using mashed potatoes:
Traditional Italian Gnocchi Recipe Cooking Instructions
Prepare your Gnocchi Mix

Transfer your mashed potatoes to the mixing bowl with one egg.

Begin to slowly mix in the mixer while you are pouring in the spices, olive oil, parmesan and breadcrumbs. Continue to add ingredients in the list above.

Crack and add a second egg (yolk and egg white) to the mixing bowl as it is mixing.

Roll your Gnocchi

Take out your gnocchi dough mix and place it onto the cutting board.

Roll the gnocchi into strips using your hands.

Cut the long and thin gnocchi dough roll into bite sized pieces.

Press your fork onto the gnocchi to give it the dumpling the traditional incision




Boil Your Gnocchi

Place your potato dumplings in boiling water or vegetable broth.

The gnocchi is ready when it rises to the top and no longer sinks to the bottom of the pot.
Enjoy your Italian Gnocchi with pesto sauce or marinara sauce for a meal that will make you feel like you are eating in Southern Italy! Buon appetito!