Easy Homemade Rice Pilaf Recipe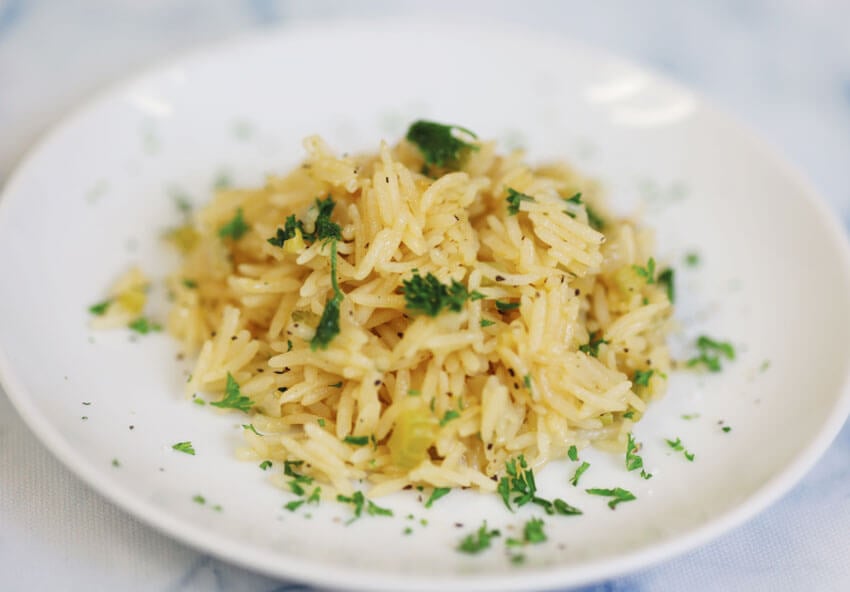 Table of Contents for Rice Pilaf Recipe
Rice Pilaf Recipe Overview
Today, I will show you how to make a mouthwatering rice pilaf recipe that's sure to impress your family and friends. This rice pilaf recipe is a versatile and flavorful side dish that pairs well with a variety of main courses. Some recipes that pair well with this rice pilaf recipe include, a salmon recipe with brussel sprouts, a whole rotisserie chicken recipe, an oven roasted BBQ beef brisket recipe, and many more. With aromatic vegetables and perfectly toasted rice, this recipe is a must-try for any home cook. Let's get started!
Rice Pilaf Recipe Video
Kitchen Tools Needed For This Rice Pilaf Recipe
Saucepan

Measuring cups

Measuring spoons

Spatula

Knife (to cut and prep your vegetables)
Rice Pilaf Recipe Ingredients
2 tablespoons olive oil

1/2 cup diced onions

1/2 cup diced celery

2 cloves minced garlic

1 cup long-grain rice (can substitute for regular white or brown rice as well)

1 1/2 cups vegetable broth or chicken broth (chicken and vegetable stock work as well!)

1/2 teaspoon salt

1/2 teaspoon black pepper

1/4 cup fresh chopped parsley
Step-By-Step Instructions For This Rice Pilaf Recipe
Place a saucepan over medium heat and add two tablespoons of olive oil as well as half a cup of diced onions and sauté for about 3 minutes until they become translucent.

Stir in half a cup of diced celery and continue cooking until they become soft and aromatic.

Now, add the minced garlic to the onion and celery mixture and sprinkle in the 1/2 teaspoon of salt and 1/2 teaspoon of pepper for seasoning.

Continue cooking for an additional 3 minutes to allow the flavors to meld together.

Next, you are going to toast your rice. To do this, stir in one cup of rice, making sure it's well-coated with the aromatic mixture. Sauté the rice for about 5 minutes until it becomes slightly toasted and turns light brown. This will enhance the nutty flavor of the rice.

Pour in 1 1/2 cups of vegetable or chicken broth or stock into the saucepan and increase the heat to bring the mixture to a boil

Once the mixture is boiling, reduce the heat to low and cover the saucepan with a lid and let the rice simmer for 15 to 20 minutes until the liquid is absorbed and the rice is fully cooked.

After the rice is fully cooked, remove the lid and stir in a quarter cup of freshly chopped parsley.

Let the rice cook for another 5 minutes, allowing the parsley's fresh flavors to infuse into the dish.

Using a fork, gently fluff up the rice to separate the grains and give it a light and fluffy texture. Your delicious rice pilaf recipe is now ready to be served alongside your favorite main course!
Congratulations! You've just prepared a delectable rice pilaf recipe that's bursting with flavors. This versatile side dish is perfect for accompanying a variety of meals, from grilled chicken to roasted vegetables. Impress your loved ones with this easy-to-make yet impressive rice pilaf recipe. Enjoy!