Homemade Herb Crusted Whole Rotisserie Chicken Recipe in Oven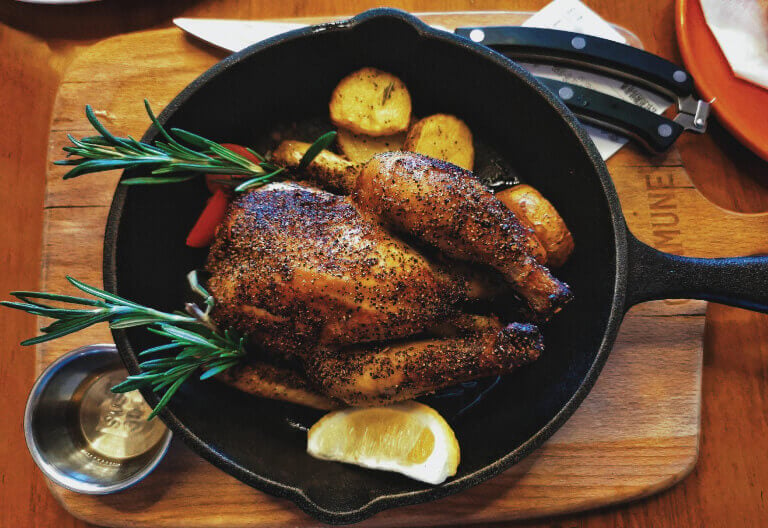 Quick and Easy Homemade Rotisserie Chicken in Oven
This homemade herb crusted rotisserie chicken recipe is delicious and easy to make.
Herb Crusted Rotisserie Chicken Recipe Ingredients and Cooking Tools Needed
Kitchen tools Needed

Chef's knife

Cutting board

Sheet pan

Roasting rack

Meat thermometer

Cooking foil

Cooking twine/string

Oven mits

Ingredients for Roasted Chicken

Whole chicken

Kosher salt

Cracked black pepper

Equal parts of oregano, thyme, parsley as a dry rub.

Olive oil or avocado oil
Rotisserie Chicken Cooking Instructions
Place a wet towel under your cutting board to prevent it from sliding while you set up your Mise en Place

Unwrap the chicken. Hold the chicken over the sink or trash to catch the liquid as it comes out of the bag.

Remove the gizzards and the liver. Save this for chicken stock.

Place your whole chicken on the cutting board.

Rub olive oil on the chicken. This makes sure the seasoning sticks to the chicken when applied. Make sure the olive oil is coating the chicken well on both sides. (Try to keep one had clean so)

Get a nice even coat of kosher salt on the chicken. Season thoroughly and evenly. Only the outside of the chicken will be seasoned.

Add the oregano, thyme and rosemary and season your chicken on both sides. Season generously and thick since only the outside of the chicken will be seasoned.

Tip:Tuck the wings under the chicken since these will take more time to cook.

Take a couple of pieces of foil and cover the tip of the leg. So it does not get burnt. The skin over the leg bone is thin and will cook faster than the chicken otherwise.

Take a piece of twine and wrap the chicken legs together.

Set the thicken on the roasting rack. The roasting rack enables air flow and the pan catches the juices as they fall.

Set your oven to 350 degrees Fahrenheit.

Cook for ~60 minutes rotating every 15-30 minutes. Your target internal temperature should be 165 degrees.

Take the chicken out and temp in a thick part of the chicken, right under the breast to see if the meat thermometer reaches temperature.

Slice and enjoy this herb crusted rotisserie chicken over a salad, sautéed green beans, yam fries or a side of your choice.