The Only Steak Temperature Chart You'll Ever Need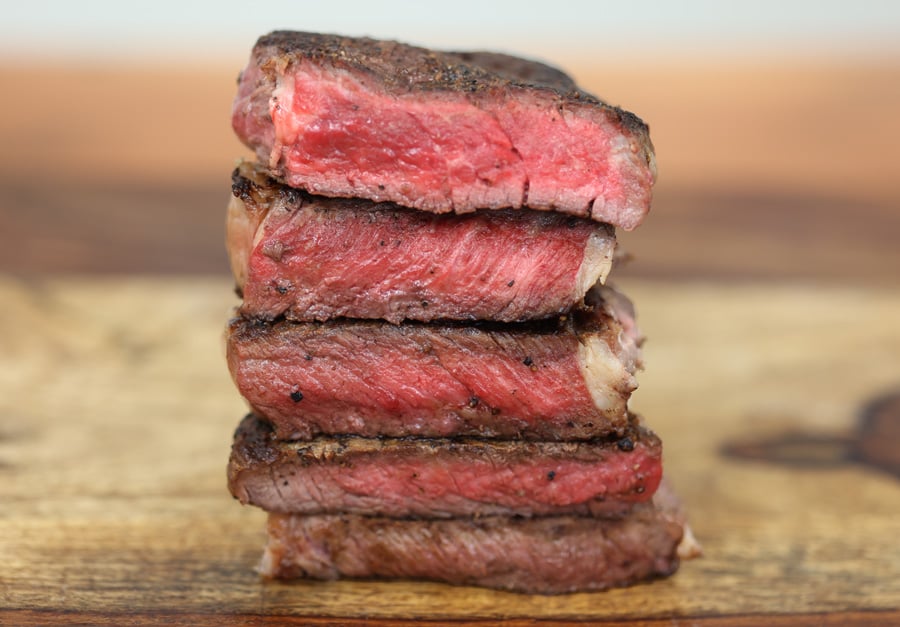 Steak Temperature Doneness Guide
Steak Doneness Guide Overview
Say you purchased a high-end cut of meat for steak with great marbling, and now you need to decide what temperature to cook it at. Personal preferences vary widely, spanning from rare to well done and every shade in between. For this experiment, I butchered a ribeye roll and portioned it into steaks and then pan seared my ribeye steaks to five different levels of doneness showing you the outcome.
Comparing Steak Doneness levels
Below are the five ribeye steaks cooked to different levels of doneness. This side-by-side steak doneness comparisons were taken after cooking the meat in a cast iron pan. The minutes indicated below each steak doneness level is the time for one side.
| | | |
| --- | --- | --- |
| Steak Temperature | Doneness Level | Time* |
| 120° F | Rare | 2 1/2 Min Per Side |
| 130° F | Medium Rare | 3 1/2 Min Per Side |
| 140° F | Medium | 4 Min Per Side |
| 150° F | Medium Well | 5 Min Per Side |
Steak Doneness Temperature Chart Video
In this video I sliced the ribeye steaks in half to and stacked them to give you a better view of the steak doneness levels.
Internal Steak Temperature Cooking Table
What internal temperature should steak be cooked to? Use an instant read thermometer to check the temperature of your steak. Here is a picture of ribeye steaks sliced and stacked with rare at the top and well done at the bottom.
Rare 115-120 ° Farenheit
Medium rare 125-130° Farenheit
Medium done 130-135° Farenheit
Mid well 140-145° Farenheit
Well done 150° Farenheit – charcoal
How to Determine Steak Doneness Levels
To determine the doneness of the steak, use your cooking thermometer to place it in the center thickest part of the steak until it reaches appropriate temperature. Be mindful that the steak keeps cooking after you remove it from the grill or pan.