Steakhouse Compound Butter Recipe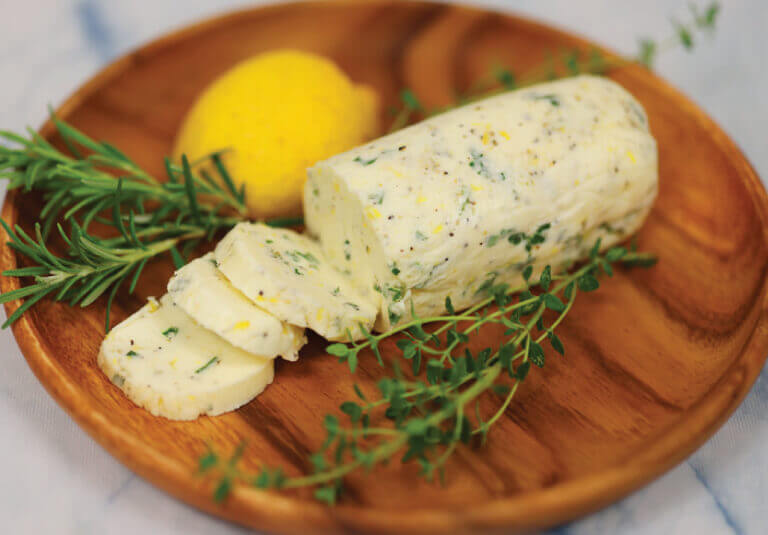 Table of Contents for Compound Butter Recipe
Compound Butter Recipe Overview
If you're looking to elevate your cuisine to what the finest steakhouses offer, then a luscious lemon herb compound butter recipe gives the perfect touch. The rich and savory flavors of the butter melt and infuse high-end steaks with flavors, creating a mouthwatering delight that's sure to impress your taste buds. In this step-by-step compound butter recipe guide, I will walk you through the process of making this steakhouse compound butter recipe, adding a burst of flavor to your dish.
Steakhouse Compound Butter Recipe Video
Kitchen Tools Needed for this Steakhouse Compound Butter Recipe
Measuring Cups

Measuring Spoons

Mixing Bowls

Spatula for Mixing Ingredients

Knife to Prep Ingredients
Steakhouse Compound Butter Recipe Ingredients
1/2lb Unsalted, Room Temperature Butter

1/2 tbsp Lemon Zest

1 tbsp Lemon Juice

1/2 tsp Ground Black Pepper

1/2 tsp Granulated Garlic

1/2 tsp Kosher Salt

1/4 cup Chopped Fresh Herbs
Steakhouse Compound Butter Recipe Step-By-Step Instructions
Prepare the butter by letting the butter sit at room temperature until it becomes very soft, soft enough where you are able to add other ingredients and fold the ingredients in. Move the butter to a mixing bowl.

Add the freshly squeezed lemon juice into the bowl of softened butter. The lemon juice will provide a delightful tangy note that will complement the steak's rich flavors when it is later paired together.

Then, add in the kosher salt, ground black pepper, granulated garlic, and lemon zest into the softened butter.

Finally, add in your chopped fresh herbs (keep in mind that steps 2-4 can be flexibly completed in any order).

Carefully mix all the ingredients together.

Lay plastic wrap on a flat surface such as a cutting board and place your mixture in the center of the plastic wrap.

Take both ends of the plastic wrap and taking one end at a time, wrap the butter mixture with the plastic wrap. Once you have the plastic wrap over the butter, take both ends and turn one end clockwise, the other end counterclockwise and tie the ends together to make a tighter mold so that the butter can hold its shape when placed in the refrigerator.

Place your compound butter in the refrigerator for 15-20 minutes and allow it to harden and form its shape of a solidified butter.

Once the compound butter has set and reached a solid consistency, cut into your desired sizes.
Compound Butter Recipe Notes
Once your compound butter solidifies, it is ready to be served alongside some perfectly seared ribeye steak or it can be added to many different recipes such as a mushroom sauce recipe! Slice or scoop the compound butter to add a generous dollop on top of the warm ribeye, or add a dollop into the mushroom sauce to allow the flavors of the compound butter to meld!
If you have any leftover compound butter, wrap it tightly in plastic wrap or place it in an airtight container or an alternative, appropriate meal prep container. Store it in the refrigerator for up to a week or freeze it for several months.
There you have it! You've just created a sensational compound butter recipe to elevate various dishes to new heights. The combination of zesty lemon and fragrant herbs will leave you craving this delightful flavor from time and time again. Experiment with different herb variations to suit your taste preferences and enjoy this simple yet decadent addition to your culinary repertoire. Happy cooking!