Homemade Restaurant-Quality Mushroom Sauce Recipe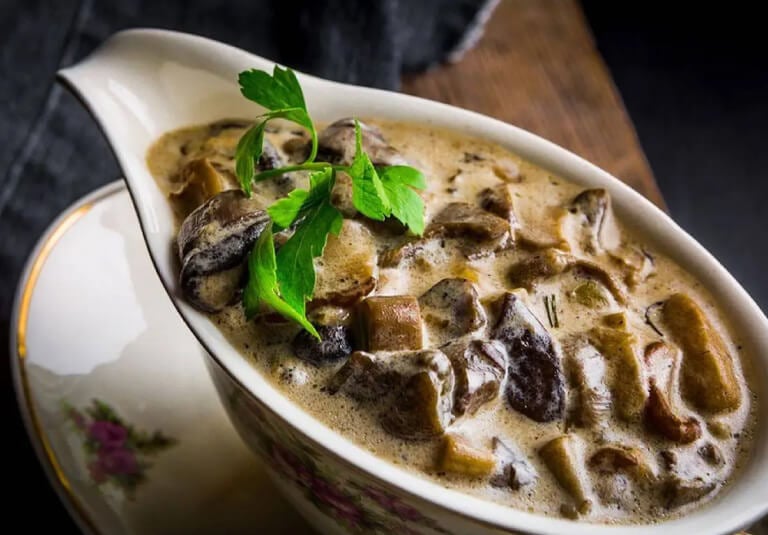 Table of Contents for Homemade Mushroom Sauce Recipe
Homemade Mushroom Sauce Recipe Overview
In this step-by-step mushroom sauce recipe, you'll learn how to create a delicious and gluten-free mushroom sauce that rivals the ones found in restaurants. This versatile sauce can be served with various dishes like veal, rotisserie chicken, or even filet mignon.
Homemade Restaurant-Quality Mushroom Sauce Recipe Video
Homemade Mushroom Sauce Recipe Ingredients
Extra virgin olive oil

3 shallots, finely chopped

Shiitake mushrooms, sliced

1/4 cup Marsala red wine

1 teaspoon Italian herbs

Juice of 1 lemon

1/2 cup espagnole sauce

Mrs. Dash or salt substitute, to taste

Beef broth, as needed

Compound butter (made with fresh basil, oregano, rosemary, roasted garlic, and parmesan cheese)
Homemade Mushroom Sauce Recipe Step-By-Step Instructions
Heat a skillet over medium heat and add a drizzle of extra virgin olive oil. Add the finely chopped shallots to the skillet and sauté them until they become translucent and release their juices.




Once the shallots are cooked, add the sliced shiitake mushrooms to the skillet and sauté the mushrooms until they become tender and golden brown.




Pour the Marsala red wine into the skillet with the mushrooms. *Be cautious when adding the red wine as it may cause a flame.*




Allow the wine to cook off slightly, enhancing the flavor of the sauce.




Sprinkle the Italian herbs (minced parsley, oregano, basil…) over the mushrooms and wine mixture.




Squeeze the juice of one lemon into the skillet, adding a touch of acidity to brighten the flavors.




Incorporate the espagnole sauce into the mixture, giving it a rich and savory taste.




Add Mrs. Dash, kosher salt or a salt substitute to season the sauce according to your preference.

If the sauce is too thick, add beef broth gradually to achieve the desired consistency.

Turn off the heat and prepare the compound butter and fold a slice of compound butter into the sauce, allowing it to melt and enrich the flavors. Stir gently until the butter is fully incorporated, creating a silky texture.




Transfer the mushroom sauce to a serving plate and pair the sauce with your choice of meat, such as a skirt steak or some pork loin.
By following these step-by-step instructions, you can create a delectable mushroom sauce that adds a gourmet touch to your favorite dishes. Experiment with different fine dining cuts of meat and explore the versatility of this sauce. Happy Cooking!