How to Make Homemade Chicken Broth From Scraps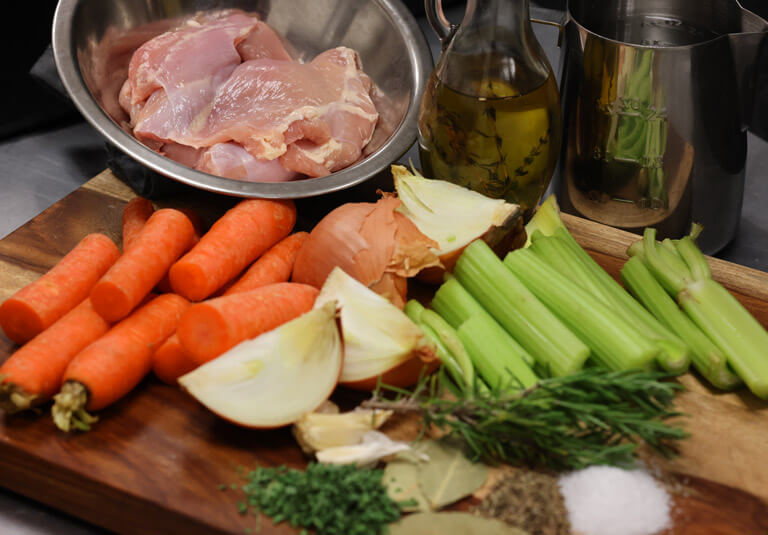 How to Make Chicken Broth at Home From Scraps
This chicken broth recipe uses chicken scraps and vegetable scraps to make a delectable broth! This Broth is the nectar of the Gods. Well, not really, but close. When you take your food scraps, chicken bones and/or pieces, and vegetable scraps, including peels and skins, and simmer them together with water, the result is magic. Homemade broth chicken from scraps is healthy, healing, and such a welcome addition to your kitchen. Home chefs need not be intimidated. This recipe is tailored to you. Making your own chicken broth from scraps is simple. It takes a bit of time and patience but simmering a pot on the stove for a few hours while you do other things is easy. When you make your own, it's a wonderful way to reduce your kitchen waste. Many home cooks set aside their vegetable scraps each time they cook which saves on food costs and is a wonderful way to help the planet, reducing carbon emissions from our landfills. Get in the habit of putting veggie peels and skins in a storage bag or container in the freezer. Use these scraps to make stock once a week. You can store some in the fridge or even in the freezer to make sauces or soups. For extra flavor, I sometimes cook my pasta, rice or potatoes in chicken broth instead of water. Making your own chicken broth from scraps is a wonderful way to infuse extra flavor and nutrition into your life.
Kitchen Equipment Needed to Make Your Own Chicken Broth from scraps recipe:
Stock pot

Spoon

Tongs

Mesh strainer
Ingredients Needed to Make Your Own Chicken Broth from Scraps:
Chicken scraps (skin, bones, even chicken wings are great to make a stock in a pinch)

Onion pieces or 1 large onion chopped into large chunks

Carrot peels, ends, greens or 2-4 large carrots chopped into chunks

Celery, 4 stalks chopped into large chunks

Herbs (parsley, bay leaf, thyme)

Garlic cloves, smashed

8 Cups cold water

Other vegetable scraps that are excellent to make a chicken broth include: leeks, mushrooms (especially the stems), tomatoes, scallions and herb stalks. We had rosemary today, so I added a fresh sprig. Feel free to add herbs like sage, marjoram, oregano from your garden or pantry according to what you have on hand, and to your taste.
Instructions to Make Your Own Chicken Broth From Scraps:
Rinse your chicken and vegetable scraps and/or cuttings. Place into your stock pot. Add your herbs and seasonings.

Pour cold water into the pot, leaving a few inches of space at the top. Bring to a boil over medium high heat.

Reduce to medium and simmer for at least an hour. You can simmer the stock for up to 3 hours.

Note: As the stock simmers, impurities will float to the top in the form of a foam. Using a spoon, remove the foam and discard.

Once completed, remove from the heat. Using tongs or a slotted spoon, remove the vegetables and chicken.

Pour the cooled stock through a wire mesh strainer. Use right away or store for up to a week in the fridge in an air-tight container or jar.