Farro Salad With Roasted Vegetables and Citrus Vinaigrette Recipe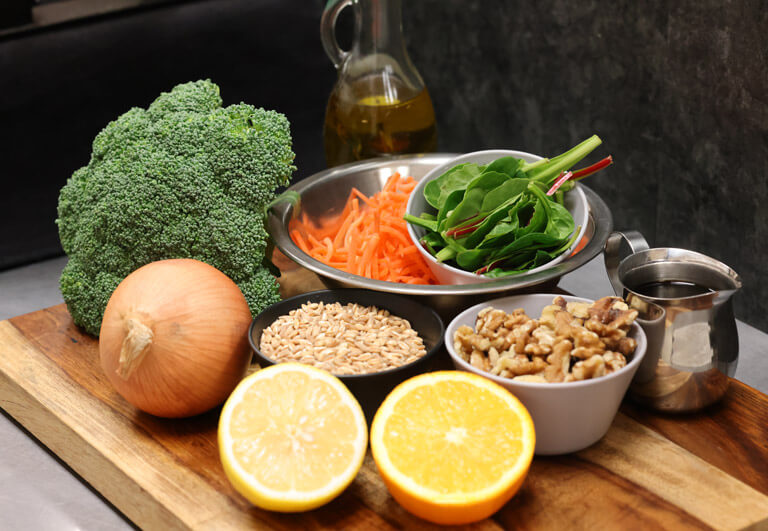 Healthy Farro Salad with Roasted Veggies Recipe Ingredients
Healthy Farro Salad with Pan Roasted Veggies and Citrus Vinaigrette
A tossed salad doesn't need to be always just a pile of lettuce topped with tomatoes and cukes. With a little imagination and some colorful produce, you can create a dish that is healthy and hearty. For this vegan farro salad with roasted vegetables recipe we have chosen a healthy grain as our base ingredient. Farro has been a staple grain for centuries, even used thousands of years ago in ancient cultures such as Egypt and Rome, with origins in the Fertile Crescent area of the Middle East. Literally a dried wheat grain, it's still very popular in Italy today and gaining interest here in the United States as a versatile whole grain, a great source of fiber, protein, and complex carbohydrates. Teamed up with walnuts, broccoli and carrots, and dressed with a quick teriyaki style sauce of citrus juices and soy sauce makes yet another healthy dish to add to your vegan meal plans.
Equipment used to make this Healthy Farro Salad with Roasted Veggies and Citrus Vinaigrette:
Skillet

Measuring spoons

Measuring cups

Spatula or wooden spoon

Mixing bowl

Small jar or covered container

Large saucepan or pot
Ingredients to make this Healthy Farro Salad with Pan Roasted Veggies and Citrus Vinaigrette:
1 C farro

4 C water

2 tbsp salt

2 tbsp olive oil

1/2 yellow onion, cut into strips

1 C shredded carrots

1 head of broccoli, trimmed into florets

1 C of mixed greens, chiffonade

1/2 C chopped walnuts

Note: Chiffonade means to cut into ribbons. Simply stack the leaves of greens together, roll tightly, and slice through with a knife. For the Citrus Vinaigrette:

1/4 C soy sauce or tamari

Juice of 1/2 lemon

Juice of 1/4 orange

1 clove minced garlic

1/2 tsp powdered ginger

2 tbsp brown sugar, coconut sugar or honey
Instructions for this Healthy Farro Salad with Roasted Veggies and Citrus Vinaigrette:
For the Farro:

Heat a large saucepan over medium/high heat and add 1 tablespoon olive oil.

Add the farro to the pot, tossing in the oil to toast the kernels. When the farro becomes fragrant, meaning that you can smell the nuttiness of the grain, pour the water into the pan, add salt and bring to a boil.

Lower the heat and simmer on medium/low until the farro kernels have a soft bite. About 20 minutes. Much like pasta, you can cook farro to al-dente with a slight bite, or cook a little longer for a softer bite. Check as you go and stop when it's just right for you.

The farro will absorb most or all of the liquid. Once the kernels are cooked enough for your taste, drain the excess liquid off before serving. Set aside to cool. Cool farro can be enjoyed for a healthy and delicious farro salad with roasted vegetables recipe without the need of being heated.

For the Vegetables:

Add the olive oil to a sauté pan and heat on medium heat.

Sauté the onions and carrots until slightly wilted and caramelized, about 5 minutes. Sprinkle with salt and pepper to season. Set aside in a large bowl.

Add the walnuts to the same skillet, return to the heat and toast for 2-4 minutes. Set aside with the veggies.

Add the broccoli florets and 1/2 c water to the same pan and sprinkle with salt. Cook covered for about 5 minutes to steam. Once tender, drain the florets and add to the bowl with the other veggies.

Dressing for our Healthy Farro Salad with Roasted Vegetables Recipe:

In a small jar or container, add the citrus juice, soy sauce, sugar, minced garlic and ginger powder. Cover and shake to combine. Taste and season with extra citrus, sugar and/or cracked black pepper to your taste. If you enjoy spicy food, feel free to give your dressing a kick with some sriracha sauce, hot sauce, or even Korean chili paste.

Pour the dressing over the bowl of grains and vegetables, stirring well to incorporate. Serve immediately. This healthy farro salad with roasted vegetables recipe can also be kept in the refrigerator for a couple of days safely and eaten again.
Note: Toss this vegan farro salad with roasted vegetables with shredded chicken, seared salmon or your choice of protein.
Note: To modify this vegan farro salad with roasted veggie recipe for the paleo diet remove the soy sauce and you have yourself a great paleo farro salad with roasted vegetables recipe.