Oven Roasted BBQ Beef Brisket Recipe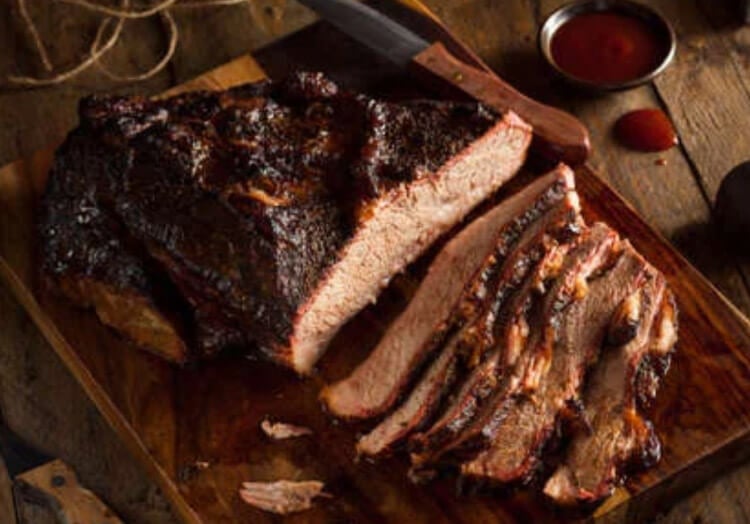 This Oven Roasted BBQ Beef Brisket Recipe Can be Sliced and Served in a Steak Sandwich or as a Main Course.
Ingredients for this Oven Roasted BBQ Beef Brisket:
3-5 lb chunk of beef brisket, trimmed of most fat

1 large onion, chopped

1 large carrot, chopped

1 stalk celery, chopped

1/2 C red wine

1/2 C barbeque sauce of your choice
Ingredients For our BBQ brisket spice rub**:

1/4 c brown sugar

2 tbsp salt

1/2 tbsp ground black pepper

1 tsp garlic powder

1 tsp onion powder

1/2 tsp sweet paprika

1/2 tsp ground rosemary or sage
Not only is this spice rub great for our oven roasted bbq beef brisket recipe, but it can also be used for pork chops or skirt steak.
Instructions for this Oven Roasted BBQ Beef Brisket:
Recommended: Submerge this beef brisket in a brining solution to inject moisture and break down the tough meat tissue for 6-8 hours.

Mix the spices together. Generously rub the meat on all sides with the spice rub. Set aside for up to an hour. You can even prep the meat the night before and let it cure overnight.*

Preheat your oven to 325 degrees farenheit.

In a roasting pan, place the carrots, onions and celery into the pan. Add 1 tablespoon of olive oil, sprinkle with salt and pepper, and toss the vegetables to cook. Arrange the pieces together to form a 'raft' to place the beef on.

Bring 1 tablespoon of olive oil to medium temperature on the stove top. Add the meat and cook for 2-4 minutes on each side to sear or brown.

Once browned on all sides, place the meat on top of the raft of vegetables.

Add the red wine to the sauté pan and stir over the heat to gather the pan juices and brown bits into the liquid, making use of every bit of flavor. Pour into the roasting pan.

Cover with foil and cook until the beef registers an internal temperature of 180 degrees.

Once the beef reaches the proper internal temperature, remove the foil and brush with the barbecue sauce. Put the oven roasted beef brisket back into the oven for another 5 minutes or so to heat the sauce through so it creates a glaze on top of the meat.

For this oven roasted beef brisket recipe, allow the meat to rest for at least 20 minutes before transferring to a cutting board to slice.

Slice the beef roast in thin slices against the grain of the meat. This will ensure that wonderfully moist, fall apart in your mouth cooked to perfection. Serve on a roll as a sandwich or as a main course paired with a mixed greens salad and a starch of choice.

Notes about this oven roasted BBQ beef brisket recipe

*You can store the remaining spice rub in an air-tight container in your pantry for the next time you make brisket, but it's also great on chicken, ribs, or pork loin.

**Montreal steak seasoning is also a great substitute to be used on this oven roasted bbq brisket recipe.