Low Calorie Mixed Greens Salad with Balsamic Vinaigrette Recipe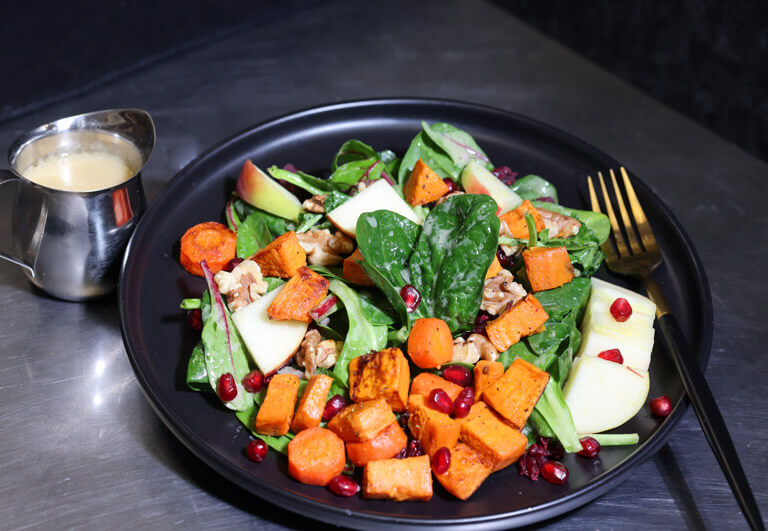 Low Calorie Mixed Greens Salad with Balsamic Vinaigrette Dressing on the Side
A low calorie salad is the obvious choice for the healthiest of meals. Mixing your favorite greens with a couple of roasted nuts and some vegetables makes a basic low calorie salad recipe into a feast of color, nutrients and flavors. For this low calorie roasted veggie salad recipe, I've used a package of fresh mixed baby greens, spinach, kale and chard. Packages of different blends are available at grocery stores all over, usually pre-washed, which is a big time saver for a mid-week low calorie meal. You can choose which greens you prefer or opt for what you have on hand. Other wonderful choices include arugula, watercress, radicchio, endive. This low calorie salad has a wonderful combination of hearty ingredients added, including a homemade vinaigrette dressing, so if you have a head of Iceberg or Romaine is perfectly fine as well.
Equipment Needed for this Harvest Mixed Greens Salad with Balsamic Vinaigrette Recipe:
Knife and cutting board

Medium sized roasting pan, sheet pan or other oven safe dish

Small sauté pan

Serving bowl or plate
Ingredients Needed for this Harvest Mixed Greens Salad with Vinaigrette and Roasted Veggies:
1 package of mixed greens

1/2 C of salad dressing (Classic Vinaigrette Recipe)

1 sweet potato, peeled and cut into 1/2 inch pieces

2 large carrots, peeled and cut into 1/2 inch pieces

1 tbsp Olive Oil

salt and pepper

1/2 C of walnuts, roughly chopped

1/2 apple, peeled, cored and sliced

1/4 C of craisins or pomegranate seeds
Preparation of this Harvest Mixed Greens Salad with Balsamic Vinaigrette Recipe:
Wash, peel and cut the orange veggies into similar sized chunks, roughly 1/2 inch pieces.

Toss with 1 tablespoon of olive oil and a generous sprinkling of salt and pepper.

Transfer to a roasting pan or dish and cook in the oven for 10 minutes at 425, stirring occasionally. Set aside.

Roughly chop the walnuts. Place in a cold sauté pan. Toast on medium heat for 2-5 minutes, stirring constantly. Sprinkle with salt and set aside.

Wash and peel the apple. Remove the core, and slice or dice into small pieces. Sprinkle the apple pieces with lemon juice to season and to prevent browning. Set aside.

Ingredients coked and ready to be tossed in a salad:

Once you've finished your prep, you can toss your greens with the delicious and classic balsamic vinaigrette recipe in a large mixing bowl. Sprinkle with a dash of salt and pepper.

Add the roasted veggies, apples, walnuts, craisins and pomegranate seeds to the bowl. Sprinkle with a bit more dressing if desired and toss again to incorporate.
Note: Add the protein of your choice to this harvest mixed salad recipe to make it more of a dinner entree. Grilled or shredded chicken, pan seared salmon, a hamburger made with lean ground beef, or even hard boiled eggs for all you vegetarian mined folks are all excellent options to turn this veggie mixed salad recipe into something with more protein.