How to Make Ground Beef Patties for Burgers Recipe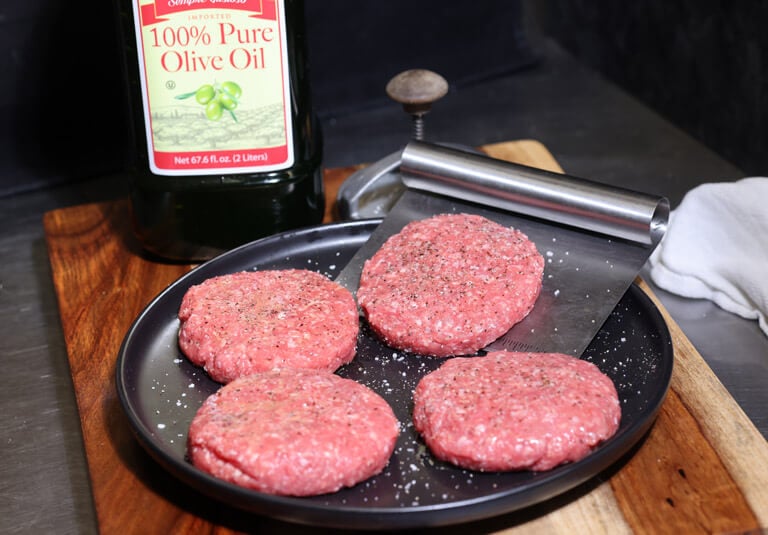 From Kobe Beef to Commodity Beef The Process of How to Make Ground Beef Patties for Burgers in the Same.
Let's face it, meat is expensive nowadays. Especially if you are watching your weight or trying to eat healthier. Finding a lower-fat, healthier ground beef at the grocery store to make ground beef patties for burgers is possible, but difficult.
To make your own ground beef patty for burgers you can take your favorite beef (Kobe, grass fed, or commodity) and follow the below guide with detailed step-by-step recipe instruction on how to make ground beef patties for burgers:
Ingredients for Making Ground Beef Patties for burgers:
1 lb of ground beef

1 egg. This is the burger binding agent (very important)

Salt and pepper

1 tbsp olive oil, plus a drizzle or two more to coat each patty

1 tbsp butter
Important! – Burger Binding Agent You need a burger binding agent to making ground beef patties for burgers. In this recipe Egg is the burger binding agent but there are alternatives. See notes* section for more burger binding agent options.
Instructions for How to Make Ground Beef Patties for burgers:
In a mixing bowl, combine the ground beef, 1 egg, and a generous amount of salt and pepper to season (half tsp each).

Divide the well mixed beef into four equal round balls and form into patties. Drizzle with olive oil and sprinkle with more salt and pepper on each side.

Heat the olive oil and butter in a sauté pan over medium high heat. Add the patties and sauté for 5 minutes on each side, until golden brown.

Brown both sides and cook all the way through. Temp at 165 degrees for 15 seconds to make sure the ground meet is cooked all the way through. Serve immediately on a bun as a burger, with a side of homemade crispy french fries, or even on a salad as your portion of protein.

Note: I've shown an old-fashioned patty press here, which are starting to make a comeback. A silicone one in your favorite color can be purchased online or at your local kitchen supply for under $10.
What burger binding agent should I use?
The most common burger binding agent is egg. This makes your ground beef stick together and is the most readily available ingredient. You can also use potato starch as a burger binding agent depending on your allergies or general availability. Potato starch is a gluten free burger binding agent that is a good alternative from using flour.
How store purchased beef patties for burgers are made:
Many big box retailers make ground beef patties for burgers using leftover meat with their extra fat trimmings in their final beef patty product. Usually a cheaper package of ground beef contains a well marbled or even sinewy cut of beef, sometimes the butcher's trimmings from other cuts of meat that are simply ground to be sold as 'ground chuck', instead of being thrown away.
What to Look For in beef cuts that make the best Ground Beef Patties for Burgers
Ground beef used specifically for patties is better at a fat ratio of 80%/20%, the optimal amount of fat that will keep your burger juicy and full flavored. When you look at the beef in its packaged form, it should be a bright red color without any brown coloring, and if freshly packaged, there won't be much blood pooled under the meat within the package. Read the fine print for terms that will help you select a good quality ground beef. As mentioned above, grass-fed and/or organic, but also more specifically:
Using Wagyu or Kobe beef for burgers is the ultimate go-to for making burger patty. This type of ground beef patty for burgers comes from Japanese cattle, with perfect fat content, and hailed as perfect for a juicy, yummy burger. This beef is very expensive because of the strict standards that the Japanese have for raising and feeding these prize bovine. If you find either of these terms on a pack of ground beef on sale, you've found a bargain.
Note: The meat I chose for this recipe is certified USDA organic, contains no added growth hormones, is grass-fed, and had a fat content of 85%/15%.