Easy Homemade French Fries Recipe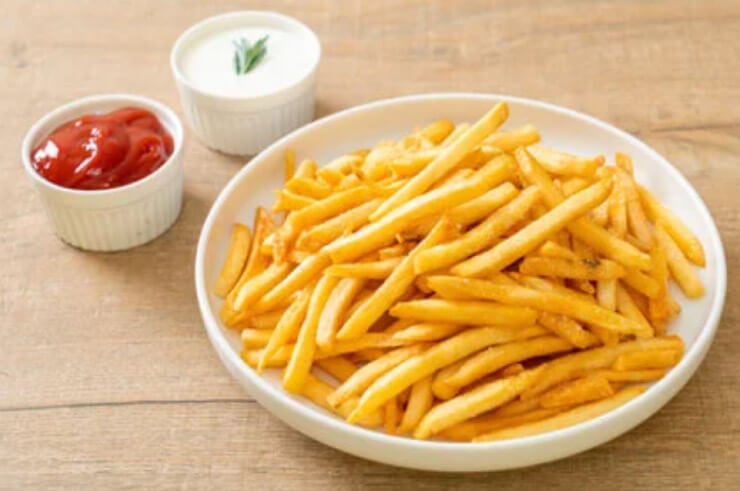 Enjoy this easy homemade french fry recipe with red potatoes. Thee French fries have a crispy skin and juicy texture inside, topped with a light sprinkle of parmesan cheese, fresh parsley and garlic they are sure to be a crowd pleaser.
Ingredients need for this homemade French fries recipe
5-6 medium red potato

Olive oil

Kosher salt

Granulated garlic
Grated parmesan cheese

Garlic powder

Fresh minced parsley
Step by Step homemade French fries recipe cooking instructions
Wash the potatoes and take any poor parts of the skin off, but do not peel the potatoes. Slice the potatoes as evenly as possible to make sure all are similar in size. (This is to prevent burning the small pieces and having the homemade french fries look appetizingly crispy).

Shock and leave the freshly cut homemade french fries in a bowl with cold water for about 15 min to ensure the starches drain out.

Submerge the homemade french fries in a small pan with fresh cold water on burner for about 5-7 min until the fries get a little soft. (Make sure to stir them gently not to break potatoes and not to overcook them). You can add salt at this point to the water.

Put the french potato fries in a strainer and lay them out on clean cheese cloth to air dry for a few minutes. This is the time to add garlic powder to the potato.

Heat the pan with olive oil to reach 400c.

Gently put the homemade french fries to the pan. Do not overflow the pan and do not overcrowd the pan, evenly spreading then out on the surface of the pan. To avoid getting sticky and stay non-cook on top.

Transfer the first batch to the clean cheese cloth to get excess oil out and redo the same proses till all potato's fries.

Garnish your home made french fries with fresh minced parsley and grated parmesan cheese. Then serve and enjoy this delicious homemade french fry recipe!