Easy Crispy Buffalo Chicken Wings Recipe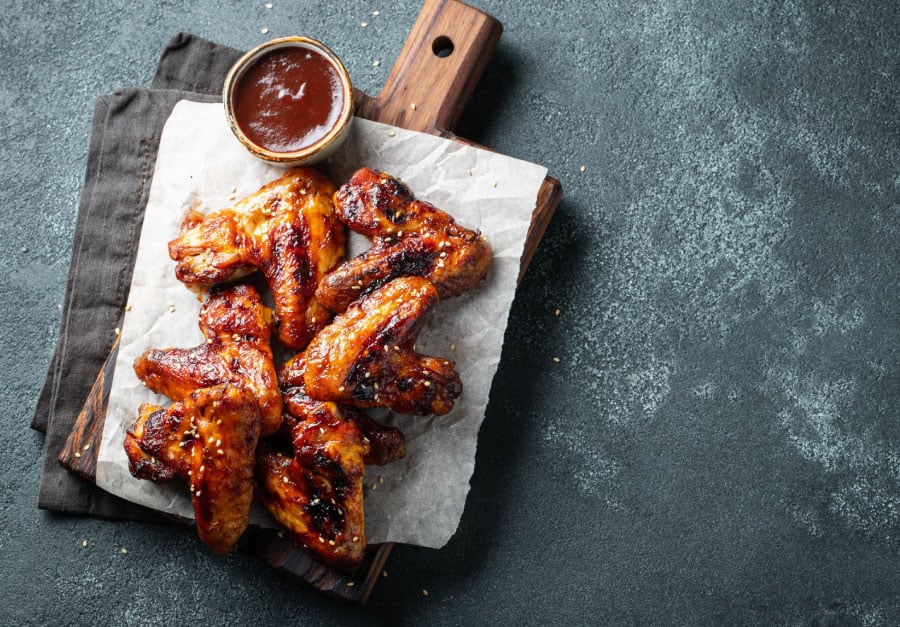 Homemade Buffalo Chicken Wings Recipe Table of Contents
Easy Crispy Buffalo Chicken Wings Recipe Overview
A Buffalo wing in American cuisine is an unbreaded chicken wing that is dipped in a sauce consisting of a vinegar-based cayenne pepper, hot sauce, and butter. Our easy buffalo chicken wing recipe is a healthy spin to this classic recipe. It's a delicious way to cook juicy and crispy better-than-restaurant quality wings. Combined with your favorite side this crispy chicken wing recipe is sure to be a crowd pleaser. See our crispy buffalo chicken wing recipe video:
Kitchen Tools For This Baked Buffalo Chicken Wing Recipe:
Buffalo Wings Sauce Recipe Tools:
Measuring spoon

Saucepan

Wooden spoon or whisk
Baked Buffalo Wings Recipe Tools:
Baking sheet pan

Measuring spoon

Parchment paper

Tongs

Mixing Bowl
Crispy Buffalo Chicken Wings Recipe Ingredients & Shopping List
(A) Crispy Chicken Wings Recipe Ingredients:
3 lb. chicken wings. If whole wings, separate to drumettes and flats. Clip the tips too.

2 Teaspoons coarse kosher salt

1 Tablespoons margarine or butter (remove for healthier spin to recipe).
(B) Zesty Buffalo Sauce Recipe for Chicken Wings:
½ teaspoon black pepper

1/2 teaspoon granulated garlic powder

2 Teaspoon paprika (or smoked paprika)
Cooked instructions for our crispy baked chicken wing recipe:
For this baked chicken wings recipe preheat your oven to 400 degrees Farenheit.

Line two rimmed baking sheets with parchment paper. Tip: Use perforated baking sheet pan since the wings need to be surrounded by hot air on all sides. Alternatively, fit the baking sheet with with wire racks.

Melt the butter (skip this step and remove butter for even healthier version of this buffalo wings recipe) in a saucepan. Cook until foamy and starting to brown.

In a large bowl, toss the chicken wings with the melted butter.

Place the wings in a single layer on a perforated sheet pan lined with parchment or foil. The perforated sheet pan allows hot air to circulate around wings. Mix all dry spices together from list (B) and sprinkle the wings evenly, both sides.

TIP: Use perforated sheet pan and dust the wings with a light coat of corn starch before putting in the oven for an even crunchier finish (optional).

Bake the chicken wings for 40 minutes at 425°. Turn the chicken wings over at about 20 minutes for more even cooking. TIP: If you have an oven-safe baking or cooling rack you can simply bake the wings on that with the tray underneath to catch drippings for 40 minutes without turning the wings.

Toss your baked chicken wings recipe with our buffalo sauce recipe and Voilà! Enjoy a delicious treat to use as an appetizer or main course.

Your browser does not support the video tag.
Suggestions For Our Easy Crispy Buffalo Chicken Wings Recipe
Use this crispy baked buffalo chicken wing as an appetizer or main course. Served with celery sticks, ranch dressing or our roasted potato recipe or a side of your choice. You will think you are eating this crispy baked chicken wing recipe in Buffalo, NY!
Easy Crispy Buffalo Chicken Wings Recipe Tips: Space chicken wings evenly and use a perforated baking sheet pan so you can have hot air circulation around the chicken wings.
Did you know you can buy this buffalo chicken wing recipe pre-made and pre-cooked? See the MealPro chicken wing menu here.