Baked Rosemary Potato Recipe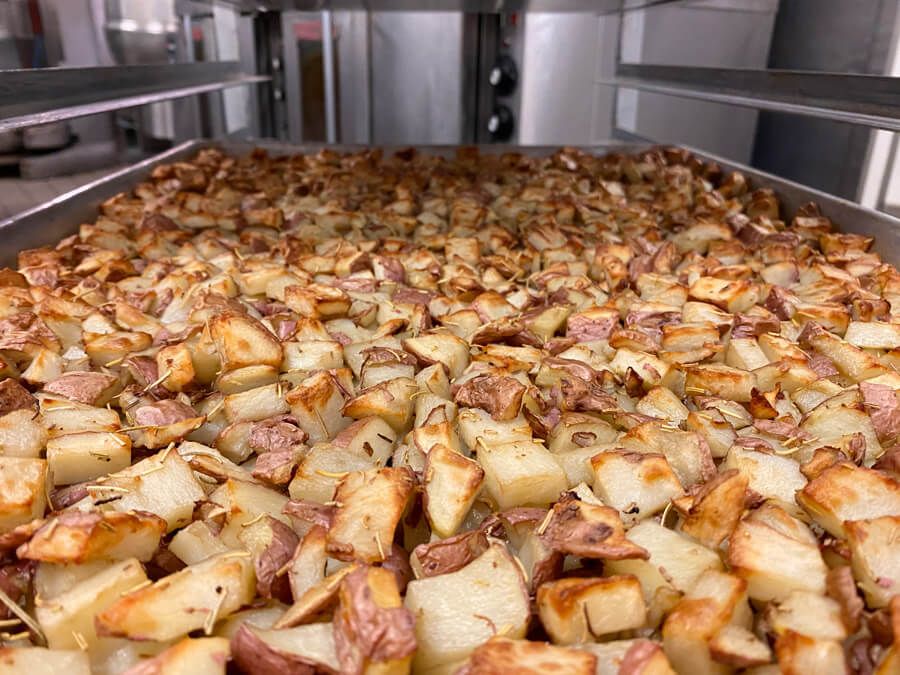 Roasted Rosemary Potatoes Table of Contents
Roasted Rosemary Potato Recipe Overview
Roasted rosemary potatoes are a delicious side dish that combines the earthy flavors of potatoes with the aromatic herb, rosemary. Here's a simple recipe to make rosemary potatoes at home. This roasted rosemary potatoes can be made with russet potatoes, yukon gold potatoes, fingerling, red or medley potatoes to name a few.
This roasted potato recipe is versatile and can be used for breakfast, lunch or dinner dishes.
Kitchen Tools For This baked Potato Recipe
Baking Sheet Pan

Tbsp Measuring Scoops

1/2 cup Measuirng Cup

Mixing Bowl

Knife

Cutting Board

Damp Towel

Parchment paper

Colander pan
Ingredients for This Baked Potato Recipe
A.

5lb of red potato

B.

1/2 Cup of pure olive oil

C.

2tbsp of Granulated Garlic

Fresh Rosemary

1tbsp Kosher Salt

1tbsp Black Pepper
Directions of this Rosemary Potato Recipe:
Potato washing directions:
Fill your sink with cold water (half way)

Add 5lbs of red potato

Wash each potato and transfer it into the colander pan.
Potato roasting directions:
After being washed, cut the potatoes in half or quarters.

Place your potato in a mixing bowl and with the olive oil, salt, pepper, garlic and rosemary in the quantities from C above.

Add ingredient B & C into the Bowl and Mix it well.




Take the Baking Pan and line it with a parchment paper




Distribute the Fully Mixed Potato into one large or a couple of small baking pan(s).




Pre-Heat the Oven to 350 degrees Fahrenheit

Once the Oven is ready, place the pans inside the Oven

Set Timer to 30 minutes.

(After 30 minutes) Rotate the pans and Set the timer to another 30 minutes.

(After 30 minutes), remove all the Potato Pans from the Oven and transfer into the Cooling Rack.




Allow the roasted rosemary potatoes to cool for a couple minutes on a rack. Serve war, and enjoy this mouthwatering potato recipe with your choice of protein or sides.
Roasted Potato Recipe Ideas For Sides and Serving Suggestions
This roasted rosemary potato recipe is great for breakfast, lunch, or dinner. You can combine this rosemary potato recipe with a salad and a protein side to make it a balanced meal. For a healthy version of fish and chips you can substitute the fried potato wedges for this baked roasted rosemary potato recipe and substitute the battered cod for a more healthy baked tilapia recipe to give you a healthy spin on the classic fish and chips. Alternatively, you can serve with any protein or eggs to get a breakfast meal.