Easy Roasted Tilapia Recipe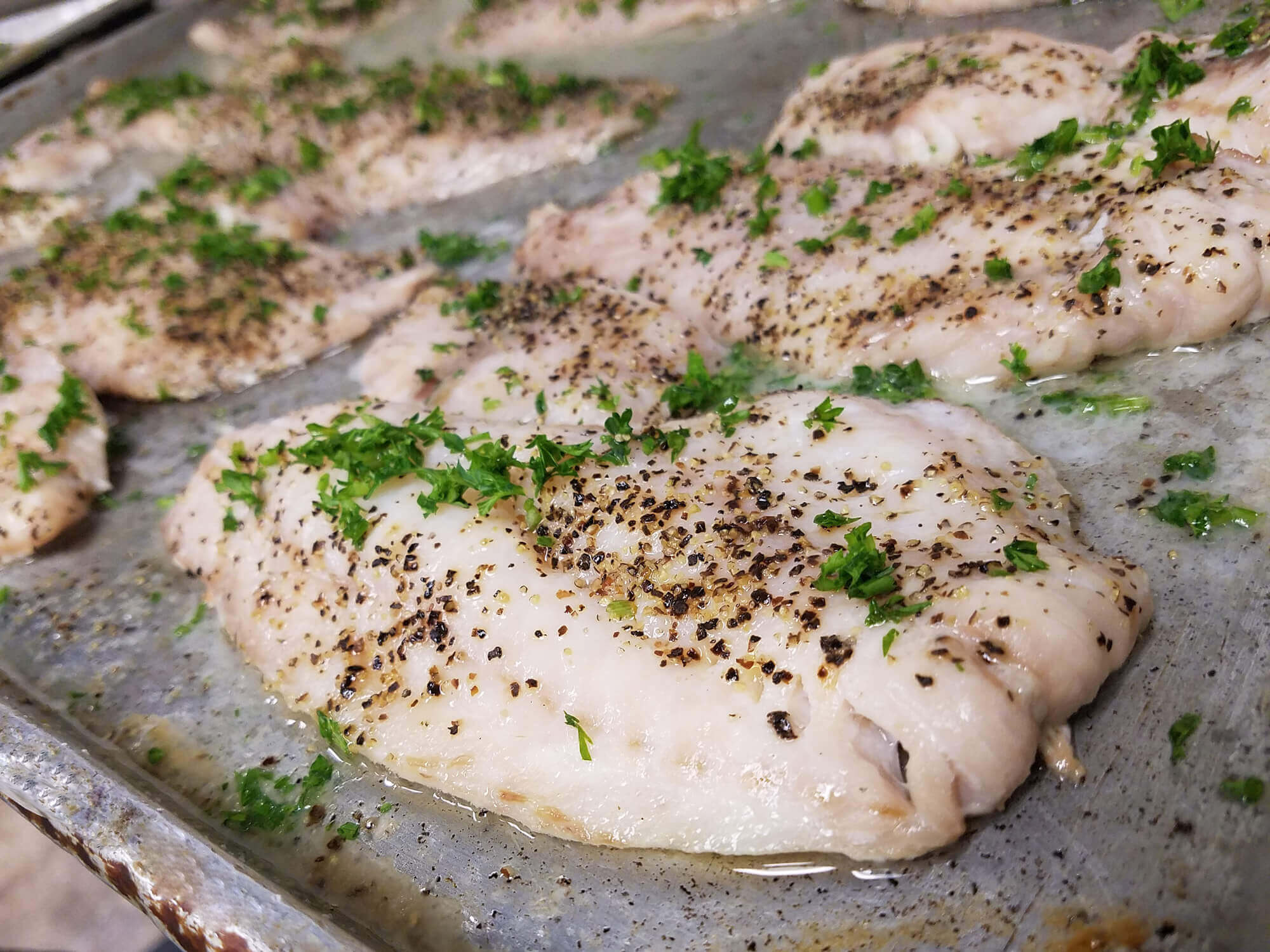 Enjoy this quick and healthy melt-in-your-mouth roasted tilapia recipe idea that can be used for a paleo, keto, or a weight loss diet.
Roasted Tilapia Recipe Overview
Tilapia is a lean whit fish low in calories and high in protein. Tilapia fish is frequently consumed in breaded form, however, in this paleo tilapia recipe we will be baking plain tilapia fillets to maintain a low carb nutrition profile.

Our roasted tilapia recipe we will use 3-5oz tilapia fillet portions but you can buy any size tilapia fillet your local grocery store. This is great for easy roasted tilapia recipe idea, but it can also be a great paleo tilapia recipe idea for any diet plan paired with the appropriate side dish.
This roasted tilapia recipe is versatile and can also be used as a weight loss, keto tilapia recipe due to the use of olive oil as a source of healthy fat.
Kitchen Tools For This Easy Rosted Tilapia Recipe
Baking Sheet Pan

Sauce Bowl

Brush

1/2 Cup Measuring Cup
1/4 Cup Measuirng Cup

Clean Container

Parchment paper
Ingredients for This Easy Baked Tilapia Recipe
A.
1/2 Cup of Olive Oil

1/2 Cup of Lemon

1/2 Cup Tilapia Season Mix
Directions of this Baked Tilapia Recipe:
Take a bowl or container and add ingredients (A). Mix them well to ensure an even mix.





Take a baking sheet pan with parchment paper and lace it with ingredient (A) mix using the brush.




Add ingredient (A) and mix on top of the tilapia fillets using the brush, making sure you cover the entire surface area. Lace the tray nicely to make sure your healthy and protein rich tilapia stays moist during the baking process.

Pre-heat your convection oven to 350 degrees Fahrenheit.

Once the oven is ready, place the pan inside the oven.

Set timer to 20 minutes.

(After 20 minutes) Remove the sheet pan from your convection oven and place it on the cooling rack or table. For best taste let the food sit for a few minutes and allow the tilapia to keep cooking gently while cooling down.




Allow the fish to cool down for a couple of minutes before enjoying.
Roasted Tilapia Recipe Ideas For Side Dishes
Pair with a leafy green salad for a complete weight loss tilapia recipe – avoid the rich salad dressing and opt for a simple, low calorie seasoning like salt and pepper or balsamic vinaigrette.

For a healthy spin to the fish and chips combine this baked tilapia recipe with our healthy baked potato recipe.

Other pairings of this roasted tilapia recipe could be an easy spaghetti recipe that accompanies the protein.