Vegan Spaghetti Recipe Easy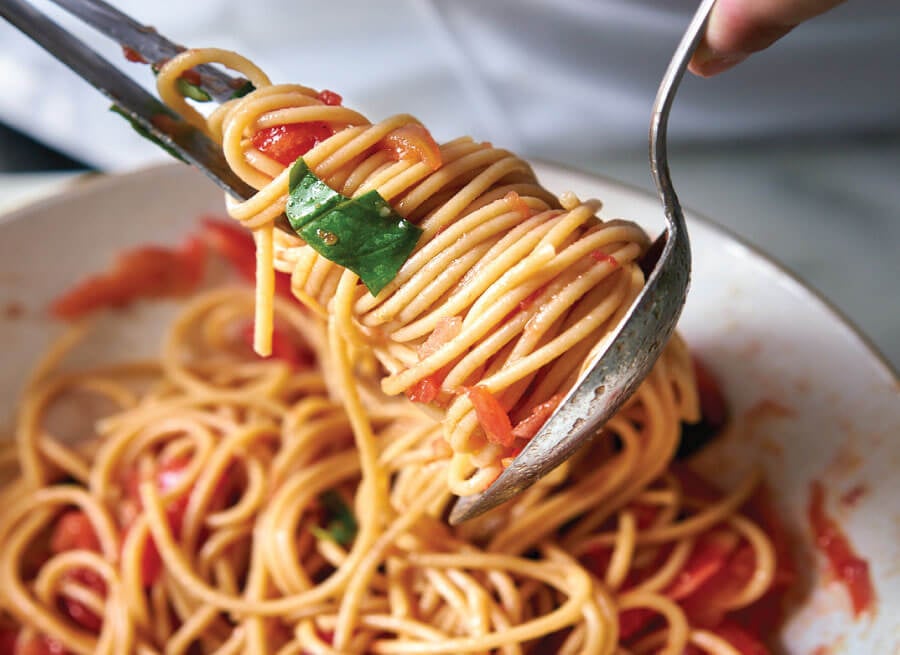 Table of Contents for this Spaghetti Recipe
A Description of our Easy Spaghetti Recipe with Tomato Sauce
This easy vegan spaghetti recipe with tomato sauce is a simple but far from trivial recipe. A true Italian classic, it is subject to infinite variations to find the perfect balance of flavors, including the right creaminess and sweetness, starting from the type of tomato used (Roma Tomato vs Cherry Tomato vs Oxheart Tomatoes). This classic first course is a real test for those who love to prepare it at home, but also for star chefs who jealously guard the secrets of their vegan spaghetti recipe version.
This easy vegan spaghetti recipe served with home cooked, slowly roasted tomatoes paired with the scent of fresh basil leaves will make you feel like you're eating this in Italy.
Kitchen Tools For This Easy Vegan Spaghetti Recipe
Pot

Mixing Scoop

Tongs

Mixing Bowl
Ingredients for This Vegan Spaghetti Recipe
Spaghetti 1 lb

Extra Virgin Olive Oil: 2 ¼ tbsp

Basil: To Taste

Peeled Tomatoes: 28 oz

Garlic: 1 Clove

Kosher Salt: To Taste
Directions of this Vegan Spaghetti Recipe:
To make spaghetti with tomato sauce, start by preparing the sauce. Pour the extra virgin olive oil in a pan with the peeled and halved garlic clove (1), so you can remove the core and make the scent more delicate. Cook for 2 minutes over high heat, add the peeled tomatoes (2) and salt (3).




Cover with a lid and cook for at least 1 hour over very low heat: the sauce should simmer gently (4). Mix it from time to time. After this time, remove the garlic (5) and pass the tomatoes through a sieve (6) to obtain a smooth and homogeneous puree.




Pour the sauce (7) back into the pan, turn the heat to very low and add the basil leaves (8). After a few minutes, turn off the sauce and keep it warm. All you have to do now is cook the pasta in plenty of boiling salted water (9).




Drain the spaghetti al dente directly into the sauce (10) and stir for a few moments over high heat to mix everything together (11). Your spaghetti with tomato sauce is ready, all you have to do is serve it, garnished with fresh basil to taste (12)!



Plating Suggestions for our Easy Spaghetti Recipe
You can prepare the sauce a little in advance or keep it in the refrigerator for up to 2-3 days, provided it is well covered with plastic wrap or in an airtight glass container. If you prefer you can also freeze the sauce.
A tip for the spaghetti recipe sauce is to cook the tomato sauce for longer. This usually makes for a tastier sauce. For more intense color, add a little tomato paste.
To have your spaghetti recipe with a protein you can use our healthy baked tilapia recipe as a main course that will be accompanied by this spaghetti and tomato sauce recipe.
If you liked this easy vegan spaghetti recipe you may also enjoy our roasted rosemary potato recipe.