Quick 'Homestyle' Instant Mashed Potatoes Using Dried Potato Flakes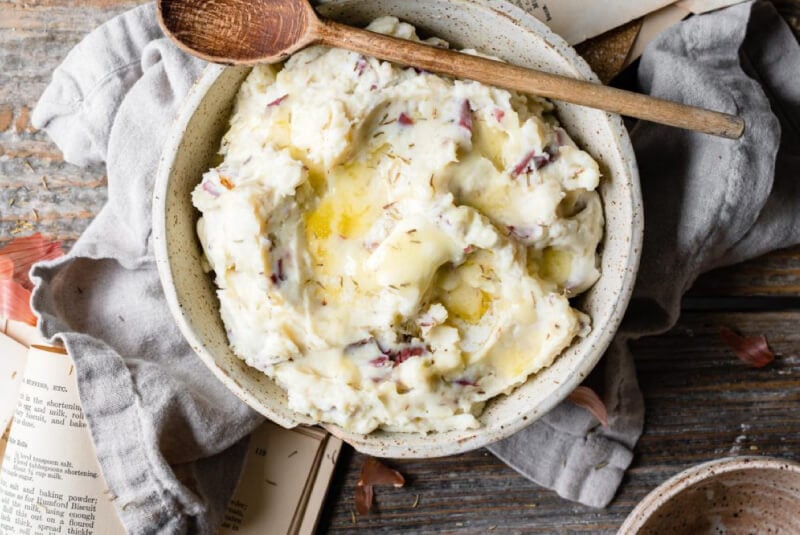 Dried Potato Flakes are used for "Homestyle" or Instant Mashed Potatoes Recipes
Quick 'Homestyle' Mashed Potatoes Using Dried Potato Flakes
You've seen instant mashed potatoes in the grocery store. In fact, you've probably purchased and used them yourself. If you've eaten fast food chicken or dined in a cafeteria, you've most likely indulged in them too. Dried potato flakes are so convenient, but most packaged versions available at the grocery store are loaded with unnecessary additives and undesirable ingredients. As a chef and Mom, I confess I use the pre-seasoned instant mashed potatoes from time to time. However, I suggest purchasing potato flakes in bulk without seasoning. They are wonderful in a pinch to thicken sauces and soups. And with a little bit of technique and some fresh herbs and or garlic, these powdered spuds can be made into a truly addictive version of homestyle mashed potatoes, as in our recipe here.
Ingredients for Quick 'Homestyle' Mashed Potatoes Using Dried Potato Flakes:
1/2 C dried potato flakes (aka instant mashed potatoes)

salt and pepper

1 tablespoon of extra virgin olive oil

2 garlic cloves, peeled and smashed

1 C milk or water

2 tablespoons of heavy cream or whole milk (optional)

1 tablespoon of cold butter
Instructions for Quick 'Homestyle' Mashed Potatoes Using Dried Potato Flakes
Peel the garlic and smash it with your knife (place the knife flat over the top of the clove and bang it with the butt of your hand).

Add 1 tablespoon of olive oil to a sauté pan or skillet and heat over medium.

Add the smashed cloves and sprinkle generously with salt. Sauté quickly till fragrant and brown.

Immediately add the water or milk to the pan and bring to a boil. Do not walk away from the stove at this point or you will have a mess. The liquid will boil very quickly.

Remove the pan from the heat and turn the stove off. Using a fork or a slotted spoon, remove the garlic and discard.

Add the instant mashed potato flakes and stir to ensure that all of the flakes are hydrated in the liquid.

Taste the instant mashed potatoes and add the cold butter, cream and season with salt and pepper to your desired taste. Fluff the instant mashed potatoes, stirring with a fork or whisk to incorporate all of your final seasonings. Serve this instant mashed potatoes recipe immediately.