Best Pan Seared Caramelized Onions Recipe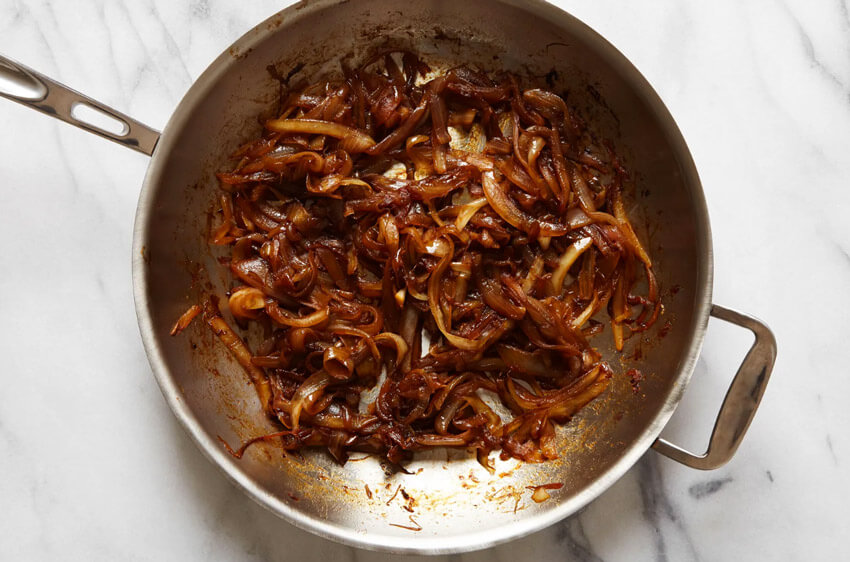 If you've never tried a caramelized onion recipe, you're in for a treat! It's a quick, easy way to cook onions (white, yellow or red) and give it amazing flavor. Add the onions to your tri tip sandwich, skirt steak recipe or with your salad to name a few options.
Caramelized onions go great on any protein from beef to chicken and seafood.
It only takes a few minutes to caramelize onions, so stay close to the stove!
Ingredients for this caramelized onions recipe
2 medium sized onions* sliced thinly

1/2 tsp brown sugar

1 tbsp butter

Salt and pepper – to taste

4 tbsp olive oil
*for a caramelized onions recipe any type of onion will do the trick! Yellow onion tends to be a tad sweeter but red onion keeps its color better.
Step-by-Step Cooking Instructions for this pan seared caramelized onions recipe
Slice the onions. Cut from tip to tail in half, and slice into the uncut side of the onion, making as thin of slices that you can.

Heat 2 tbsp of olive oil and the butter over medium high heat in a skillet.

Add the sliced onions, sprinkle with 1 tsp salt and sauté for 10-15 minutes, stirring occasionally. I recommend staying by the pan.

Once the onions are opaque, wilted, and begin to turn brown in color, add the sugar. Cook for just a couple minutes more. Remove from the pan and set aside.

Plate your caramelized onions and enjoy with a protein of your choice.
Protein that go great with this caramelized onion recipe include pan seared shrimp, beef or chicken to name a few.
Helpful Pan Seared Caramelized Onion Recipe Cooking Tips
Don't crowd the pan: Don't add more than 1 pound of caramelized onion to the skillet at once. The onion should create a thin layer to cover the bottom but there should not be multiple layers of onion. This enables you to toss the onion in the skillet and ensure even and nice roasting.
Use a wide skillet: A 12-inch skillet allows plenty of room to evenly space out the shrimp in a single layer. Use a non-stick skillet to prevent the onion from sticking, which helps keep all of the yummy browned flavor on the onions.
Error on the side of more cooking, not less: Caramelized onions can handle a bit more time on the stove. To ensure the onion is tender and soft without the crunch and zest of a raw onion allow err on the side of cooking too long vs too little.