Easy Flank Steak Recipe Pan Seared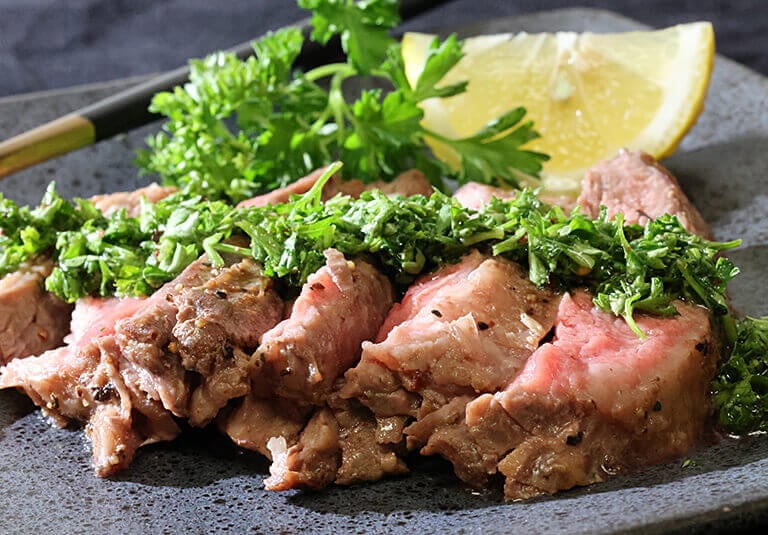 Flank steak was once known as the "buthers cut of meat". With perfect marbling the butchers would keep this for themselves. Today, this cut of meat can be found at local markets and in can be quick and easy to prepare. This recipe is great when you want a hearty meal with big flavor but are short on time. The homemade chimichurri sauce acts almost like a dressing, removing the need for marination. Simply season the steak, sear, make the sauce and plate. Below, you will see how to prepare the easy flank steak recipe pan seared over a stove top.
Kitchen Tools to Prepare this flank Steak recipe over a Stovetop Recipe:
Skillet

Cutting board

Kitchen knife

Measuring spoons

Mixing bowl
Ingredients for this Pan Seared flank Steak recipe with Chimichurri Sauce:
INGREDIENTS FOR THE FLANK STEAK

1 lb piece of flank steak

1 tablespoon olive oil

Salt and pepper
Cooking instructions for this Pan Seared flank Steak recipe with Chimichurri Sauce:
FLANK STEAK COOKING INSTRUCTIONS

Trim the extra fat off the steak as you lay it flat. Use the fat trimming to make your own sausage or save it to for later use to make your own ground beef.

Sprinkle the steak with salt and pepper on both sides to season.

Heat the olive oil over medium heat in the skillet.

Add the flank steak and cook for approximately 6-8 minutes on each side, till it turns golden brown.

Set aside.

Cover with foil to keep warm and let the meat rest.

Doing so allows the juices to settle back into the meat so when you cut it, the juices will stay in the meat.

Plate. Cut the flank steak in strips against the grain. The steak will be more tender when cut this way. Place a few strips of flank on each plate and drizzle the homemade chimichurri sauce right over.
Serve this flank steak recipe immediately over your favorite side, like brown rice or a side of low carb cauliflower mashed potatoes if desired.