Low Calorie Chicken Salad Recipe for Weight Loss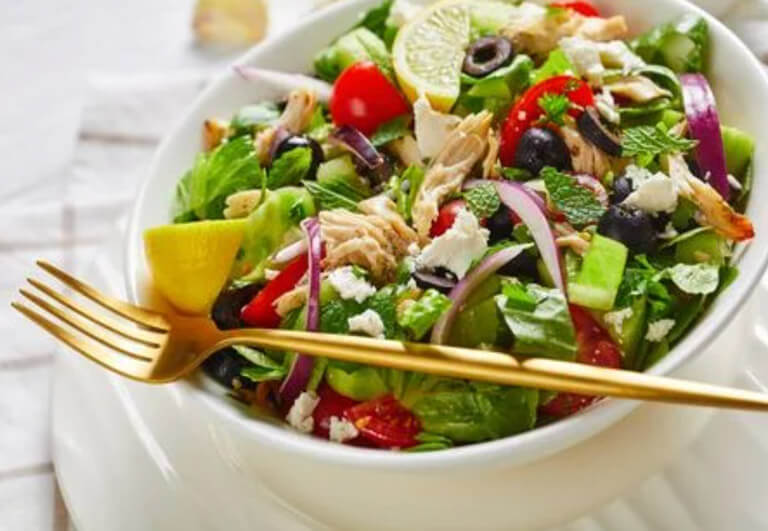 Low Calorie Chicken Salad Recipe for Weight Loss
This low calorie chicken salad is a wonderful accompaniment to any plain green salad for lunch or dinner, but also especially wonderful on its own for a sandwich or with crackers. When you buy premade chicken salad at the store, it's definitely difficult to control how much fat and other undesirable ingredients it contains. Making a low calorie chicken salad recipe at home is fairly easy, and you get to choose the freshest chicken, add seasonings to your taste, and even make your own mayonnaise if you so desire. After you've made this low calorie chicken salad recipe that includes several ingredients known to lift flavor without fat, you can make it in advance and keep in the fridge for a quick and healthy snack or sandwich.
Ingredients for this Low Calorie Chicken Salad Recipe:
1 large chicken breast or thigh, poached

1 stalk of celery, trimmed, peeled and chopped into small dice

1 tbsp freeze dried minced red onion or 2 tbsp fresh minced shallot

1/4 C greek yogurt

1/4 C mayonnaise (vegan, organic, lite, your preference)

Salt and pepper

1 tbsp lemon juice

1 tsp dijon mustard or 1/2 tsp mustard powder
Instructions for this Healthy Low calorie Chicken Salad Recipe for Weight Loss:
In a small saucepan, bring 2 cups of water to a low simmer. Season your chicken with salt and pepper and place gently into the water. Cook on medium heat for about 20 minutes, or until the chicken is no longer pink inside. Set aside to cool.

Rinse the celery stalk. Run your peeler down the front of the stalk to remove any of the overly thick fibers. Chop into a small dice.

Cut your shallot into a small dice or mince.

Once the chicken is cooler to the touch, use your fingers or two forks to pull the meat apart into small pieces. Sprinkle with salt and pepper.

Add the chopped veggies to the chicken and mix together.

Add the remaining ingredients to the bowl and stir well.

Season this low calorie chicken salad for weight loss recipe to your palate. Chill and enjoy on over a bed of baby spinach or mixed greens with some balsamic vinaigrette – or add to a sandwich.