Classic Balsamic Vinaigrette Recipe with Dijon Mustard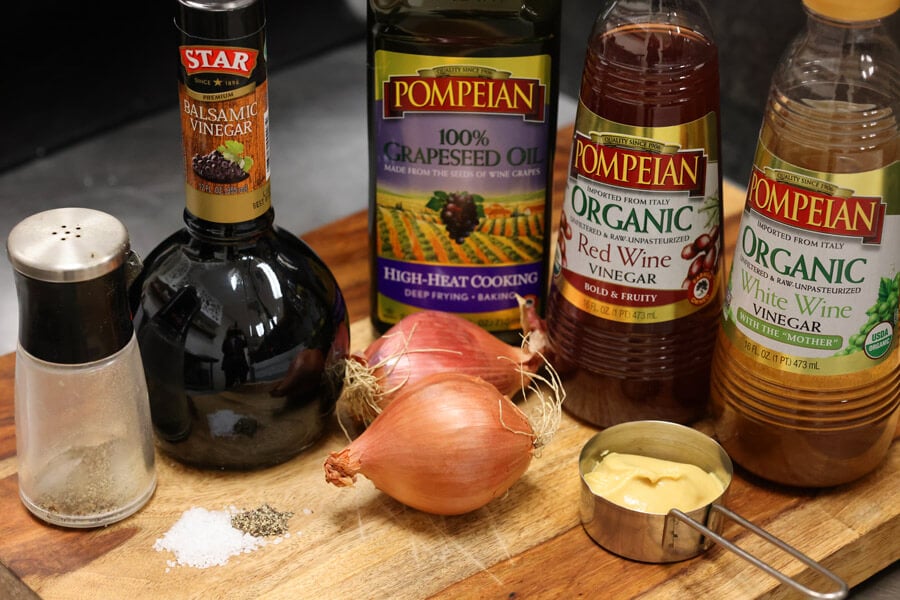 classic balsamic vinaigrette recipe with dijon mustard
Making your own salad dressing like this balsamic vinaigrette recipe was once a normal task most home cooks were well versed in. Now there are so many options in the grocery store that people rarely bother to make their own. However, knowing how to make a basic vinaigrette recipe gives you the power to use what flavors thrill you and experiment to create other types of dressings, which you can use over simple and low calorie salads, to dress up grilled vegetables or even as a marinade for grilled meats. It also lets you control your nutritional intake. Find a good quality, lightly flavored oil than olive oil, one that fits your dietary needs. Grapeseed, sunflower, avocado are all excellent oils that have exemplary nutritional profiles. Once you've selected your pantry ingredients and made this recipe a few times, you'll have a handle on the 3 parts oil to 1 part acid with mustard in a jar and you'll be a salad dressing master!
Equipment needed for this classic balsamic vinaigrette recipe with dijon mustard:
Knife and cutting board

Small jar or container with a tight lid

measuring cups and spoons
Ingredients Needed for this Classic Vinaigrette Recipe:
1 shallot, minced

1 tbsp dijon mustard

1 C Grapeseed Oil

1/3 C Red Wine Vinegar

Salt and pepper
How to prepare of this Classic Balsamic Vinaigrette recipe
Chop the shallot into a small mince. Add to your jar.

Measure your mustard, oil and vinegar and add to the jar as well.

Sprinkle with salt and pepper. Shake vigorously until the mixture emulsifies, which is when the oil and vinegar meet together in a harmonized mixture with the help of the mustard.

Do a taste test. Let your taste buds guide you. If the mixture is too tangy, add a pinch of sugar, honey or even maple syrup. Too bland, a bit more salt or pepper.*

Serve immediately atop the salad of your choice ( for example our Autumn Harvest Mixed Greens Salad) and store the remaining dressing in the fridge.
*Note: Don't be afraid to experiment using different vinegars, like swapping out white wine vinegar for balsamic vinegar. If you cannot find shallots, swap in minced garlic, red onion or even granulated of either in a pinch. Other ways to make your dressing your own would be to use a different type of mustard, add fresh chopped herbs or sprinkle in some grated cheese of your choice. These are all great ways to put a spin and create your own balsamic vinaigrette recipe.