Easy New Orleans Cajun Shrimp Recipe Over Dirty Rice and Caramelized Onions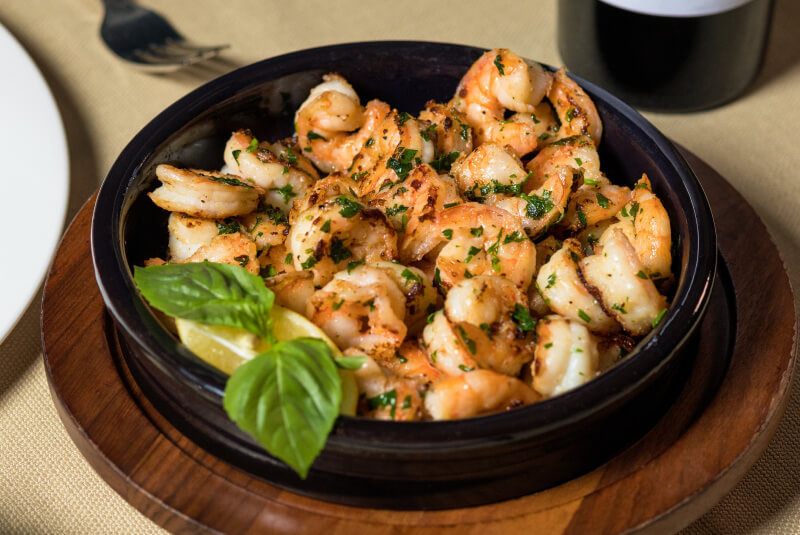 This New Orleans Cajun Shrimp Recipe Will Make You Feel Like You're Eating in Louisiana
It's amazing what some leftover steamed rice, a quick dice of veggies, and frozen shrimp can become when seasoned with the bold, peppery, herby quality of Cajun seasoning. You can find this spice mix with origins in Louisiana everywhere these days. But in a pinch, you probably have the basic components in your pantry. Cajun seasoning, traditionally a combination of paprika, oregano, garlic powder, cayenne and other ground peppers, hails from Acadian immigrants, people with French roots via the Eastern Maritime Canadian provinces, who integrated their style of cooking with other ethnic groups in Louisianna after fleeing there in the mid-18th century during the French and Indian War, which saw their people at odds with the British. Cajun seasoning and Cajun cooking boasts African American, Caribbean and Creole influence, which create a punch of flavors in iconic dishes such as gumbo and jambalaya. Our quick, one-pan Cajun shrimp recipe features a bed of Dirty rice, a vegetarian version of yet another Cajun specialty, with the ever-present chopped bell peppers, celery, and luscious caramelized onions, which offer a nice sweetness to complement the spicy flavors of the dish. This entree and side combination is wonderful when made with whatever protein you have on hand, and as chef you can choose what vegetables you prefer. Caramelizing the onions is the only challenging step here. The whole meal can be prepared in well under an hour.
Ingredients for Cajun Shrimp with Caramelized Onions over Veggie Dirty Rice:
1/2 lb peeled and deveined medium (21-25/lb) shrimp, or whatever shrimp you prefer

Salt and pepper – to taste

4 tbsp olive oil

1-2 tbsp Cajun seasoning

1 tbsp butter

2 medium sized onions sliced thinly

1/2 tsp sugar

2 C cooked white rice (leftover works great)

1 stalk of celery, chopped in small dice

1 green bell pepper, chopped in small dice

1 bunch of scallions (4-5), chopped, separated by white of the stalk and greens
Cooking Instructions for Cajun Shrimp with Caramelized Onions over Veggie Dirty Rice:
Prepare the Caramelized Onions

Slice the onions. Cut from tip to tail in half, and slice into the uncut side of the onion, making as thin of slices that you can.

Heat 2 tbsp of olive oil and the butter over medium high heat in a skillet. Add the sliced onions, sprinkle with 1 tsp salt and sauté for 10-15 minutes, stirring occasionally. I recommend staying by the pan. Once the onions are opaque, wilted, and begin to turn brown in color, add the sugar. Cook for just a couple minutes more. Remove from the pan and set aside.




Preapre the Shrimp

If your shrimp is frozen, which is what we're using here, rinse under cold running water to defrost.

Toss the defrosted and drained shrimp with 1 tbsp of Cajun seasoning. Set aside.

Cook the shrimp in the same pan as the onions. Shrimp cooks quick! 2-3 minutes per side. Don't crowd the pan on this one. Space the shrimp out on the plate and spread and cook on both sides.




Prepare the Rice

Wipe the skillet clean with a paper towel. Return to the heat with 1 tablespoon of olive oil and 1 teaspoon of Cajun seasoning. Add the chopped bell peppers and celery. Sprinkle with some salt and sauté until the vegetables begin to wilt. Add the chopped white ends of your scallions and sauté just a minute more.

Add the steamed rice and stir well to combine. Tossing over medium heat so that the rice heats through and absorbs all the caramelization off the pan. Set aside and cover to keep warm.

Wipe the pan clean again with a paper towel. Return to heat and add 1 tablespoon of olive oil and 1 teaspoon of Cajun seasoning. As soon as the spice begins to foam up in the oil, add the shrimps to the pan. Sauté for 2-3 minutes each side, till browned and coated in the spices. Add the caramelized onions to the seasoned shrimp and toss to combine well.

To plate, spoon the rice onto the center of your plate or platter, and surround with the shrimp and onion sauté. Sprinkle all over with the chopped green tops of the scallions and a final sprinkle of Cajun seasoning. Serve immediately.
Helpful New Orleans Cajun Shrimp Recipe
Use a wide skillet: A 12-inch skillet allows plenty of room to evenly space out the shrimp in a single layer. Use a non-stick skillet to prevent the shrimp from sticking, which helps keep all of the yummy browned flavor on the shrimp.
Don't move the shrimp: Moving food around in a skillet prevents it from browning, whether it's shrimp, chicken or fish. Just leave the shrimp alone and resist the urge to mix with a spoon. After 2 minutes, flip the the shrimp over, then leave them alone again to brown on the other side. This will ensure you have crispy shrimp for this pan seared shrimp recipe.
Error on the side of less cooking, not more: Shrimp cook really quickly. A total of slightly less than 3 minutes of total cooking time is about right. You need that amount of time to get a brown sear on the outside, but don't leave the shrimp in the skillet longer than a total of 3 minutes or they will overcook.
Choose the right sized shrimp: For this pan seared shrimp recipe I used jumbo prawns sized 21-25 which are good for presentation. The number 21-25/lb indicated 21 to 25 shrimp equate to one pound. You can choose to prepare your pan seared shrimp recipe with even larger prawns (smaller number) per your preference.