Homemade Cajun Seasoning Recipe Mix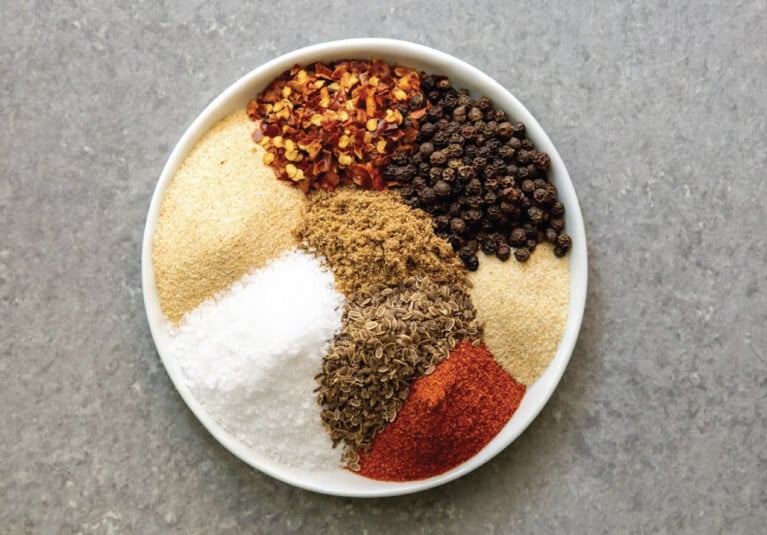 Cajun Seasoning Recipe Overview
You can find this spice mix with origins in Louisiana everywhere these days. But in a pinch, you probably have the basic components in your pantry. Cajun seasoning hails from Acadian immigrants, people with French roots via the Eastern Maritime Canadian provinces, who integrated their style of cooking with other ethnic groups in Louisianna after fleeing there in the mid-18th century during the French and Indian War, which saw their people at odds with the British. Cajun seasoning and Cajun cooking boasts African American, Caribbean and Creole influence, which create a punch of flavors in iconic dishes such as gumbo and jambalaya.
Cajun Seasoning Recipe Tools Needed
Measuring cups

Mixing bowl

Storage container
Cajun Seasoning Recipe Ingredients
Kosher Salt – 1/2 Cup

Black Pepper Cracked – 1 tbsp

Garlic Granulated – 1tbsp

Chili flakes – 1/2 tbsp

Oregano – 1/2 tbsp

Cayenne pepper – 1 tbsp
Preparing this Cajun Seasoning Recipe
Add all the spices listed above to a bowl and mix together to create the Cajun seasoning mix.

Store in an air-tight container and use for a steak recipe like a ribeye steak or a New Orleans style cajun shrimp recipe.