Easy Carne Adovada Street Tacos Recipe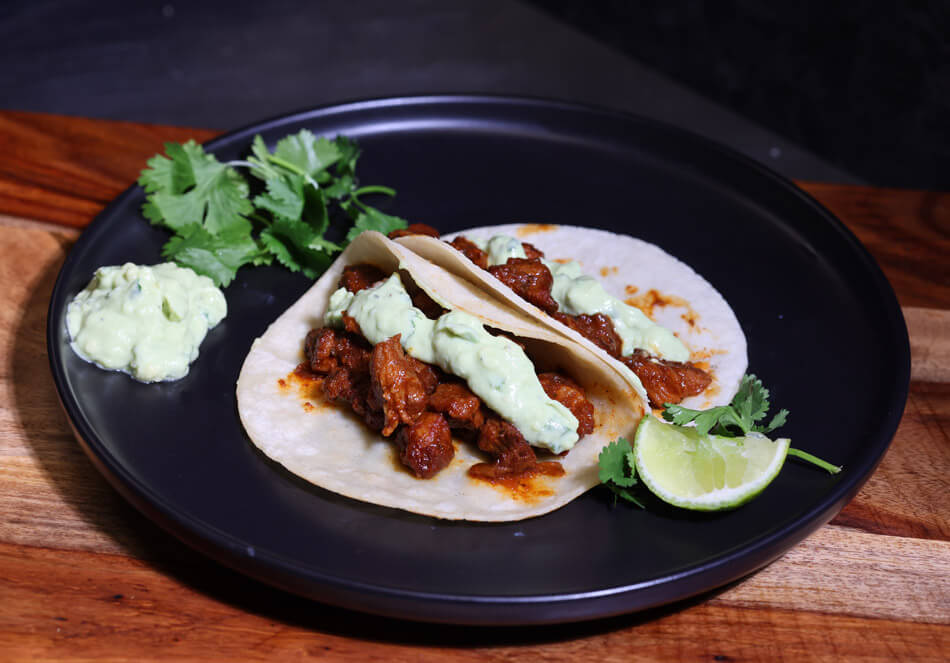 Easy Carne Adovada Street Tacos Recipe
Pork Adovada or pork cooked in a red chili sauce is a classic Mexican preparation for a Pork shoulder or other large, on the tougher side cut that requires a long, slow braise similar to a pulled pork recipe. In this recipe, by dicing the pork into small pieces and toasting our spices in oil before adding the braising liquid, we've bumped the flavor and cut the cooking time down considerably. Now you can enjoy red chili pork tacos as a mid-week mini fiesta!
Ingredients for this Easy Carne Adovada Street Tacos Recipe:
Ingredients for the pork tacos recipe

1-2 lbs boneless pork shoulder, trimmed of most fat, and cut into small chunks

1 small white or yellow onion, diced

Salt and pepper

2 tbsp olive oil

2 C water or just enough to cover

1 tbsp ground cumin

2 tbsp red pepper powder of your choice, preferably New Mexican red chili powder or chili colorado

1 tsp adobo seasoning or granulated garlic

1 tsp dried oregano

8 Taco sized corn or flour tortillas, whichever is your preference

Ingredients for the Avocado Crema:

1/2 pitted avocado, cut in dice and mashed

1/2 C sour cream or Greek yogurt

Juice of 1/2 lime

1 tbsp fresh chopped cilantro

Salt and fresh cracked pepper to taste
Instructions for this Carne Adovada Street Tacos Recipe:
Place all of the ingredients for the crema in a small bowl and whisk to combine. Set aside.

Mix the spices together. Toss over the pork shoulder cubes and set aside.

Heat the olive oil on medium high heat in a saute pan. Add the onion and saute till softened.

Add the remaining spices to the oil and stir. Add in the pork pieces, browning to caramelize on each side.

Pour the water over the pork, so your liquid just covers the meat simmering in the pan. Bring to a rolling boil, cover and turn the heat to medium low. Cook the meat for 45 minutes, stirring occasionally, until the liquid is almost evaporated and then pork pieces are tender.

Lightly toast the tortillas and cover to keep warm.

To assemble, place 1/4 C red chili pork in the middle of each tortilla and garnish with a dollop of the avocado crema. Serve immediately.