Baked Teriyaki Chicken Wing Recipe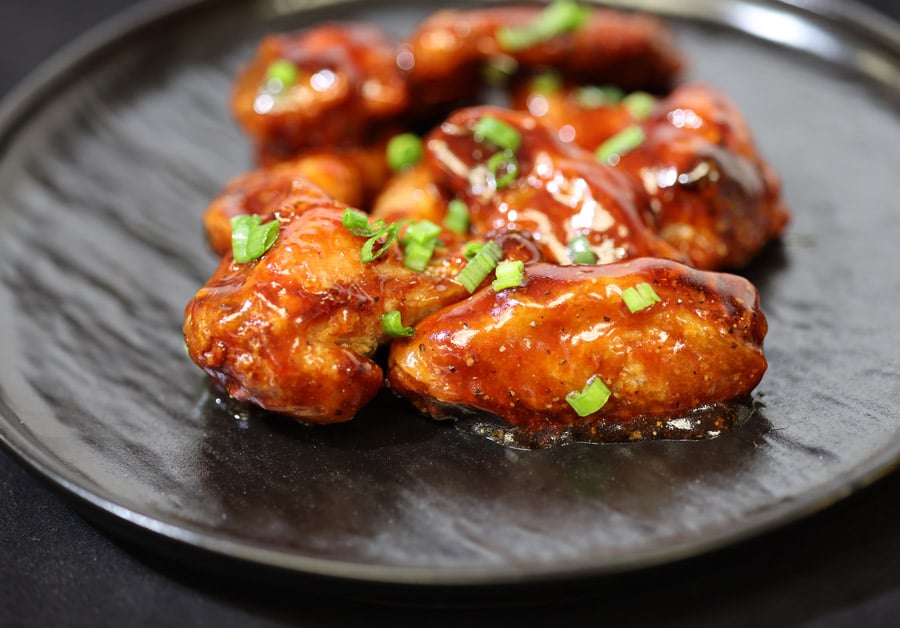 Table of Contents for This Baked Teriyaki Chicken Wing Recipe
Baked Teriyaki Chicken Wings Recipe Overview
Extra crispy, extra sticky and after you try you'll know why this is the most fantastic teriyaki wings recipe ever! Our teriyaki wing recipe uses breaded chicken wings baked to crispy perfection, topped with teriyaki glaze to taste. Combined with your favorite side this baked teriyaki wing recipe is sure to be a crowd pleaser. Better make 2 batches. See our crispy teriyaki chicken wing recipe video:
Kitchen Tools For This Baked teriyaki Chicken Wing Recipe:
Teriyaki Wings Sauce Recipe Tools:
Measuring spoon

Saucepan

Wooden spoon or whisk

Grater (for grating the ginger)
Baked teriyaki Wings Recipe Tools:
Baking sheet pan

Measuring spoon

Parchment paper

Tongs

Mixing Bowl
Crispy teriyaki Chicken Wings Recipe Ingredients & Shopping List
(A) Asian Wings Recipe Ingredients:
3 lb. chicken wings. If whole wings, separate to drumettes and flats. Clip the tips too.

1 cup corn starch, more or less, for dusting the wings.

1 tsp salt course kosher salt.

3 tbsp finely chopped green onions/scallions to garnish.

½ teaspoon black pepper

½ teaspoon granulated garlic powder

2 Teaspoon paprika (or smoked paprika)

1 tablespoon sesame seeds for garnish (optional)
(B) Teriyaki Sauce Recipe for Wings:
2 tsp olive oil

Pinch of salt and pepper

1 ½ teaspoons ground ginger

¼ teaspoon cayenne pepper

2 teaspoons rice vinegar

½ cup Teriyaki glaze

½ teaspoon garlic powder
Baked teriyaki wing recipe cooking instructions:
Preheat the oven to 425 F and prep a tray with foil or parchment liner.

Dry the wings as much as possible with a paper towel.

Dust the wings with the corn starch, salt and pepper. TIP OF THE DAY: Put the corn starch, salt and pepper into a large zip lock bag similar, put the chicken in, and shake well until the wings are well coated. You can also do this in a traditional mixing bowl and toss.

Your browser does not support the video tag.

Place the coated chicken wings on the tray and bake for 45-50 minutes total. Turn the wings over at 20 minutes.

While the wings are baking, place all of the sauce ingredients into a mixing bowl and whisk together until well blended. Combine Teriyaki Sauce Recipe Ingredients from list (B) above in a mixing bowl to create our teriyaki glaze sauce.

Place the hot cooked wings in a large bowl with the sticky sauce. Toss to combine and coat well, serve topped with the chopped green onions and sesame seeds.

Your browser does not support the video tag.
Suggestions For Our Baked Asian Chicken Wings Recipe
Use this crispy baked teriyaki chicken wing as an appetizer or main course. As an alternative to this oven baked teriyaki wing recipe you can opt for air frying your wings at home. Serve with celery sticks, ranch dressing or our baked potato recipe or a side of your choice. You will think you are eating this crispy baked chicken wing recipe in Japan!
Baked crispy teriyaki chicken wings recipe tips: Space chicken wings evenly and use a perforated baking sheet pan so you can have hot air circulation around the chicken wings.
Did you know you can buy this teriyaki chicken wing recipe pre-made and pre-cooked? See the MealPro chicken wing menu here.