Easy Shrimp Scampi Recipe (Without Wine)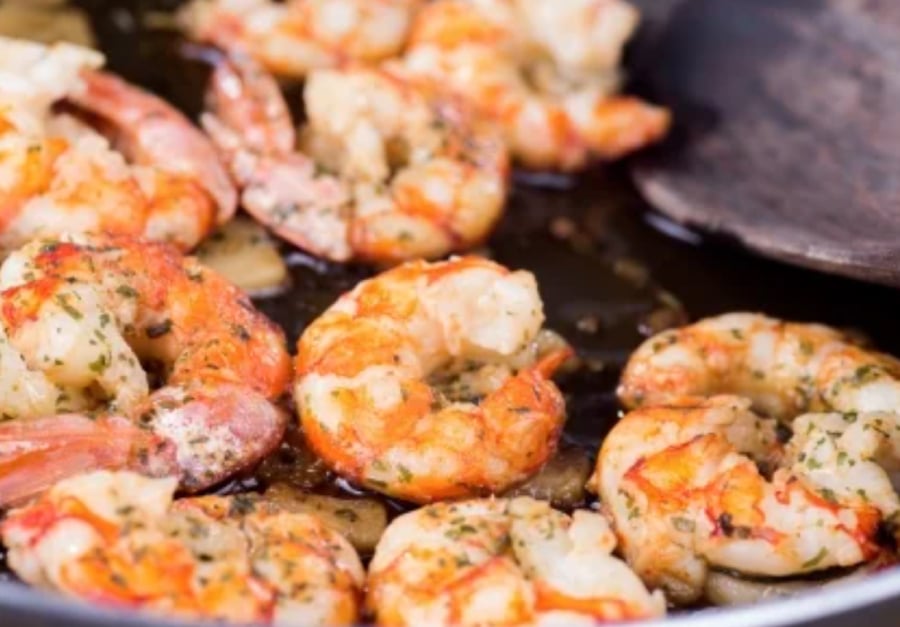 Easy Shrimp Scampi Recipe (Without Wine)
Jumbo prawns pan seared to crispy and tender perfection paired with a scrumptious, buttery, and lemony-garlic sauce. This easy 1-skillet scampi recipe is a mouthwatering and ready in 20 min – perfect for a weeknight dinner, yet fancy enough to impress your friends! We use jumbo prawns (21/25 size)! However, if you are cost-conscious, you can use smaller sized shrimp. To make this recipe easy, use peeled shrimp from your local neighborhood market.
Since this shrimp scampi recipe uses no wine, using broth is the secret that gives the "sauce" a deep, rich flavor and the freshly squeezed lemon juice that will add a zesty pick-me-up flavor.
Kitchen Tools For This Easy Shrimp Scampi Recipe (Without Wine)
Skillet

Wood spoon or silicon spatula

1 cup measuring cup

1 Tbsp measuring spoon
Ingredients for This Easy Shrimp Scampi Recipe (Without Wine)
2 tsp dried parsley

Pinch salt

Pinch pepper

Old Bay seasoning (optional)

1/2 cup broth

1/4 cup shredded parmesan cheese
8-10 medium shrimp

1/4 stick butter, cubed

3 fresh garlic cloves

1 Tablespoon olive oil

1 Lemon

1 tsp chili
Cooking Directions for this Shrimp Scampi Recipe Step-by-Step Guide:
Add all natural olive oil and cubed chunks of butter to your medium sized pan. Turn the burner to medium/high heat and mix the butter and the olive oil together to create a sauce. Keep cooking until you notice the butter is slightly brown.

Adjust the heat to low on your burner and add
– 3 fresh garlic cloves (peeled)
– A pinch of salt and pepper
– 2 tsp dried parsley leaves
– Lemon juice from one squeezed lemon
– 1/4 cup of shredded parmesan cheese.
– 1 tsp chili
– 1/2 cup of broth
Cook until liquid reduces reduces to about half, stirring often to ensure sauce cooks evenly while preventing the sauce from burning.

Add shrimp, spread evenly around the skillet. Cook for about 2 minutes, then turn the shrimp over and cook for another minute. The shrimp will turn opaque white and slightly pink when done. Do not overcook.




Voilà ! Place shrimp on plate and serve with bread to soak up the sauce or spoon the scampi sauce over brown rice for a delicious meal. Bon Appétit!
Suggestions For Our Shrimp Scampi Recipe
Scampi recipe tip: This recipe cooks really quick! Avoid overcooking the shrimp by turning off the heat (or turning it down to LOW) when the shrimp turns pink. If cooked too long the shrimp will be hard.
Shrimp recipe tip: If you're using frozen shrimp and you forget to take them out of the freezer the night before (NEVER happens to me!), just run them under very hot tap water for a few minutes and they'll defrost pretty quickly! Wild-caught shrimp tastes better.
Additions to our shrimp scampi recipe Old bay seasoning for seafood is a great addition if your local supermarket carries this. Serve it with lots of crusty bread to soak up the flavorful sauce!