Light and Simple Pasta Bolognese Recipe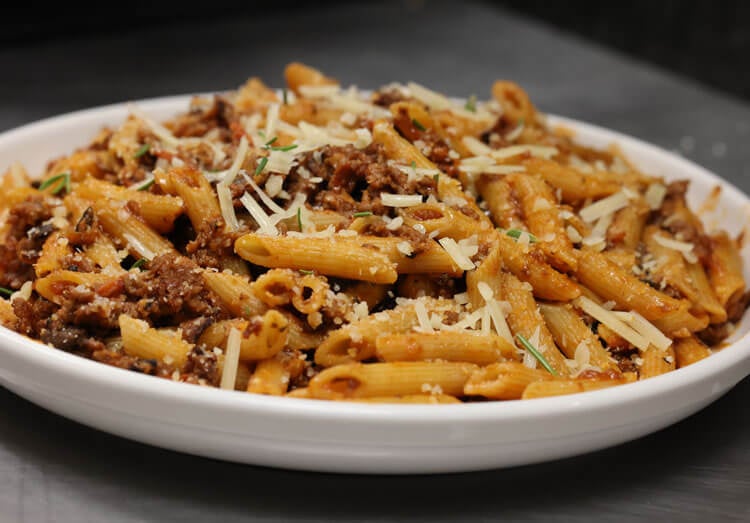 Lite Ground Turkey Bolognese
Bolognese is a classic, hearty meat-based Italian pasta sauce. This turkey bolognese sauce has many variations, probably as many as there are Italian families or households. Most contain more meats than tomato, but also usually include a good amount of chopped vegetables, which make it a delicious, high protein and vitamin rich nutritious and satisfying one pan meal. Most beef bolognese sauce recipes require hours of cooking and call for many different cuts of meat, usually bacon (Italian pancetta), ground beef, ground pork and even sausage or salami. We've cut back on the fat and cooking time with this recipe, using ground turkey and extra herbs in place of the usual extra fatty cuts of meat. Because we are using chef's secret tips such as using bacon fat to brown our vegetables and toasting our tomato paste and spices for extra caramelization and flavor, we can be confident that we're not sacrificing flavor too much. As with any meat sauce recipe though, if you have extra time, additional cooking time always allows for ingredients to break down and meld together more completely.
Equipment Needed for this Lite Ground Turkey Bolognese:
Knife and cutting board

Spoon

Bowl

Large skillet or saucepan
Ingredients for this Lite Penne Pasta Ground Turkey Bolognese Recipe:
1 lb penne pasta

1 lb ground turkey – or grind your own meat

2-4 slices of bacon, chopped

salt and pepper

2 tbsp olive oil

1 heaping tbsp of pesto

1 large onion, chopped

1/2 C shredded carrot

1 stalk celery, chopped

1 C white mushrooms, crimini or baby bellas, roughly chopped

2 large garlic cloves, minced

1/2 tsp ground fennel seed

1 tbsp minced rosemary

1/4 tsp red pepper flakes or more to your taste

1 heaping tbsp tomato paste

1/2 C red wine

1 C chicken or vegetable broth

1 jar tomato sauce
Instructions for this Lite Ground Turkey Bolognese Recipe with Penne Pasta:
Place the ground turkey into a bowl. Add a generous spoonful of pesto. Mix together to combine. Sprinkle with salt and pepper. Set aside to marinate for a few minutes.

Stack the bacon slices atop of each other and cut into small pieces. Set aside.

Chop the carrots, celery, onion and mushrooms into similar size pieces, or a large dice. Set aside.

Bring the saucepan/skillet to medium high temperature. Add the bacon and cook until the pieces are browned and have released their juices and fats.

Add the chopped onions, carrots and mushrooms to the pan. Stir to coat and combine. If necessary, add a tablespoon of olive oil to the pan and sprinkle with salt. Allow to cook for at least 10 minutes so that the vegetables literally sweat out their juices and the flavors are given time to intensify together in the pan.

When the celery pieces are wilted, add the minced garlic, rosemary and red pepper flakes to the pan. Stir.

Once the garlic becomes fragrant, when you can smell it cooking, add the ground turkey and stir, cooking until the turkey is no longer pink.

Move the ingredients to one side of the pan, add just a touch of olive oil, and then place the tomato paste into the empty part of the pan. Stir until it becomes softer and even browner. Immediately add the wine and let simmer for five minutes.

Add the stock and tomato sauce. Stir well to combine and cook for another 20 minutes. Serve immediately.

Once the light bolognese sauce is done cooking mix in a bowl with the pasta recipe of your choice.
Note: While the light turkey bolognese sauce is finishing, pick your starch. This sauce is wonderful of course on pasta, but can also be served on polenta, brown rice or even atop a thick slice of Italian bread with cheese warmed under the broiler as a quick open homemade pizza topping. Enjoy!