How To Make Bolognese Sauce Recipe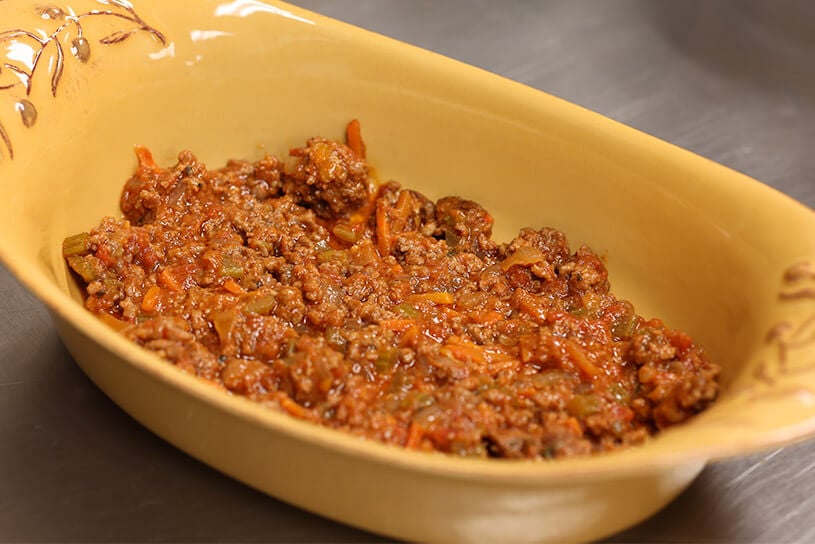 Classic Bolognese Sauce Recipe Overview
Homemade bolognese sauce is a beef and tomato based stew that is simmered low and very slow until rich concentrated flavors have developed and the meat is perfectly tender. Use the bolognese sauce recipe over any pasta or polenta, or enjoy with some bread to make a complete meal.
Bolognese Sauce Recipe Ingredients
Butter – 6 Tbsp unsalted. Cut into 1 Tbsp pieces, divided.

Yellow onion – 1 1/2 cups finely chopped.

Carrot – 1 1/4 cups peeled and finely chopped.

Celery – 1 cup finely chopped.

Garlic – 4 cloves, minced (1 1/2 Tbsp)

Beef – 2 lbs. 85% lean ground.

Salt – to taste.

Black pepper – to taste.

Tomatoes – 2 (28 oz each) cans of San Marzano tomatoes in puree, well crushed by hand.

Whole milk – 1 1/2 cups

Wine – 1 cup dry white wine, sauce as Sauvignon Blanc

Basil – 1/3 cup fresh basil stems (with leaves)

Parmesan cheese – 1 cheese rind plus 1 cup parmesan for serving

Chicken Stock – Unsalted chicken stock or broth, as needed to thin sauce.
How to Make Bolognese Sauce at Home
Melt 1 1/2 Tbsp butter in a large pot over medium-high heat.

Saute vegetables: Add onion, carrot and celery and saute 4 minutes. Add garlic and saute 1 minute longer. Transfer mixture to a large plate.

Melt 1 1/2 Tbsp butter in now empty pot over medium-high heat.

Brown beef: Dab beef dry with paper towels, then break beef into 4 large chunks into pot. Season lightly with salt and pepper. Let sear until browned on bottom, about 3 minutes.

Turn and sear until browned again on opposite side, about 3 minutes longer. Then break up beef and cook through a few minutes longer.

Simmer with milk: Return vegetables to pot with the beef, pour in milk and stir. Bring to a simmer then reduce heat to medium-low and let simmer until majority of milk has evaporated and just fat remains, about 10 – 20 minutes.

Stir in tomatoes, wine, basil and parmesan rind. Bring mixture to a simmer.

Reduce heat to very low (it should be at a very low simmer with just be a few bubbles over the surface, on my stovetop I have to transfer to a small burner with a low flame).

Let simmer 4 hours, stirring occasionally and thinning with broth as needed. Season lightly with salt and pepper to taste as it cooks (keep in mind it will reduce and saltiness will become more concentrated so careful not to overdue it you can always add more later).

Remove basil stems and parmesan rind. Stir in remaining 3 Tbsp butter until melted (or heavy cream if using instead).
Where does Classic Bolognese Sauce Come from?
Classic bolognese sauce is a slow cooked, thick Italian pasta sauce coming from the city of Bologna, in Italy. The meat sauce made up of some type of minced meat (usually beef or pork) and tomatoes. It also includes soffritto which is simply a blend of carrot, celery and onion, and here it's used as a base to build up flavor of the sauce.