Egg Free Breaded Chicken Tenders Recipe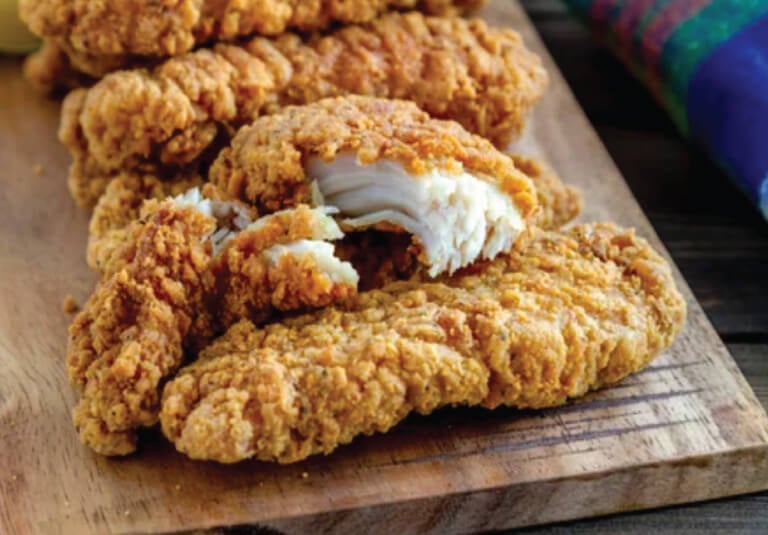 This is an egg-free breaded chicken recipe.
Egg-Free Chicken Tenders Table of Contents
Overview of this Breaded Chicken Tenders Recipe (egg-free)
There are so many advantages to making your own chicken fingers or breaded tenders from scratch at home. This recipe is quick, relatively easy, much more affordable than purchasing a bag from the grocery store or buying at a fast-food joint. Another benefit is you can control fat and sodium content. By skipping the drive through and spending time making these breaded chicken tenders at home, your meal will certainly be healthier. And once you've made them a few times, you'll marvel at just how many meals you can create using these tenders as your main protein source.

This egg-free breaded chicken tender recipe deviates from the standard breading procedure by using olive oil is used as a binding agent. You can also create a low sodium meal prep dish by using salt substitute or a gluten free meal by using potato starch instead of the gluten rich flour product. The possibilities are endless!
Tools Needed for Breaded Chicken Tenders Recipe (egg-free)
1 small bowl

1 medium bowl

Fork, tongs or spatula

Medium size skillet or sauté pan
Ingredients for this egg-free Breaded Chicken Tenders Recipe
1 Package chicken breast tenders (1.5-2 lb package)

1/2 C plain breadcrumbs

Salt and pepper

1/4 C olive oil

1/2 tsp parsley flakes

1/2 tsp sweet paprika

1/4 C grated parmesan cheese
Instructions for this egg-free Breaded Chicken Tenders Recipe
Preheat the skillet and olive oil to medium heat.

In the medium size bowl, stir together the breadcrumbs, seasonings and Parmesan cheese.

In the small bowl, pour the milk over the tenders.

Add the tenders to the bowl of breadcrumbs, one or just a couple at a time, and pat to coat thoroughly.

Shake of the extra crumbs from each piece of chicken before placing carefully into the pan.

Sauté 3 or 4 chicken tenders at a time, being careful not to crowd the pan. Cook 3-5 minutes till browned well on each side.

Serve this egg free breaded chicken tenders recipe immediately with your favorite dipping sauce, on a sandwich as in our chicken tender sandwich, or even as a replacement of non-breaded chicken in a chicken salad such as a quinoa salad. Or, spice up a mixed green salad by incorporating this egg free breaded chicken tender recipe as a source of protein!