Buffalo Style Chicken Tender Sandwich Recipe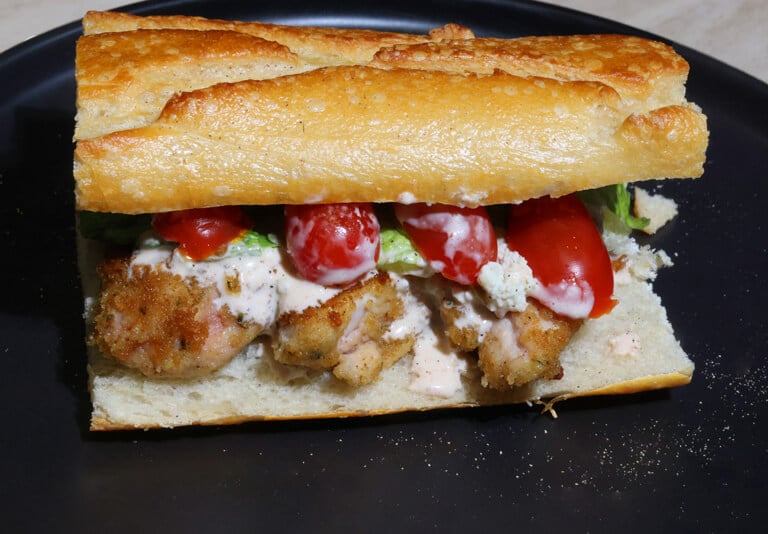 Best Chicken Finger Sandwich Recipe on a Toasted Sourdough Bun
Buffalo Style Chicken Tender Sandwich
Crispy breaded chicken sandwiches have been all the rage recently. From fast-food venues to the trendiest restaurants, most feature a breaded chicken sandwich on the menu. For this sandwich of our very own, we've skipped tossing the crispy breaded chicken tenders in spicy sauce, and instead added a spicy element to the quick and easy blue cheese sauce. You can serve this sauce as a dipping sauce or even as a chicken salad dressing. Be sure to load up the sandwich with your desired favorite toppings to make the sandwich your own!
Ingredients for this Buffalo Style Chicken Tender Sandwich:
Salt and pepper

Crusty sourdough rolls

1/4 C blue cheese crumbles

1/4 C mayonnaise

1/4 C cream or milk

1/2 tsp cayenne pepper
Instructions for this Buffalo Style Chicken Tender Sandwich:
Mix together the blue cheese crumbles, mayo, cream and season with cayenne pepper, salt and freshly cracked pepper. Set aside.

Use a serrated edge knife to slice open your roll and toast if desired.

Layer the chicken tenders onto the roll.

Add your favorite sandwich toppings such as lettuce and tomato.

Spoon the Buffalo style sauce over the tenders and other sandwich ingredients.

Serve immediately. This recipe is delicious when paired with our easy baked yam fries, baked rosemary potatoes, or even soups such as a creamy potato soup.