Creamy Potato Soup Recipe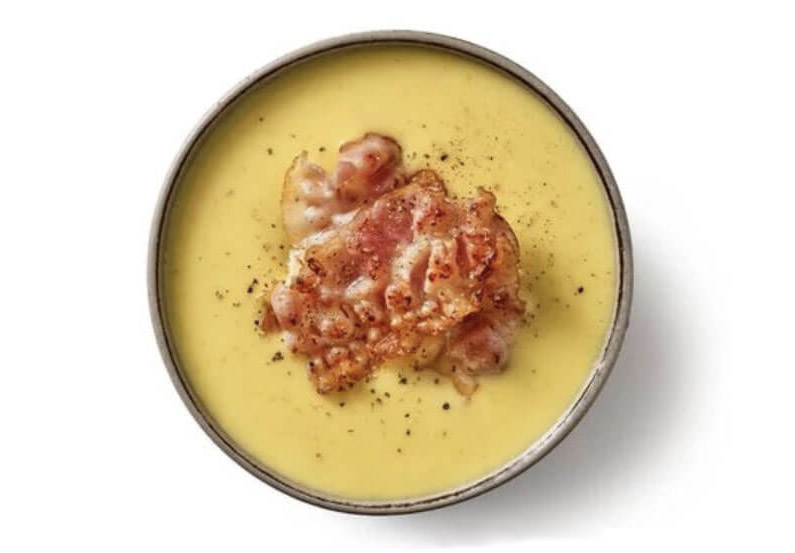 Creamy Potato Soup Recipe Overview
For the cream soup lovers, here's an easy way to up your béchamel sauce game and produce a flavorful comfort food, rich with flavor, with which you can feed a large group or just curl up by the fire on a cold evening.
Creamy Potato Soup Recipe Ingredients
Ingredients to make Béchamel for this creamy potato soup recipe:
Butter – 1/2 cup salted butter

Flour – 1/2 cup all purpose flour

Milk – 6 cups whole milk

Spinach – 1 cup frozen or 3 cups fresh

Salt – 1/4 teaspoon kosher salt

Nutmeg – 1/4 teaspoon freshly ground
Ingredients for our creamy potato soup recipe:
Bacon – .5lb cut into lardons (thin strips) before cooking

Onion – 1 cup onion, diced small

Celery – 1 cup minced

Potatoes – 4 large russet peeled and cut into 1/2 inch pieces

Chicken stock – 6 cups or water with 2 tablespoons of chicken bullion

Bay leaves – 2

Thyme – 1 teaspoon

Black Pepper – 1 teaspoon

Cream Cheese – 2oz

Green Onion – 1/4 cup chopped
Cooking this Creamy Potato Soup Recipe:
Making Béchamel for this Creamy Potato Soup Recipe:

Put 1/2 cup butter in a large saucepan (2 quarts or more) and heat on medium until it melts, but does not start to turn brown. Add 1/2 cup flour and cook for about 2 minutes while stirring or whisking well to incorporate into a creamy roux.

Once the roux is ready, light golden color, slowly pour in the milk while whisking vigorously to blend well. TIP: room temperature milk incorporates easier. Once blended and smooth, add 1/4 teaspoon nutmeg, 2 bay leaves and salt to taste. Keep warm on a low burner while you do the soup part.

Making the Creamy Potato Soup Recipe:

In another large saucepan (it will need to be big enough to hold the finished soup, at least a 4 qt pot), Cook the bacon over medium heat until crisp. When the bacon is cooked just like you like, take it out with a slotted spoon and drain on a paper towel. Leave the grease in the pan to cook the following: (if there is more than you want, be sure pour off some and leave just enough to cook with, maybe 2 tablespoons).

In the bacon fat, Cook the onion and celery until translucent.

Add in the potatoes, chicken stock, thyme, and pepper. Bring to a simmer and cook until potatoes are fork tender (about 5-7 minutes).

Pour béchamel sauce into the soup, stir often and cook until well blended and hot (don't let it boil), stir in the cream cheese and sour cream and simmer for 5 minutes. Remove bay leaves and salt to taste.

Serve garnished with bacon, cheese, green onions.
Cooking this Creamy Potato Soup Recipe FAQ's
Can I use red potatoes? If you want there to be chunks of potatoes in your soup, red potatoes are the winner. They contain less starch and are referred to as "waxy". Waxy potatoes hold their shape better when cooked.
Can I use russet potatoes?– are "starchy" and break down easier when cooked. They will be very soft and can tend to thicken soups because of this.
Cann I use yukon gold potatoes– These have a texture in between that of red and russets. They retain their shape well but are also soft and creamy.
How about using purple potatoes and other colors of potatoes?– There are many kinds of potatoes that can be visually stunning. The main thing to know about regarding cooking them, is simply whether they are waxy or starchy.
Milk for this creamy potato soup recipe: Whole milk is used in this creamy potato soup recipe but 1 or 2 percent milk will work, but won't be as creamy in the end as whole milk. You can substitute some of the whole milk with half-n-half for even creamier.
How do I cut the vegetables for this creamy potato soup recipe? Potatoes should be cut down to bite sized pieces (3/4 inch by 3/4 inch cubes). The onions and celery should be minced. They will soften quickly and will be hardly noticeable.
Do I have to use béchamel sauce? Béchamel sauce is what makes this creamy potato soup recipe creamy. Alternatives to béchamel is a spinach béchamel sauce – or, by removing the béchamel you can turn this recipe into a béchamel sauce recipe.