Easy Béchamel Sauce Recipe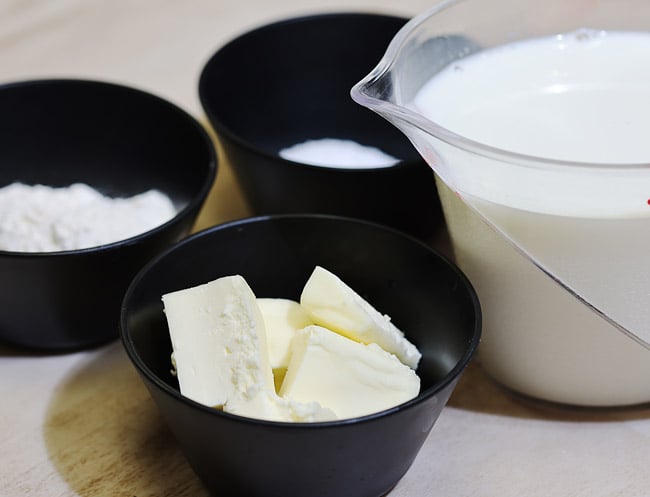 Table of Contents for this Béchamel sauce recipe
Classic Béchamel Recipe Overview
Basic Béchamel sauce, also known as white sauce is one of the and it is made with only 3-ingreidents: flour, butter, and milk. Creamy classic béchamel sauce is used as a starter for many dishes and is the ultimate foundation for what we like to call comfort food. Casseroles, mac-n-cheese, soufflés, beef lasagna recipes, clam chowder, veggie lasagna recipes – you get the idea, these all are built on the foundation or utilize this sauce. Béchamel is one of the 5 french mother sauces (along with velouté, espagnole, hollandaise, and tomato sauce), but this one found its way to France via Italy. It is reported to have been first used in Tuscany, called "Salsa Colla" ("glue sauce") because its main purpose was as a binding element in many pasta and vegetable dishes. It was exported to France by Caterina de' Medici.
Béchamel Sauce Recipe Video
In this béchamel sauce recipe video Chef Dan, expert saucier illustrates how the béchamel sauce is made:
Kitchen Tools For This Classic Béchamel Recipe:
Large saucepan

Measuring cups

Measuring spoons

Whisk

Silicone spatula
Classic Béchamel Ingredients:
3 tablespoons butter

3 tablespoons all-purpose flour

2 cups whole milk

Salt (optional. To taste.)
How to Prepare Béchamel Sauce
Melt 2 tablespoons of butter in a large saucepan (1).
Add 2 tablespoons of flour (2) and whisk together until the butter and flour mixture forms small bubbles with a faint tint of color, (3) about 2 minutes.
While on medium heat, slowly add the milk while whisking to incorporate as you pour. Once all the milk is in, whisk in a figure eight motion (4) until creamy and well blended, no lumps. Whisk in the salt.

Keeping the heat medium, bring the sauce to a simmer with small bubbles breaking the surface and wisps of steam. Keep whisking the simmering sauce for an additional 2 minutes. Too much heat or not enough stirring could make the sauce scorch on the bottom. Keep stirring, then set aside when ready.

Let it rest for about 10 – 15 minutes to solidify a bit.
Common Questions About This Béchamel Sauce Recipe
What is Béchamel used in? Béchamel is a luscious sauce used as a base in casseroles, mac-n-cheese, soufflés, clam chowder, as well as in lasagna recipes.
How do I store Béchamel? Store béchamel sauce in an air-tight container in the fridge for three to four days.
What are the allergens to Béchamel? Béchamel allergens include Wheat and Dairy.
Can I make a vegan Béchamel sauce recipe? To make a vegan béchamel sauce recipe use a milk substitute like almond milk and coconut oil instead of butter. These substitutes will allow you to make a vegan béchamel recipe.