Classic Lasagna Bolognese Recipe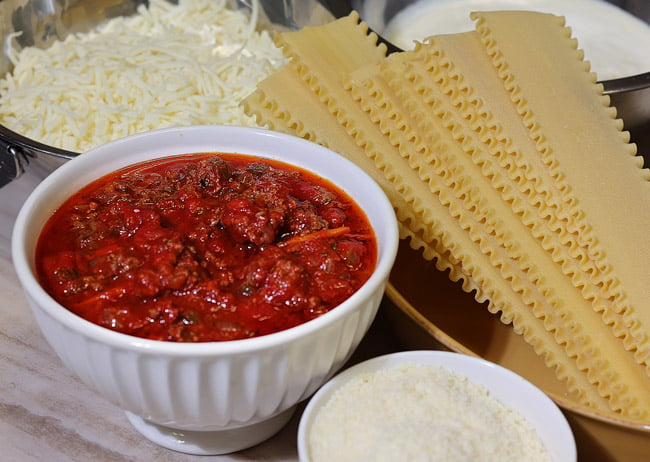 Table of Contents for this Classic Lasagna Bolognese Recipe
Classic Lasagna Bolognese Recipe Overview
This beef lasagna recipe uses a ragù meat sauce and a béchamel sauce for the layering, along with mozzarella, parmesan, and lasagna noodles. I soak the noodles in warm water for 15 or 20 minutes just to give them a head start. The béchamel is the key ingredient in this beef lasagna bolognese recipe since it offers a velvety creaminess and richness that characterizes the best lasagnas – including the veggie lasagnas.
Kitchen Tools For This Classic Lasagna Bolognese Recipe:
Cooking Ragù for our Beef Lasagna recipe tools
Large deep Skillet with lid or large saucepan with lid

Knife and cutting board

Wooden spoon
Cooking béchamel for our beef lasagna recipe tools
Large saucepan

Measuring cups

Measuring spoons

Whisk

Silicone spatula
Cooking beef lasagna recipe kitchen tools:
Baking dish or casserole dish which can be used in the oven

Spoon for dishing and spreading sauces
Beef Lasagna Bolognese Ingredients:
Ingredients for Lasagna Béchamel Sauce
3 tablespoons butter

3 tablespoons all-purpose flour

2 cups whole milk

1/4 teaspoon salt, or more to taste
Ingredients For Beef Lasagna Ragù Sauce
Carrot – 1 cup shredded

Bay leaves – 2

Salt – 1 teaspoon

Flour – 2 tablespoons all purpose flour

Paprika – 2 teaspoons

Garlic – 2 cloves, minced

Hamburger meat – 2 lbs lean meat
Pepper – 1/2 teaspoon

Onions – 2 cups chopped (small dice)

Celery – 1 cup chopped (small dice)

Oil – 2 tablespoons for sautéing

Tomato – 1 28 oz can San Marzano tomatoes (see below for more info)
Ingredients for our Beef Lasagna Bolognese
Parmesan cheese grated

Lasagna noodles

Mozzarella cheese shredded
How to Prepare Classic Beef Lasagna Layers:
Start by Preparing Ragù for lasagna

Dice the onion, celery and shred the carrot.

Using a large skillet, melt the butter, then add the onion, carrot, celery and garlic and sauté until the onions are translucent and the carrots begin to caramelize (turn brown). Sprinkle the salt, pepper and paprika and blend well.

Add the meat and cook until it starts to brown.

Add the tomatoes, bay leaves. Stir well and cover. Keep heat on medium, stirring occasionally for about 30 minutes.

Set aside to cool. Use this for layering into a classic lasagna or saving in the refrigerator for up to one week.

Béchamel Sauce for Our Classic Lasagna Bolognese

Melt 2 tablespoons of butter in a large saucepan (1).
Add 2 tablespoons of flour (2) and whisk together until the butter and flour mixture forms small bubbles with a faint tint of color, (3) about 2 minutes.
While on medium heat, slowly add the milk while whisking to incorporate as you pour. Once all the milk is in, whisk in a figure eight motion (4) until creamy and well blended, no lumps. Whisk in the salt.

Keeping the heat medium, bring the sauce to a simmer with small bubbles breaking the surface and wisps of steam. Whisk the simmering sauce for an additional 2 minutes. Too much heat or not enough stirring could make the sauce scorch on the bottom. Keep stirring, then set aside when ready.

Creating Beef Lasagna Layers and Cooking Lasagna

Start by prepping all of your ingredients and making the sauces needed for the lasagna recipe. Then, place the dry noodles in a baking dish and cover with warm water to soften them. Drain well and assemble the layers as follows:
Put Béchamel at the bottom (1)
Pour Ragù (2)
Add shredded mozzarella (3)
Lay lasagna noodles (4)


Repeat the steps to build build at lest 4 luscious, classic lasagna bolognese layers.




While cooking beef lasagna bolognese, cover it with foil and bake in the oven at 350 for about 30 minutes. Tip: Rotate half way through to make sure your classic beef lasagna cooks evenly since every oven has hot spots.

Remove the foil and continue to bake until the cheese is bubbly and starts to brown.

Remove from the oven and let it rest for about 10 – 15 minutes to solidify a bit.
Common Questions About How to Make A Classic Lasagna Bolognese Recipe
Can I use store bought shredded cheese for my beef lasagna recipe? You can, but most grocery store pre-shredded cheese has an anti-clumping agent mixed in (read the ingredient labels). This agent is not bad, but it prevents the cheese from melting as creamy as it could. Shred mozzarella and parmesan cheese by hand if possible.
What can I do to turn this into a quick and easy classic lasagna bolognese recipe? Make your items ahead of time. It is so much easier to make the beef lasagna sauces ahead of time and refrigerate until you are ready to assemble. However, I would recommend assembling the final lasagna just before baking for best results. I have made up multiple beef lasagnas and frozen for future use, and it seems to come out great.
How do I store my classic lasagna bolognese when ready? Keep your leftover beef lasagna covered in the refrigerator for 3 to 4 days. Or, wrap tightly in foil or transfer to an airtight container and freeze for up to 3 months. Thaw in the refrigerator before reheating. Reheat in the oven or microwave until warmed through. If it was frozen, leave the foil on while baking and remove just at the end so the cheese can get brown and bubbly.
Comparing classic lasagna bolognese vs spinach veggie lasagna recipe. Both lasagna recipes use the same layering process of cheese, lasagna noodles and béchamel sauce. The a different type of lasagna uses a different filling from beef meat sauce in the layer. For example, a spinach veggie lasagna recipe uses spinach and no beef ragù.
Don't I have to pre-cook classic lasagna noodles before I make my beef lasagna? As long as you let your beef lasagna sit and do not serve immediately after it comes out of the oven you don't need to pre-cook the traditional lasagna noodles. In our classic beef lasagna recipe the traditional lasagna noodles go right into the baking dish and the sauces provide the liquid to cook them!
What lasagna noodles do I use? Pretty much any kind except for the no-boil. Absolutely do NOT use no-boil noodles; they don't have enough structure to hold the weight of a four layer beef lasagna recipe !
What tomato do I use for a truly classic lasagna bolognese sauce? In truth, the original classic lasagna bolognese recipe uses San Marzano tomatoes. These tomatoes have a sweeter flavor and lower acidity, but you can easily substitute your favorite brand instead.
Can I use tomato paste to make this classic lasagna bolognese recipe? Tomato paste is great for when you're short on time because it helps thicken the sauce. If you'll be simmering the marinara sauce low and slow, leave it out altogether.