Easy Caprese Sandwich Recipe with Balsamic Dressing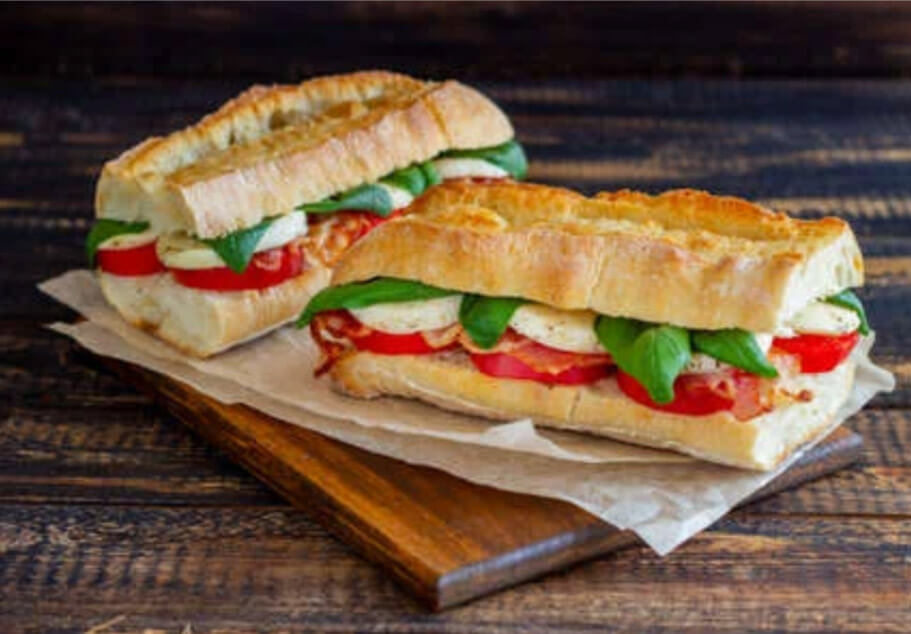 This Caprese Sandwich Recipe is both Vegan and Vegetarian.
Similar to a caprese salad recipe, this caprese sandwich recipe is wonderful with an abundance of produce, fresh tomatoes from your garden, basil and spinach leaves. It elevates the ingredients to a sandwich shop style and your friends and family will be impressed! I use this sandwich as a simple mid-week treat. The heartiness of the mozzarella with the crunch of crisp green leaves and juicy tomatoes with balsamic vinaigrette result in a hearty meal loaded with nutrients. Use your favorite crusty rolls. I keep a couple of packs of rolls and breads in the freezer. If you remove the rolls or a few slices of crusty bread from the freezer early in the day, or even pop in a warmed oven wrapped in foil just before you are ready to use them, they will taste warm and fresh, and you'll have no worries about them going moldy before you plan to use them. If desired add some pulled chicken breast to the sandwich as protein.
Ingredients for this Caprese Sandwich Recipe
2 Crusty Bread Rolls

2 large Buffalo mozzarella balls or 1 large Buffalo mozzarella log*

2 large Tomatoes, beefsteak, roma, whatever bounty from your garden or grocer, cut into 1/4 in slices and sprinkled with salt and pepper

1 small red onion, sliced thin

1/4 c baby spinach leaves, gently rinsed and patted dry with a paper towel

1/4 c basil leaves, gently rinsed and patted dry in the same way as the spinach
Ingredients for the Balsamic Dressing:
1/4 Cup mayonnaise or greek yogurt

2-3 Tablespoons of Balsamic Glaze (available in stores, a wonderful addition to your pantry, or see recipe for simple preparation Balsamic Glaze Reduction)

Salt, fresh ground pepper and/or a sprinkling of your favorite sweetener (coconut sugar, maple syrup or honey) to taste.

1 small red onion, sliced thin
Preparation for the Caprese Sandwich Dressing:
Simply add all ingredients to a small jar or container, tighten the lid, and shake vigorously. Take a small taste, and feel free to add whatever extra seasoning you require. The dressing should taste slightly sour, but if you prefer it to be sweeter, add more honey or Balsamic glaze to taste. Set aside. Can be made ahead and kept refrigerated for up to a few days.
Assemble the Caprese Sandwiches:
Slice your rolls in half and lightly toast. Then generously spread the dressing on each interior side of the roll. Add a layer of spinach and basil leaves. Continue with the onion slices, seasoned tomato slices and mozzarella cheese layered atop. Add the top half of the roll and press together. For extra flavor, or if you want a warm sandwich, griddle the sandwich or pop in a panini press. Slice and serve immediately with chips, roasted potatoes, or your favorite pasta salad.
*Notes About this Caprese Sandwich Recipe:
Note: Buffalo mozzarella originated in Italy. Made from the milk of the Italian Mediterranean buffalo, it contains higher amounts of antioxident Vitamins A, E, and C than cheeses made with cow's milk. It's also lower in lactose content, which makes it easier to digest. Naturally low-carb and keto, vegetarians may find it a perfect protein addition to their repertoire. For a completely low-carb, keto, or gluten-free diet, use your favorite bread substitute or simply make this as a layered salad, similar to a caprese salad.
Note: Use keto bread to make this caprese sandwich recipe into a ketogenic diet recipe.