Easy Keto Bread Recipe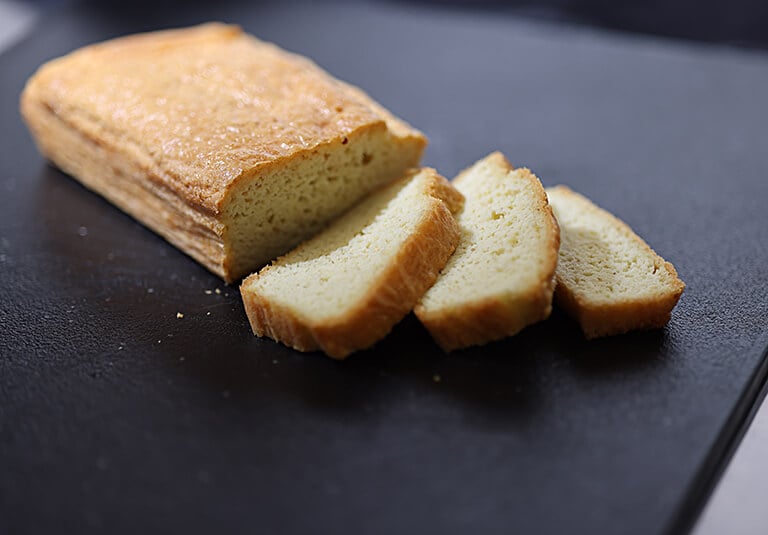 Easy Keto Bread Recipe Overview
You don't often hear "keto" and "bread" used together. It does not make a lot of sense. However, this keto bread recipe makes wonderful, fresh-baked tasty keto bread! Similarly to low carb keto pizza crust, it has a great crumb (visible air pockets or "holes" you see when sliced), great flavor and amazingly almost zero carbs and no gluten. It is actually easier than making traditional bread, since you don't have to deal with proofing yeast or waiting for anything to rise. Have a slice of this keto bread with a salad and protein for a delicious keto meal.
Kitchen tools needed to prepare this keto bread recipe:
Parchment sheet to line the pan

Mixing bowl

Loaf pan, 4" x 8" (I used 2 smaller pans, and it worked great for mini loafs)

Measuring cups

Measuring spoons

Wooden spoon

Whisk
Ingredients in this keto bread recipe:
2 cups almond flour (from blanched almonds, don't use almond meal)

½ teaspoon salt

1 tablespoon baking powder

3 tablespoons ground flaxseed

4 eggs

1 stick (1/2 cup) melted butter

½ cup water
Keto bread recipe cooking instructions:
For this keto bread recipe preheat the oven to 350 degrees Farenheit.

Line a 8 x 4-inch loaf pan with parchment paper, reserving an inch gap on all sides for easy removal. It helps to oil the pan first, the paper will cling to the sides better.

In a small bowl, whisk the almond flour, baking powder, and salt together well.

In a large mixing bowl, use a hand mixer to beat together the flaxseed, eggs, butter, and water until a little frothy.

Add the dry ingredients to the large bowl with the liquids and blend well with a wooden spoon or spatula.

Transfer the batter to the lined pan or pans.

Put in the oven and bake this keto bread recipe for about 40 minutes at 350 degrees Farenheit. Check that it is done by poking a wooden skewer into the center and pulling it out clean and dry.

Remove the keto bread from the oven and let the bread cool completely in the pan.

Remove from the pan when cool, discard the parchment paper and slice with a sharp bread knife.
How to store your keto bread
This keto bread recipe should always be stored in an airtight container (ziploc bags work great) in the refrigerator. This bread won't hold well at room temperature. You can freeze this keto bread. Put it in a freezer-friendly air-tight bag and hold for up to 3 months before using.