Low Carb Pizza Crust Recipe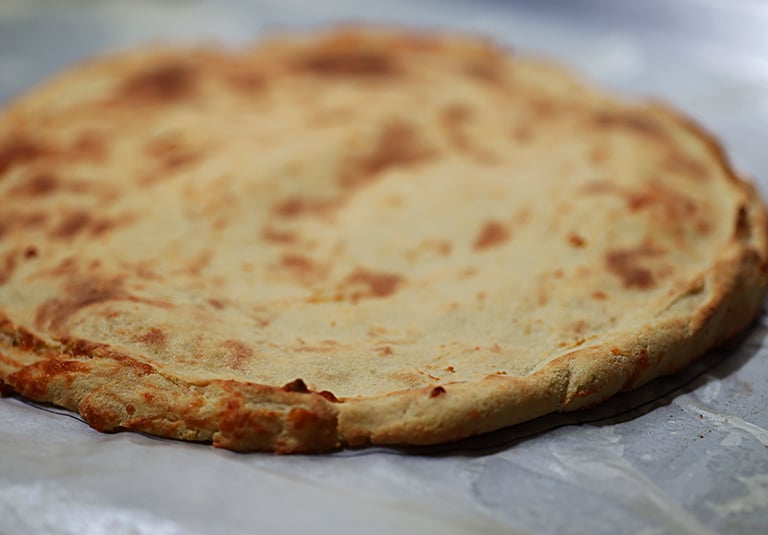 Low Carb Pizza Crust Overview
Unlike traditional pizza crust, This pizza crust recipe is gluten-free, and near zero in net carb. And it tastes great! It is a really easy low carb pizza crust to make with a nice chewy texture while keeping some nice crunch on the outside. With only 4 ingredients, almond flour is the hero here, while eggs, mozzarella and cream cheese help hold it together. The end result is a great tasting dough, with the benefit of it being low carb.
Equipment used in making this low carb pizza crust recipe:
Parchment sheets

Mixing bowl

Sheet pan or pizza pan

Measuring cups

Wooden spoon

Whisk
Ingredients in this low carb Pizza Crust Recipe:
2 1/2 cups almond flour (from blanched almonds, don't use almond meal)

3 cups mozzarella cheese (low moisture)

1/4 cup cream cheese

2 large eggs
Instructions to Make this low carb Pizza Crust Recipe
Preheat the oven to 400 degrees F.

Lightly grease a pizza pan or baking sheet.

Draw a circle on parchment using a sharpie and tracing a plate, if you want a guide to press out a circle.

Lightly oil your baking pan and put the parchment paper onto the pan, with the circle you drew on the bottom (so it doesn't touch the food). Then oil the top of the sheet too.

Melt the mozzarella cheese and cream cheese in a microwave. Make sure it's melted all the way. I microwaved at 40 second intervals 3 times.

Put the melted cheeses, eggs and almond flour in a large mixing bowl and blend with a wooden spoon.

Mix together until everything is well blended. It will be sticky and messy, believe me. I ended up using my hands to do the final blend because the mozzarella cheese tends to be a bit like rubber at first.

Place the low carb pizza dough onto the parchment-lined pan and begin to press the ball flat and out toward the edges.

Rub some olive oil onto the surface of the dough to keep it from sticking to your hands and keep pressing with the palm of your hand until you have made a 11" circle. You can form a little edge around the crust if you like.

Par-bake the crust for 12 minutes at 400 degrees.

Remove the crust from the oven.

Top with your favorite pizza toppings and enjoy a wonderful low carb pizza! See here for a great red sauce recipe or white sauce recipe!

Lightly brush the sides with olive oil and place back in the oven and bake for 10-12 minutes to finish your pizza.

Remove the pizza from the oven and serve.
Low Carb Pizza Crust Recipe FAQ's
Does this crust taste like pizza dough? It's not an exactly like regular pizza dough, but still tastes great. I think it's about the best solution to "pizza while keto". It has a great chewy texture while staying a bit crunchy on the outside. The almond flour flavor surprisingly disappears (although I like the sweetness of almond flour before it's cooked.) and leaves a very bread-like flavor. You can also check out this gluten free pizza dough recipe.
Is this a true weight loss recipe? You betcha! There're 4 simple ingredients – almonds, eggs, cheese (quantity optional), and red pizza sauce. Go low carb pizza!