Artisan White Pizza Sauce Recipe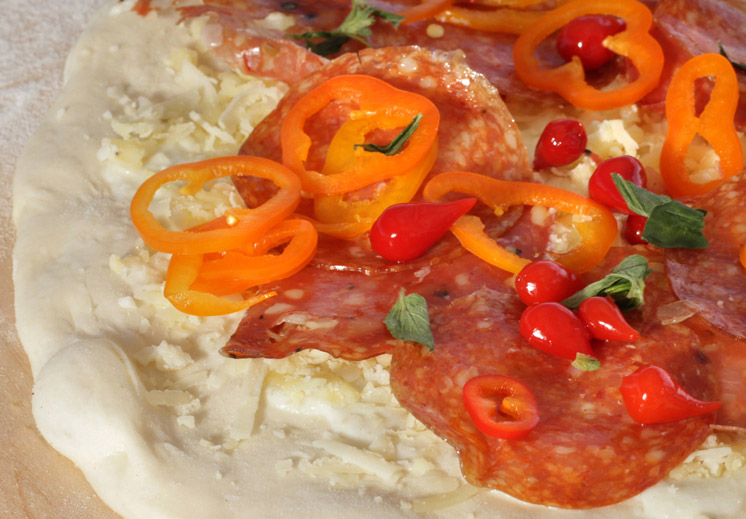 White Pizza Sauce Recipe Overview
This white sauce is an all around great sauce for your regular homemade pizza dough or gluten free pizza dough. It is also a modern American version of Alfredo sauce.
The garlic, parmesan, herbs and cooked butter in this version all come together for amazing taste and velvety texture, while being the perfect backdrop for your favorite pizza toppings. A great balance for spicy, and a great partner with fresh veggies and cheeses.
Kitchen Tools For This White Pizza Sauce Recipe:
Sauce pan

Measuring spoons

Measuring cup (1 cup)
White Pizza Sauce Recipe Ingredients & Shopping List
1 stick butter (1/2 cup)

1 ½ Cups heavy whipping cream

2 teaspoons garlic minced

2 teaspoons dried basil

1 Teaspoon Italian seasoning

½ Teaspoon salt

¼ Teaspoon pepper

2 Cups freshly grated Parmigiano-Reggiano. (American canned or pre grated parmesan not recommended, as it will diminish the taste and tends to make the sauce grainy).
White Pizza Sauce Recipe Cooking Instructions
Add the butter to a saucepan (1). Cook until it melts and barely starts to turn brown (2). There is nothing better than browned butter, but take it easy here, the sauce is supposed to stay white. Remove from heat when butter is just right.

Slowly drizzle the cream into the saucepan, whisking as you go. The hot butter wants to cook the cream if poured in all at once, so go slow at first until the butter cools a bit from the cream.

Your browser does not support the video tag.


Once well blended, mix in all the seasoning and herbs.

Bring the heat back up to medium, add the Parmesan-Reggiano and mix until well blended. Remove from heat and use immediately.
Common Questions About Our White Pizza Sauce Rcipe:
How do I store pizza sauce? This sauce can be stored in the refrigerator for one week in an air tight container.
What is the difference between red pizza and white pizza sauce recipes? My Neapolitan red pizza sauce recipe is more traditional and lighter with fewer calories. It is also a vegan recipe. White pizza sauce is a richer sauce that goes with different toppings. Toppings that go well with white pizza sauce are sausage, mushrooms, all veggies, chicken and spicy ingredients because the luscious, rich flavor of our white pizza sauce recipe is a good balance to the spice. My Neapolitan red pizza sauce recipe is versatile and especially good for a margherita or prosciutto pizza.
What is the difference between white sauce vs. Alfredo sauce? Both sauces are derived from béchamel sauce – which is one of the 5 French mother sauces. Traditional Alfredo was made simply with the world's best parmesan cheese, farm fresh butter and hot pasta water. Today's version has been richened with some cream or half and half.
What is the difference of pizza sauce vs. pasta sauce? This recipe works great for both pizza and pasta. You can also try this white pizza sauce recipe on our linguine recipe.
Pizza sauce common uses and toppings This rich white sauce is a great balance for spicy toppings like pepperoni, jalapeños, buffalo chicken… It is also a perfect companion to veggies, like mushrooms, peppers, olives, pickled onions… you name it.
Is this pizza sauce recipe vegan? This recipe contains butter and cream, so it would miss the vegan mark.
How much red pizza sauce should I put on my pizza? The crust will be a big part in deciding how much sauce to use. Thinner crusts that are intended to be crispy would use less sauce (no more than 2 oz for a personal size pizza). The thicker crusts can hold more sauce.