Lemon Garlic Linguine Recipe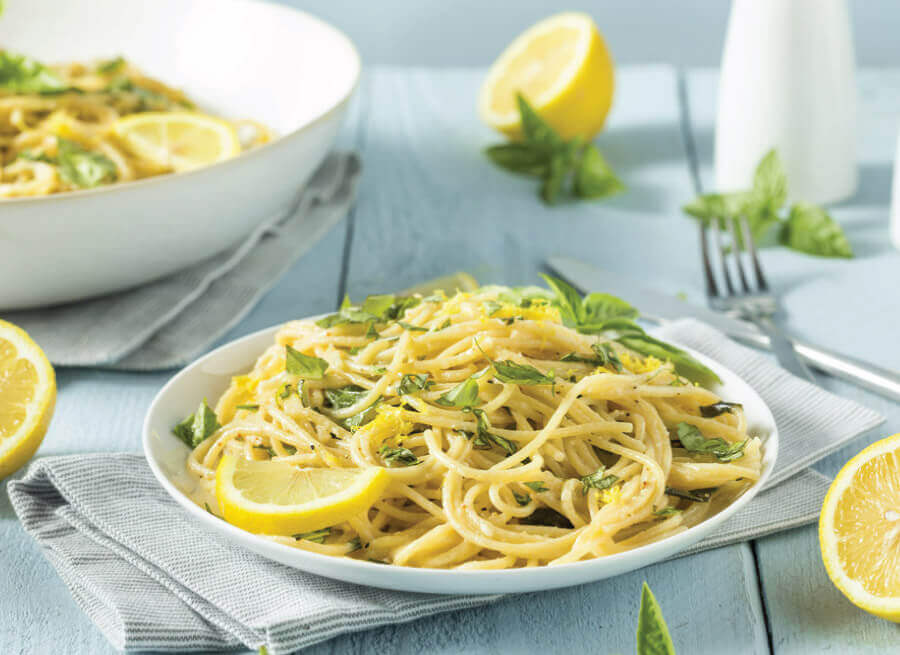 Lemon Garlic Linguine Recipe Served with Lemon Slice and Basil Leaves.
Lemon Garlic Linguine Recipe Table of Contents
Lemon Garlic Linguine Recipe Overview
Linguine is a type of pasta similar to spaghetti but elliptical in shape rather than round. Linguine pasta are about 4 millimetres in width, which is wider than spaghetti but not as wide as fettuccine.The width of the linguine pasta adjusts cooking time to be a little more than spaghetti to achieve the perfect al-dente consistency.

In this lemon garlic linguine recipe we are giving our linguine pasta a simple flavor with a slight lemon pick-me-up that can be paired well with any protein. Our lemon garlic linguine recipe is a spin on the traditional pasta-al-limone recipe that comes from Italy's Sorrento Peninsula and Amalfi Coast but is just as easy-to-make a recipe as any.

This lemon garlic linguine recipe can be adapted for a keto diet, weight loss diet, high protein diet, or for generic lunch or dinner dishes to be enjoyed with friends or family.
Kitchen Tools For This Lemon Garlic Linguine Recipe
Cooking spoon or paddle

Large pot

1/3 cup measuring cup

Weighing scale
Colander

Mixing bowl

Clean container
Ingredients for Our Lemon Garlic Linguine Recipe
(A) Lemon Garlic Sauce Ingredients
1/3 Cup Kosher Salt

1/2 Cup Lemon Juice

2 Tsp Granulated Garlic

1 Cup Pure Olive Oil
(B) Linguine Ingredients
3lbs Linguine

12 Qts Water (Hot)

1/3 Cup Kosher Salt

1 Cup Olive Oil
Cooking Directions for this Lemon Garlic Linguine Recipe:
To prepare this lemon garlic linguine recipe start with mixing the ingredients to make the lemon garlic sauce (B). In one clean container pour 1/2 cup of lemon juice, 2tsp of granulated garlic, 2tsp of kosher salt and 1 cup of olive oil. Mix the ingredients together.




The Next step for our easy linguine recipe is to bring the water to a boil. Put a large pot with 12 qts of salted water (1/3 cup of kosher salt) over a burner with the flame turned to high.




Let the water boil. When you see bubbles rising to the top the water is boiling and you can add the linguine pasta into the boiling water.




Set your kitchen timer to 10 minutes. This is the cooking time of the pasta. Start the timer when you drop the linguine pasta into the water.

Important note: Mix the pot every 3 minutes using a paddle or long spoon.

(After 10 minutes) Turn OFF the stove and remove the pot.

Drain all the water from the pot using the colander.




Transfer the (drained) pasta into a clean mixing bowl and add the ingredient mixture of the lemon garlic linguine sauce (B).

Mix the lemon garlic linguine well and toss with the sauce.




Transfer the lemon garlic linguine into a serving container and serve warm for best results.
Lemon Garlic Linguine Recipe Ideas For Sides and Serving Suggestions
To noodle around try this garlic linguine recipe using whole grain or whole wheat linguine and create your delicious spin to this linguine recipe.
Plating suggestions for this lemon garlic linguine recipe include topping the dish with some fresh lemon wedges, parsley, or basil leaves. If you would like to pair this with a protein you can try the seafood salad, shrimp scamp recipe or baked tilapia recipe as a main course. If you enjoyed this recipe you can enjoy a similar pasta recipe by preparing our easy spaghetti recipe with tomato sauce.