Paleo Pescatarian Seafood Salad Recipe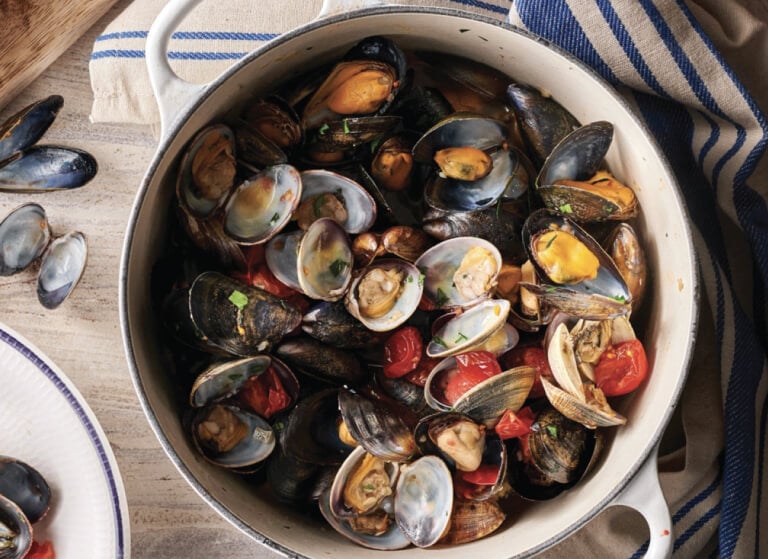 Paleo Seafood Salad Table of Contents
Paleo Seafood Salad Recipe Description
From fine dining restaurants to beach cafés or neighborhood delis, the paleo seafood salad recipe is one of the greatest classics of traditional pescatarian cuisine. Its unmistakable flavor, the many varieties of fish that can be used to make this paleo seafood salad recipe unique have made it a true staple of many paleo and pescatarian diet plans. All you have to do is choose the varieties of shellfish and seafood to include in your pescatarian salad recipe.
This paleo seafood recipe is a versatile dish and preparing it at home with good fresh fish and a simple parsley will make you feel like you are eating on the pier. Let's get started!
Kitchen Tools For This Paleo Pescatarian Seafood Salad Recipe
Pot

Mixing Scoop

Tongs

Mixing Bowl
Ingredients for This Paleo Pescatarian Seafood Salad Recipe
Mussels – 2 ¼ lbs

Shrimp – 1.5 oz

Calamari (Squid) – 1 oz

Clams – 1.5 oz

Octopus – 1 ½ lb

Kosher Salt – to taste
Celery – 2 stalks

Parsley – to taste

Pink Peppercorn – 2

Carrots – 2

Bay Leaves – 4 leaves

Ground Black Pepper – to taste
---
FOR THE PALEO SEAFOOD SALAD RECIPE SEASONING
Lemon Juice – 3 tbsp

Italian Parsley – to taste

Black Pepper – to taste
Extra Virgin Olive Oil – 3 tbsp

Kosher Salt – to taste
Cooking Directions for this paleo seafood salad recipe:
To prepare this paleo seafood salad recipe get started by cleaning the pescatarian proteins. Start with the clams. Discard andy clam with an open or cracked shell. As a next step dip the clams in a colander. Soak in water and add plenty of kosher salt. Let the clams soak this way for a couple of hours (1).
Next, rinse the mussels under running water. Use the back of a knife to remove all the barnacles and manually detach the beard (2). Use a steel pad (or a stiff brush) to rub the mussels vigorously and remove any impurities. Once cleaned, set aside (3).




The next step of our paleo seafood recipe involves cleaning the prawns. Remove the head (4), tail, and shell. Skip this process if you purchased already cleaned shrimp from your neighborhood market. (5) Use a knife to make an incision where you will remove the black filament by pulling it gently with the tip of a small knife (6).




If you did not purchase cleaned calamari for this pescatarian recipe you can use whole calamari but remove the head and eliminate the internal cartilage (7); rinse the fresh calamari under running running water (8) and remove the skin and fins (9).




Create your clean calamari rings by slicing the calamari into rings and set them aside (10). Then proceed to the cleaning the octopus: place the octopus on a cutting board with a knife and cut the bag at eye level to eliminate them (11) discarding any bone, spine residue or hard substances. (12).




Rinse the octopus under cool water, then use a meat tenderizer to make the meat tender. Remove the entrails by carefully washing the inside of the bag (13). Slice the celery and cut the carrots (14) into chunks, then place the bay leaves, parsley and peppercorns in a pot full of water over the stove. As the water boils, dip the tentacles of the octopus a few times to make them weld into curls (15).




Immerse the octopus in hot water, cover, and let simmer for 30-35 minutes. Peel away the foam that forms on the surface of the cooking water (16). If you have a thermometer temp to 145 degrees, alternatively poke the octopus with a fork and you will know when the meat is ready if the meat is tender in the middle but firm. Save the cooking water after you remove the octopus (17), and put it in a colander (18).




Use the octopus cooking water to boil the calamari (19) for 5-8 minutes, then the shrimps for 30 seconds. Drain and let it cool down (20). Now, drain the clams and rinse under cold water and go through each of them to make sure they are clean (21).




Brown a clove of garlic with a drizzle of oil in a non-stick pan. When the garlic is golden brown, pour add the mussels (22) & clams (23), cover and cook, until the shell cracks. It usually takes about 5 minutes (24).




Discard any clams that do not have a spread shell. Turn off the heat and drain the shellfish. Remove the shells of the mussels and clams, keeping some whole to use as garnish (25). Transfer the cold octopus to a cutting board and slice the tentacles into 1/8-inch pieces (26)(27).




Salt, pepper and minced parsley (28). Stir with a whisk to emulsify the ingredients and drizzle over the mixture (29). Toss with your seafood and your paleo seafood salad recipe is ready to be served (30)!



Plating Suggestions For Our Pescatarian Seafood Salad Recipe
You can store your paleo seafood salad recipe in an airtight container or covered with plastic wrap for up to 2 days in the refrigerator. You can only freeze it without the dressing if you used fresh ingredients.
A tip for to make your seafood salad even richer and tastier? Try adding scampi, baby octopus or cuttlefish: it will be delicious! You can also opt for a different dressing, for example one with oil and citrus fruits, it will give a really original touch to your salad!
If you liked this Pescatarian Seafood Salad Recipe you may also enjoy our paleo roasted tilapia recipe or toss with some pasta using our spaghetti marinara recipe.