Traditional Neapolitan Pizza Margherita Recipe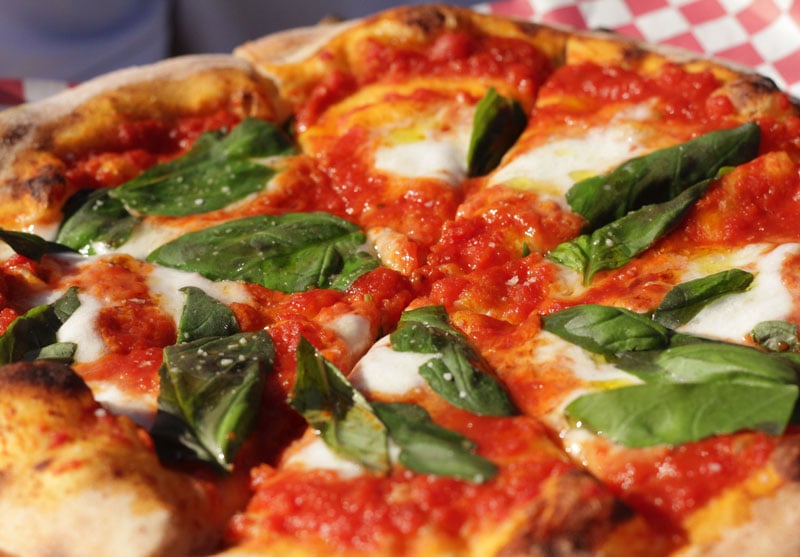 Making an artisan style Neapolitan pizza Margherita recipe overview
The concept with this article is to go back to the roots of Neapolitan style pizza margherita, which is cooked at 500 degree temperatures using a thin dough that cooks crisp on the outside and tender on the inside. Before making the pizza margherita recipe make the homemade pizza dough, which is the key to any great recipe. You can use store bought dough if it makes your production easier.
Kitchen tools used in making the pizza Margherita recipe
Small mixing bowl of flour to coat dough ball.

2 oz ladle to apply sauce.

Wooden peel to launch the pizza onto the pizza stone.

Pizza stone in the oven.
Ingredients for this Artisan Pizza Margherita recipe
Makes 1 Pizza Margherita
9 oz pizza dough ball.

2 + ounces pizza sauce.

Fresh mozzarella (about 12 grape-sized pieces).

1 bunch fresh basil.

1 stick salted butter.

12 large, peeled garlic cloves cut in half.
Cooking this Artisan Pizza Margherita Recipe
Heat your oven to 500 degrees, and if you have a pizza stone, place your pizza stone in the oven if you have one.

Dust a wooden peel with rice flour or semolina flour to keep the dough from sticking to the wooden peel – so that the Margherita pizza will easily slide off when launching it the into the oven.

Stretch the dough ball to about 11″ round for a personal size pizza Margherita.

Add 2 oz of pizza sauce to the center of the pizza and spread in a circular motion toward the outside edges. Stop spreading about 1 inch from the edge.

Next, place the fresh mozzarella over the pizza and space evenly.

Add fresh basil leaves.

When the pizza is ready to be set into the oven, tap the wooden peel on the edge to make sure the pizza is loose, that it has not stuck.

Slide the pizza onto the pizza stone in the oven by putting the peel all the way in, and then quickly pull it out to leave the pizza on the stone. (imagine the ole pulling the tablecloth out from under the dish ware trick you've seen in cartoons).

Bake for 8-10 minutes, or until the edges are golden brown and the cheese is melted.

When done, pull the pizza out onto a pizza pan using tongs. Don't try to lift the hot pizza stone out, it can be kind of dangerous.

If you like, you can generously brush the crust with olive oil or garlic butter to give give it a nice shine. If you enjoy a lot of garlic, you can put some of the cooked garlic cloves on the pizza too!