Easy Stromboli Recipe Using Pizza Dough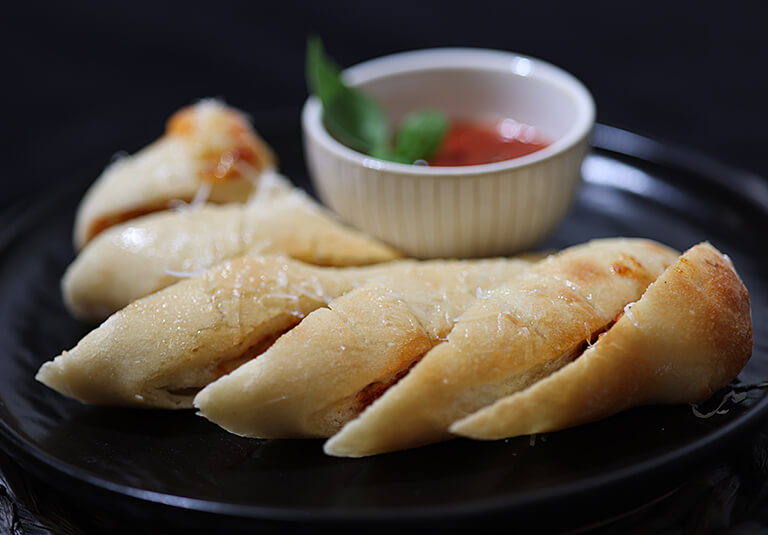 Making Artisan style stromboli recipe using pizza dough overview:
What is a stromboli? That's the question I asked myself when I started working at a small woodfired pizza joint and taproom about 8 years ago. Turns out, a stromboli is a rolled up pizza dough with any filling you can imagine. This is then baked and served with a dipping like marinara sauce. Even though it sounds very Italian, it originated in Philadelphia. I fell in love with making stromboli and seeing the wonderful reactions of those I served it to, and have perfected it over the years. First, make incredibly delicious pizza dough. When you're ready with the dough, here's how to put together an amazing stromboli recipe.
Kitchen tools needed to make our stromboli recipe
Small mixing bowl of flour to coat dough ball.

Spoon to apply sauce/

Really sharp knife to score the top of the dough.

Wooden peel to launch the stromboli onto the pizza stone.

Pizza stone in the oven.
Ingredients for our artisan stromboli recipe
9 oz dough ball.

2 ounces of marinara sauce or white pizza sauce.

6 slices pepperoni or your favorite salami or other filling.

1 handful shredded mozzarella.

1 stick salted butter.

12 large, peeled garlic cloves cut in half.
How to make artisan stromboli cooking instructions
Heat oven to 375 degrees, and put a pizza stone on the rack if you have one.

Dust a wooden peel with rice flour or semolina to keep the stromboli from sticking. You will use the peel to transport the stromboli to the oven and slide it onto the pizza stone.

Stretch the dough ball to a rectangle shape, about 10 inches wide by 6 or 7 inches tall.

Squish 4 or 5 of the soft garlic cloves from the garlic butter you made, and spread along the bottom edge of the dough.

Add 5 or 6 slices of pepperoni or your favorite salami if you like. I used a delicious spreadable salami called nduja.

Spread a handful of shredded mozzarella along the bottom edge as well.

Roll the dough up from the bottom, like a burrito shape. If you have bulky dough at the edges, you can trim it off if you don't want it to be too "bready" when done.

Pull the dough from the bottom and fold over the ends to seal everything in, and pinch the edge of the dough to seal along the bottom.

Score the roll with a few slits along the top.

Put the roll into the oven on a pizza stone and bake until golden brown. About 10 minutes.

When done, pull the stromboli out onto a pan or cutting board using tongs. Don't try to lift the hot pizza stone out, it can be dangerous.

Slice the stromboli roll at an angle to make about 5 pieces and serve with a dipping sauce.

Enjoy this stromboli recipe with a dipping sauce and enjoy!