Artisan Neapolitan Pizza Sauce Recipe San Marzano Tomatoes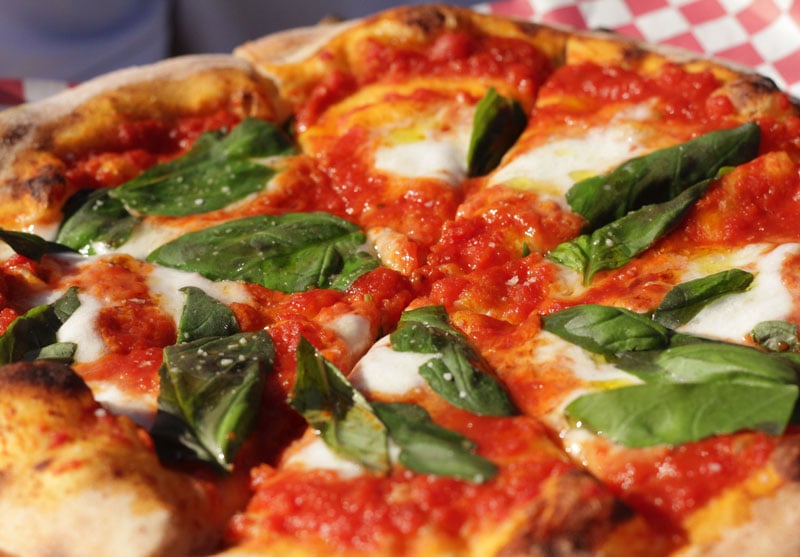 Versatile Red Pizza Sauce Recipe Made with San Marzano Tomatoes
Neapolitan Pizza Sauce Recipe with San Marzano Tomatoes Overview
This light, fresh, artisan pizza sauce recipe with San Marzano tomatoes would be the one used in the Naples region of Italy hundreds of years ago where wood fired pizza originated. It's simplicity and freshness makes it the perfect red pizza sauce recipe for any type of homemade or restaurant quality pizza, whether it be a traditional Neapolitan wood fired, keto or gluten free crust.
Kitchen Tools For This Neapolitan Pizza Sauce Recipe with San Marzano Tomatoes:
Mixing bowl

Measuring spoons

Mixing spoon (metal or wood)

Mashing tool – potato masher, large fork, food mill…
Neapolitan Pizza Sauce Recipe Ingredients & Shopping List
32 oz can San Marzano whole tomatoes (Better tomatoes make better sauce. Try to find imported D.O.P. if possible. See information below about San Marzano tomatoes.)

2 tablespoons good olive oil

1 tablespoon fresh oregano leaves, chopped (alternative, 1 teaspoon dry oregano)

1/4 cup chopped fresh basil leaves (alternative, 2 tablespoon dried basil)

Kosher salt to taste (usually about 1/2 teaspoon)
Neapolitan Pizza Sauce Recipe with San Marzano Tomatoes Cooking Instructions
Empty the can of San Marzano tomatoes into a mixing bowl. Crush the San Marzano tomatoes, using one of many possible techniques. You can simply crush the tomatoes by hand, use a potato masher, or if you have a food mill with a course grate that works very well. You control the texture here, whether you want chunky or smooth.

Add all of the ingredients and mix well with a spoon.

Apply 2oz of sauce on any 10 inch flattened pizza dough, then bake to prepare your pizza. You can also use this pizza sauce recipe to prepare a calzone or stromboli.
Red Pizza Sauce Recipe with San Marzano tomatoes Variations
If you want a thicker sauce, you can simply cook it down on a low simmer, stirring occasionally so it doesn't scorch on the bottom, until you get the desired thickness.
An optional way to thicken it is to mix in San Marzano tomato paste. Add some more salt to taste if desired.
If you want a smoother sauce, instead of crushing, blend the tomatoes with a stick mixer or blender for a few seconds.
What are San Marzano tomatoes? San Marzano tomatoes originate from the small town of San Marzano Sul Sarno, near Naples, Italy. Today, it is not possible for that region to supply the world demand for "San Marzanos", but the Italian government does a good job of regulating quality and utilizes a D.O.P (Denominazione di Origine Protetta, meaning "Protected Designation of Origin") symbol on tomatoes that still meet the high standard of a true San Marzano. Be wary and read the labels. Central California grows a very good substitute, and calls them "San Marzano Style" tomatoes. Be aware of what you're buying and don't be fooled.
Common Questions About This Artisan red Pizza Sauce Recipe:
How do I store my red pizza sauce recipe after having prepared it? This sauce can be stored in a refrigerator for up to 10 days in an air tight container, or frozen for up to 60 days.
Tomato pizza sauce common uses and toppings. This Neapolitan red sauce is great on traditional pizza crust, keto pizza crust, gluten free crust, cheesy garlic bread… you name it. It is a perfect companion to traditional pizza toppings.
Is this red pizza sauce recipe vegan? Yes! This is considered a vegan red pizza sauce recipe .
Red Pizza Sauce Recipe Variations
What is the difference between red pizza sauce vs. marinara sauce? This recipe creates the traditional Neapolitan style light and fresh sauce used for hundreds of years, originating in the Naples region of Italy. There are excellent recipes for sauces in the marinara family, which are cooked, often have meat and fats, and are beautifully rich tasting.
What is the difference between red pizza sauce vs. pasta sauce? This Neapolitan sauce recipe would taste great on all types of pasta dishes, but sauces designed to eat with pasta are usually made to be thicker so that it sticks to the pasta better. If you would like to learn more about pasta try this linguine recipe.
How is this red pizza sauce recipe different from a white pizza sauce recipe? The traditional red pizza sauce recipe is light sauce with few calories and high versatility. This goes great on any ingredients. The white pizza sauce recipe is similar to an Alfredo sauce, and it is richer (more calories) and goes well with toppings like spicy ingredients since it provides a good balance.
How much red pizza sauce should I put on my pizza? The type of crust has a lot to do with how much sauce is the right amount, as well as your own personal taste. Just remember that a light thin crust may tend to get soggy if loaded down too much with sauce and toppings. A traditional wood fired Neapolitan pizza crust personal size pizza would use around 2 oz. of sauce spread evenly, perhaps slightly thinner in the center. Your thicker crusts can hold more sauce.