Easy Calzone Recipe From Scratch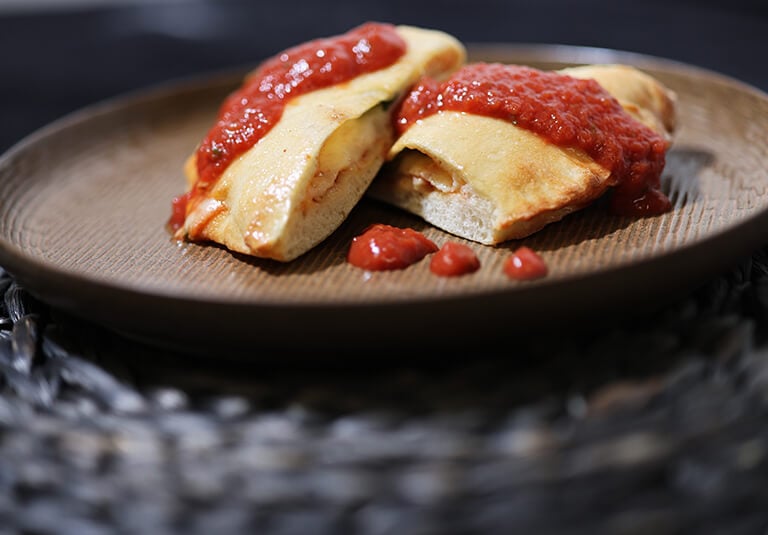 Easy Calzone Recipe with Neapolitan Pizza Dough
Calzones are all about the dough, just like pizza. When you're ready with the dough, here's how I make my calzones. I look at it a little differently than simply folding a pizza in half. I've discovered that I really enjoy these a little more refined and not overstuffed with hot lava when served.
Kitchen tools needed for this Easy Calzone Recipe with Neapolitan Pizza Dough
Small mixing bowl of flour to coat dough ball.

Spoon to apply sauce.

Wooden peel to launch calzone onto the pizza stone.

Pizza stone in the oven.
Ingredients for this easy calzone recipe:
1 Calzone

4 oz pizza dough ball

2 tablespoons pizza sauce

2-3 slices pepperoni or your favorite salami (This easy calzone recipe uses a spreadable salami called Nduja)

1 handful shredded mozzarella cheese

4-5 fresh basil leaves

1 stick salted butter

12 large peeled garlic cloves cut in half
Cooking instructions for this easy calzone recipe
Heat oven to 350 degrees, and put a pizza stone on the rack if you have one.

Stretch the dough ball to about 7″ round.

Add sauce to one half of the dough on the side that will form the calzone.

Add cheese to the same half of the dough.

Add your favorite salami or prosciutto or other filling of choice.

Add a layer of basil leaves.

Moisten the edges of the dough for a good seal.

Fold the dough over and press the edges to seal.

Transfer the calzone to a wooden peel to launch it onto a hot pizza stone in the oven. If you don't have a pizza stone, put the calzone on a sheet pan or cookie sheet, then into the oven.

Bake until golden brown delicious – about 10-12 minutes.

Remove from the oven and brush the garlic butter sauce or opt for a light marinara sauce over the top.