Baking Gluten Free Pizza Dough Recipe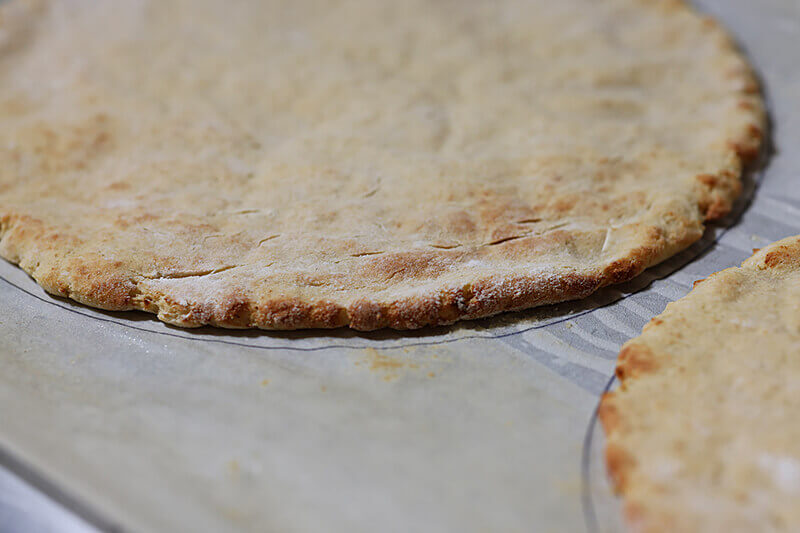 Baking Gluten Free Pizza Dough Recipe Overview
Gluten free pizza dough has been the holy grail for those stuck in the comfort food/healthy eating vortex in the last 15 years or so. There has been a rise in excellent cauliflower-based recipes like cauliflower mashed potatoes and cauliflower rice or even cauliflower based pizza crusts. However, when it comes to a pizza crust that looks and tastes like traditional pizza, this recipe for gluten free pizza crust using our gluten free pizza dough mix is my go-to and most recommended solution for friends asking about a gluten free pizza crust recipe. This is actually the mix used in many high-end pizzerias and restaurants who serve gluten free pizza. I have modified the process just a bit to make it easier, as the dough can be sticky and hard to handle at times. There are other dough mixes available that may be as good. The techniques described here will probably come in handy when other types of doughs are used as well.
Kitchen tools needed for this gluten free pizza crust recipe
Mixing bowl

Wooden spoon or spatula

Bread knife or dough cutter

Parchment paper
Gluten free pizza dough recipe ingredients
One package (16 oz) gluten free pizza crust mix (Yeast packet included with the mix)

If there is not a yeast packet available, use 1/2 teaspoon active dry yeast.

1 1/2 cups warm water

1/2 teaspoon salt optional (I find the mix by itself needing just a little kick in flavor.)

2 eggs.

2 tablespoons olive oil for the mix.

1 tablespoon olive oil for greasing the pan (non-stick spray will work too).

1 cup rice flour for dusting the dough during handling.
How to Make Gluten free pizza dough recipe
Prepare the gluten free dough:

Put the eggs, olive oil and water in a large mixing bowl and whisk until well blended.

Put the dry mix into the mixing bowl and stir well until everything is well blended and form a ball using your hands. Dust the surface of the dough with rice flour for this step.

Cover the dough with plastic wrap and set aside for 20 minutes to rise.

When the dough has rested and risen, separate the dough ball in half for two pizzas approximately 12″ round, or keep the dough whole for one 16″ pizza.

Prepare the pan:

If you have round pizza pans, put a parchment paper liner on the pan. You can trim the paper with scissors if you want. If you are using a larger sheet pan, like I was doing, you can use a sharpie to draw a circle on the parchment paper by tracing a 11″ or 12″plate. Turn the paper over (sharpie on the bottom so it doesn't touch the dough) and put that paper in the sheet pan. This makes a great template for forming a perfect circle at the right size.

Of course, nobody ever said pizza had to be round, so do what works best for you. The final thickness of the uncooked dough should be about 1/4″. This will create a bready, chewy crust. I like my crust to have a little crunch, so I press mine out a little thinner. Oil the paper by dripping some olive oil on it and spreading it around with your hand or with a paper towel. You can also spray with non-stick spray.

Form the gluten free pizza dough:

Put the dough into the center of the circle, dust the surface of the dough with rice flour and start pressing the dough flat and round until you reach your desired size and shape. If you run into any stickiness, just sprinkle more rice flour and continue.

Pre-Bake the gluten free pizza dough:

When the dough is formed, par-bake (pre-bake without toppings) for 7 minutes at 400 degrees, or until it starts to brown around the edges. Don't worry if it is not 100% done, it will cook more when baked the second time with toppings. This step is important to assure that the crust holds together once topped with ingredients. You can now make your favorite pizza by placing your toppings and baking for 10-12 minutes in the oven set to 400 degrees.

See how you can use this dough recipe to make your own gluten free pizza margherita.
How to store this gluten free pizza dough for future use
You can wrap the par-baked gluten free pizza crust in plastic wrap and freeze for future use. If you do freeze it, take the crusts out of the freezer and put in the refrigerator 24 hours prior to use. Or you can wrap it in plastic wrap and refrigerate it for use any time in the next 3 days.