Keto Cauliflower Mashed Recipe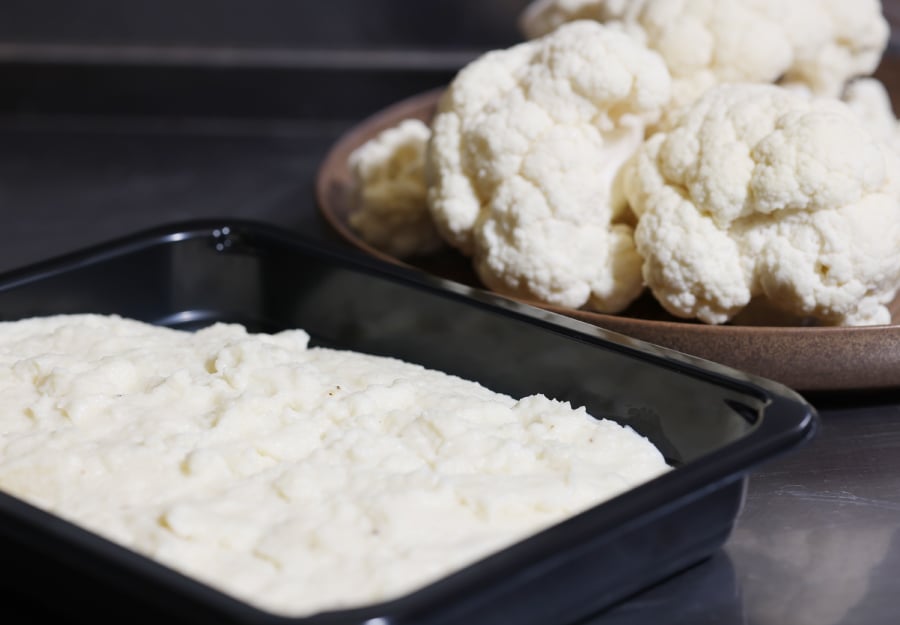 Keto Mashed Cauliflower Recipe Overview
Mashed cauliflower with butter, parmesan, and garlic tastes amazing. It makes a perfect keto meal since it is a very low carb recipe and the added oil/butter/nut options you have to add make this a keto mashed cauliflower recipe that is a great side for almost any protein. What better way to get your veggies in, as well as satisfy that starch craving… without the starch!
Kitchen Tools For This Keto Mashed Cauliflower Recipe:
Kitchen knife

Cutting board

Food processor
Keto Mashed Cauliflower Recipe Ingredients & Shopping List
1 cauliflower head trimmed

2 tablespoons butter soft

1 teaspoon minced fresh garlic

¼ cup grated parmesan

1 teaspoon kosher salt

⅛ teaspoon freshly ground black pepper
How to Prepare Mashed Cauliflower
Wash the cauliflower, trim outer leaves and cut into chunks.

Steam the cauliflower in a steam basket, covered for about 14 minutes or until very tender. If you don't have a steamer, you can fill a saucepan with a cup or two of water with the cauliflower, bring to a boil and cover. Don't let the water all vent out or the cauliflower will burn on the bottom.

OR you can use this alternative: Place the cauliflower florets in a microwave-safe bowl. Add 2 tablespoons of water to the bottom of the bowl, cover with a microwave-safe plate and microwave on high for about 10 minutes, until very tender.

While the cauliflower is steaming, place the butter, garlic, parmesan, salt, and pepper in your food processor's bowl.

When the cauliflower is cooked, drain the hot water and let it steam for a few minutes. Then transfer it to the food processor or mixing bowl if mashing with a mixer or by hand. TIP: To make cauliflower mash without a food processor use a blender or manual potato masher.

Mix until very smooth and serve immediately.
Variations on how to prepare cauliflower mash recipe: This is a great classic low carb cauliflower mash recipe, but you can switch the butter for another keto fat like olive oil or blend some roasted almonds with the cauliflower.
If you're not worried about the vegan aspect – don't judge me – I've actually used bacon drippings and found nirvana. You can add herbs, even a bit of heavy cream.
For more flavor, when cooking the cauliflower, you can use chicken stock instead of water.
Common Questions About Mashed keto Cauliflower:
What are keto cauliflower mashed alternatives? Low carb keto recipe alternatives to my keto cauliflower mashed recipe include my cauliflower rice recipe (this is an easier recipe since it involves fewer ingredients).
Can I use frozen cauliflower for keto cauliflower mashed? You could, but frozen cauliflower does what most frozen veggies do, that is loose freshness and taste. Plus, I find the ice crystals that inevitably form in the bag taste like dust and make the results soggy. If you do use frozen, thaw completely, rinse and dry before using.
Does cauliflower mash taste like mashed potatoes? No, it is cauliflower after all. It is closer than you might think though. It can be as creamy, perhaps not as starchy sometimes. It is a great substitute to mashed potatoes, but I just think of it as a great alternative.
Does cauliflower mash taste like cauliflower? Well, it's cauliflower! However, the butter, garlic, and parmesan enhance the natural taste to create an elevated flavor profile you just might love. Just like a lot of other foods, it needs a little help to be delicious.
Do you prepare cauliflower mash ahead of time? Yes. You could make it a few hours or a day ahead, refrigerate it, then reheat it in the microwave.
How can I make cauliflower mash without a food processor? Alternatives to preparing cauliflower mash without a food processor are immersion blenders, blenders or manual potato mashers. For the creamiest possible mash, the food processor is the best bet. If you only have an ordinary scraper you can also make cauliflower rice.
How to make low carb cauliflower mashed taste better? This one is somewhat subjective. To make this taste more like regular mashed potatoes you can add some instant mashed potatoes as you are mixing. This will change your flavor profile.
How to make keto cauliflower mashed potatoes creamy? To make keto cauliflower mashed creamy you can add cream or more butter to your recipe. This is individual preference but you can adjust quantities to taste.
How to make keto cauliflower mashed potatoes thicker? In order to make this cauliflower mashed recipe yield a thicker, more starchy final menu item you can add more cauliflower to the original recipe until this densifies to taste. Alternatively, you can simmer down the water on medium heat. As the water evaporates the cauliflower rice will be thicker.
How to make low carb cauliflower mashed potatoes keto? keto meals are high in healthy fats and low in carbs. Therefore to make this a keto cauliflower mashed potato recipe you can add different sources of healthy fats like avocado oil, olive oil, mix in some nuts. Each of the above or all of the above can make this into a keto cauliflower mashed recipe.