Low Calorie Quinoa Salad Recipe with Chicken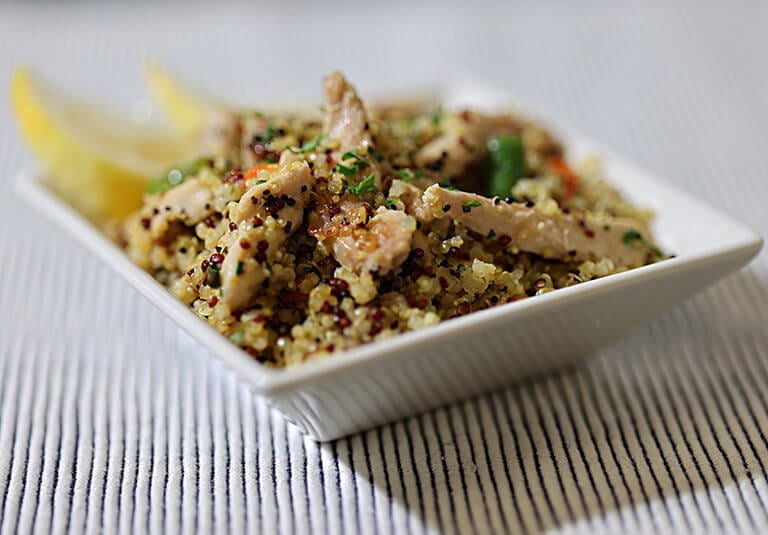 Quinoa is considered a whole grain and is a good source of plant protein and fiber. One cup cooked provides about 8 grams of protein and 5 grams of fiber.
Easy Quinoa Salad Recipe with Chicken Overview
Quick-cooking quinoa is a nutritional powerhouse, packed with protein, iron, and fiber. It is also the foundation for a main-course salad with chicken and vegetables of your choice. This easy to make quinoa recipe has a light fresh taste that you can be sure is healthful. It can be served hot, warm or cold, but no matter how you serve it, it is just a satisfying healthy recipe.
Equipment used in this Quinoa Chicken salad:
Skillet

Measuring cups

Measuring spoons

Spatula or wooden spoon
Ingredients in this Quinoa chicken salad recipe:
3 tablespoons olive oil

1 cup quinoa. Any color you like, or tri-color which is readily available

1 boneless, skinless chicken breast cut into strips

1 tablespoon fresh lemon juice

1 1/3 cups chicken or vegetable stock

1/2 cup fresh or frozen vegetable mix of your choice

2 tablespoons fresh parsley leaves, chopped

½ teaspoon salt

½ teaspoon pepper (or to taste)
Instructions to make this quinoa chicken salad recipe:
In a large skillet, heat 2 tablespoons olive oil over high heat.

Add the quinoa and stir to toast the grains for about 1 minute.

Add the stock to the skillet a bit at a time. Put a couple ladle scoops in and swirl until liquid is absorbed. Repeat this until all the stock is in the skillet.

Cook for about 10 minutes on simmer.

Meanwhile, heat another skillet over high heat and add the chicken strips, salt and pepper.

Brown the chicken slightly, then add to the quinoa to cook together the rest of the way.

Add the vegetables, simmer all until the quinoa has bloomed (the grains will open up) and the chicken is cooked through

Add the parsley, stir in and serve.